User Growth is a boutique digital marketing agency. You can hire us for internet marketing consultancy, outsourcing, and training.
We assist companies in analyzing, optimizing, and developing their successful online marketing strategies, aiming to grow their online visibility by improving their online marketing. User Growth shows you the potential of your web properties using:
User Growth always starts with thoroughly auditing your existing situation and tools. From there, we begin to improve your efficiency.
User Growth specializes in search engine marketing. We provide services such as website optimization and online advertising on Google and Facebook. We work with companies looking for organic and paid growth.
User Growth does digital marketing from A to Z, focusing on getting you results.
All businesses have five major functions: product development, customer service, accounting, operations, and marketing.
What is the one function that should always be given top priority, no matter which business?
Marketing
The other functions are clearly vital to a well-functioning business, yet without marketing, you will not have sales, and without sales, you will not have cash flow. Without cash flow, your business will die from a lack of cash, which is the oxygen to any business.
Without it, you will be unable to pay for all the other functions and go out of business quickly.

That is why at User Growth, we help you grow your business by taking care of your marketing and grabbing the attention of your target audience.
From lead nurturing via SEO, SEA, and social media to remarketing and marketing automation, we combine the marketing mix that best fits the business objectives. Our experts focus on results that can be measured in detail.
Let's talk about attention, not impressions.
The entire marketing world is obsessed with impressions. You might hear someone say, "40,000 people saw this video." But the truth is, they didn't. They didn't because as soon as the ad appeared in video form, they clicked away to a new tab to look at something they wanted to see. But they count as an impression. They count as "seeing it."
On TV, it's the same problem. Nielsen sees how many people watch a TV show, and they count those impressions against the ads that run during the show. But as soon as commercials came up, people picked up their phones. They opened Facebook or Instagram. They aren't engaged with the TV.
The pre-roll ad views. Commercial breaks. These are the impressions marketers are focusing on. Why?
Because the truth is this: for a consumer to get excited about something, to be compelled by something, it comes down to attention.
Attention, not impressions. They need to really consume it. That is the game.

Most advertising today does not try to factor that in or make that happen.
So while some companies focus on getting as many impressions as possible on their banner ads, great marketers focus on attention.
Your leads and your customers need to consume your content.
-User Growth helps your business to grow by focusing on your customers' attention.
We do that by using two main pillars:
organic attention using content in a way that attracts new customers
paid attention to using ads and banners in a way that drives conversions
See what we're getting at? You meet people where they are most likely to be. You get their attention. You earn it.
We want the marketing world to start talking about attention, not impressions.
Marketing, to me at least, is truly a daunting subject. I own a small IT business and I wanted to grow our business and get more exposure to qualified clients. I just didn't know how to do it.
Then I met Hans and the team at User Growth. They helped put order in all the terms that were so confusing at first (SEO, funnels, other Latin words).
I felt like User Growth put me, my needs and my unique situation at the centre of our relationship. The budget was reasonable, the results were quick to come and the whole process was smooth as butter.
Definitely happy with the services of User Growth and I really am looking forward to our next marketing project.
Don't think twice if you see this and you need marketing specialists. Just give these guys a call.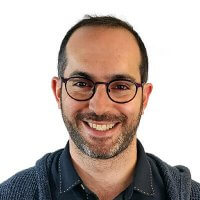 Constructive marketing for more conversions
At User Growth, we guide you in your complete digital marketing approach. With a well-defined strategy, we ensure effective marketing that is aimed at maximizing the return on your marketing spend.
User Growth creates a simple, automated digital marketing campaign that drives hot leads to you without you lifting a finger. We constantly adjust to get the most out of your marketing spend. The three main ways we do that are:
01
We increase the traffic to
your website
Together we work on a marketing strategy that responds to all different business and marketing objectives. We do audits to identify where there is room for improvement.
Through whichever channels work best for you, we will bring you top-notch leads.
We do this by looking at long-term, organic traffic combined with highly-targeted online ads — mainly Facebook, LinkedIn, and Google.
02
We set up a high-performance sales funnel
A veteran Direct Response copywriter writes a high-converting landing page…
We determine an offer so compelling, customers want to get in on the action, to give you their money…
We design, illustrate, and code every element of the system to provide live metrics on your ad spend and ROI.
03
We grow your list of hungry customers
Once we've got your custom sales funnel running, we start driving traffic (people looking to buy from you) your way.
By measuring and collecting relevant data, we can constantly adjust and optimize to respond to a market that is constantly evolving.
We show you how to sell to those people AND how to nurture those not ready to buy into future customers.
Want to know more about our offering? Have a look at our service offering. Want to get in contact with us to see how we can improve your business?
Drop us an email or a chat, and let's grow your business together.