How to verify your identity and business for Google Ads
Almost any business in the world, including yours (otherwise, you wouldn't be reading this guide), is using Google Ads to help grow their business online. When doing so, you will eventually be prompted by Google to authenticate both yourself and your business identity.
Why?
Well, the goal for Google with this is to maintain a maximum transparency level towards its users regarding its ad platform. This transparency, of course, helps to:
Build trust: Transparency can enhance trust between the platform, advertisers, and users. People are more likely to use and continue using a system they perceive as open and honest.
Enhance the user experience: Knowing that advertisers are verified can improve the user experience, as ads are more likely to be relevant and legitimate. This could result in higher user engagement.
Reduce fraud: Transparency and verification procedures can act as deterrents against fraudulent activities, like fake ads or impersonation, which could otherwise compromise the platform's credibility.
Increase the ad quality: Transparency can lead to higher-quality ads, as advertisers know that their verified status can be revoked for violating policies. Better ad quality can benefit both users and advertisers in the long run.
Just to name a few. So, you can imagine why Google wants to let its users verify themselves to help increase trust, improve compliance with governments, and deliver a better experience for all parties involved.
So what does this verification process involve, and what should advertisers on Google be aware of? This guide will teach you everything you need to know to get verified!
Verification program for advertisers
If you're advertising through Google Ads, at one point, Google will prompt you to participate in their identity verification program. During this phase, you'll be required to validate essential details about both your enterprise and yourself.
As discussed, this vetting mechanism not only offers greater transparency to users regarding the advertisements they see but also acts as a filter to exclude disreputable advertisers. If your business is credible, this process will be advantageous for you.
Where is this verification data shown?
The data you submit for advertising purposes undergoes Google's verification process. Once approved, your active advertisements will showcase both your geographical location and your company's name. This information can be accessed by clicking or tapping on the downward arrow icon next to the ad's web address or the 'i' icon on mobile devices.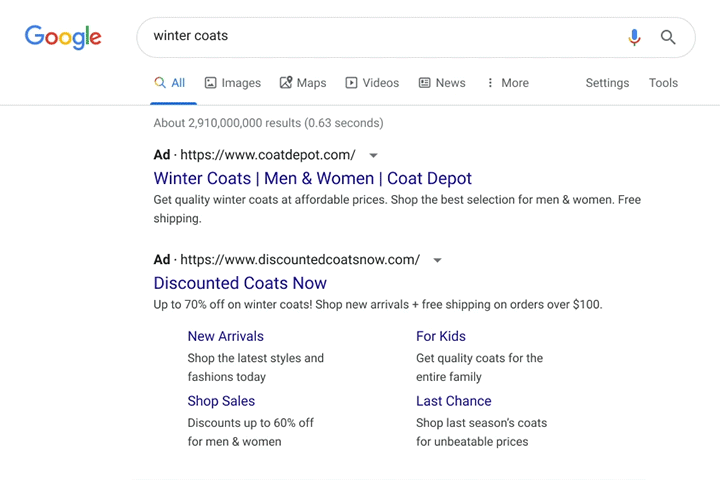 This visibility extends to text-based ads, visual display ads, YouTube promotions, and dedicated advertiser pages.
When should I verify my Google Ads account?
As an advertiser, if you get an email notification (or see an alert in your account) from Google inviting you to initiate their verification program, don't delay!
You have a window of 30 days from receiving this communication to kick off the verification and an additional 30 days to finalize the entire procedure. Make sure to complete the verification promptly; failure to do so could result in your account being put on hold after the 30-day period expires.
How do I get my business verified?
In some cases, your business will get an invite from Google with a clear deadline that you need to verify your business. The email will look something like this: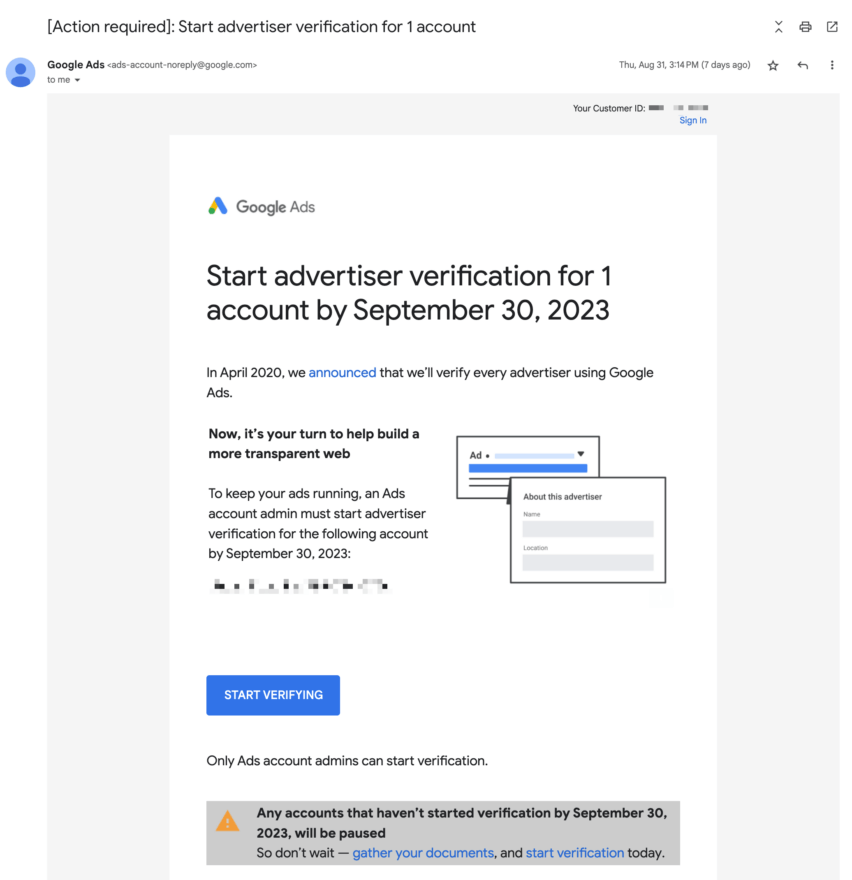 You can then click on the "start verifying" link from the email to start the verification process.
Or maybe you want to be proactive about it and start the verification process before Google gives you a deadline?
In that case, you will go to https://ads.google.com/, log in, and select your Google Ads account. After that, you select "Billing" (1), "Advertiser verification" (2), and "Start verification" (3)

Now, you must answer questions about your Google Ads account and business. Fill this out/get this filled out by the person who has access to your Google Ads account and who knows about your business and the use of your Google Ads.
You will be asked questions such as: 'What industry are you in? Who pays for your ads? Is your company an advertising agency?" and so on.
If you want to help speed up the process, ensure you have your D-U-N-S number (a unique nine-digit identifier for businesses). Not sure what yours is? You can easily look up your D-U-N-S number online.
After this, you go through one or more verification programs that ask for basic information about your identity and business. Of course, it also depends on the management of your Google Ads. Do you do it yourself, or does an outside company manage it for you?
Identity verification
This stage requires you to validate details pertaining to your identity, like your official name. Rest assured, personal contact particulars like email addresses or phone numbers won't be displayed.
Verification of business operations
Should it be relevant, supplementary queries will follow once you address those under "Your Company." You might be required to validate specifics about your operations and documents like business registration, company policies, your branded offerings, interaction with external entities, etc. If you want, you can read more about business verification from the official Google support center.
Do I need specific documents for my country to get verified?
Not sure which document you might need for your country to verify your identity as an advertiser? You can easily check here which documents you need for your location.
Things to take into account
When verifying your business, it is good to take into account the following:
In some countries, election-related ads necessitate an additional layer of verification.
Specific sectors like healthcare, gambling, and financial services face heightened scrutiny.
Breaching Google Ads guidelines or attempting to deceive the system can lead to verification revocation and account suspension.
Under specific circumstances, like significant account alterations, re-verification might be needed.
Google reserves the right to modify verification prerequisites whenever necessary.
And that's it! Your account should now be verified after following the above steps. Do you need some specific advice or help with your Google Ads or SEA (Search Engine Advertising)? You can always count on us to help you out. Just drop us a line via our contact form.
Find out how we can help grow your business