What are short-tail keywords for SEO?
Keywords are crucial in both Search Engine Optimization (SEO) and Search Engine Advertising (SEA). By knowing what terms and phrases your audience is using to find a solution to their problem, you can tailor the content on your website and your ads in such a way that it helps search engines to better find the right customers and users for your business.
When you start with your online marketing, one of the first things people tend to look at is doing keyword research. This helps to figure out what should be keywords you can optimize your existing content around and what type of content you still need to create because of missing keywords that you currently need to rank for.
This article will teach you everything you need to know about short-tail keywords. If you'd like to know more about long-tail keywords, please have a look at our companion guide.
What are short-tail keywords?
Short tail keywords or "head terms," as some people like to call them, are search queries that are very broad and have high search volumes. It is the exact opposite of long-tail keywords that get their name from the spot on the "search demand" curve, being the long tail of the curve.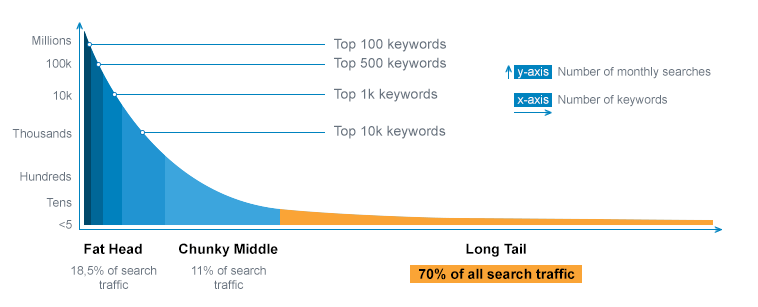 While the short tail of the search-demand curve only has around 18,5% of the total amount of keywords ranking in the curve, the number of monthly searches more than makes up for it, as those searches itself go into the millions. For example, just the word "amazon" has a rough estimate of 123 million monthly searches, while "amazon juggling balls" only has around 100.
The more precise the keywords, the fewer monthly searches, but there is also less competition. Some people might refer to short-tail keywords as only keywords that are made up of one or two words, however, that is not entirely accurate as there are queries with three, four, or five words that still belong in that fat head of the search demand curve with millions of searches every month.
For example, "restaurants near me" still has around 30.4 million searches each month:
So this is clearly still a keyword that is part of the fat head, but it has more than one or two keywords.
Why are short-tail keywords important for SEO?
Short-tail keywords are very important as part of keyword research, as they are usually the terms you can already quickly come up from the top of your mind, what you want your business to rank for online.
As a result, they are often used as "seed" keywords. They are the foundation of your keyword research and help you to generate hundreds of more keyword ideas for your business.
And if you manage to at one moment in your career rank for one or more critical short-tail keywords for your business, you can be sure to get lots of organic traffic to your website. However, the days of just spamming the same keyword a million times on your website and ranking for it are gone. You will need a solid content marketing strategy to start ranking for both short- and long-tail keywords.
Do note that over the last couple of years, some very short-tail keywords might bring in lots of monthly searches but are not bringing in any or almost no traffic anymore as for a lot of these terms, Google might already supply the answer for you, like with the search term "calculator":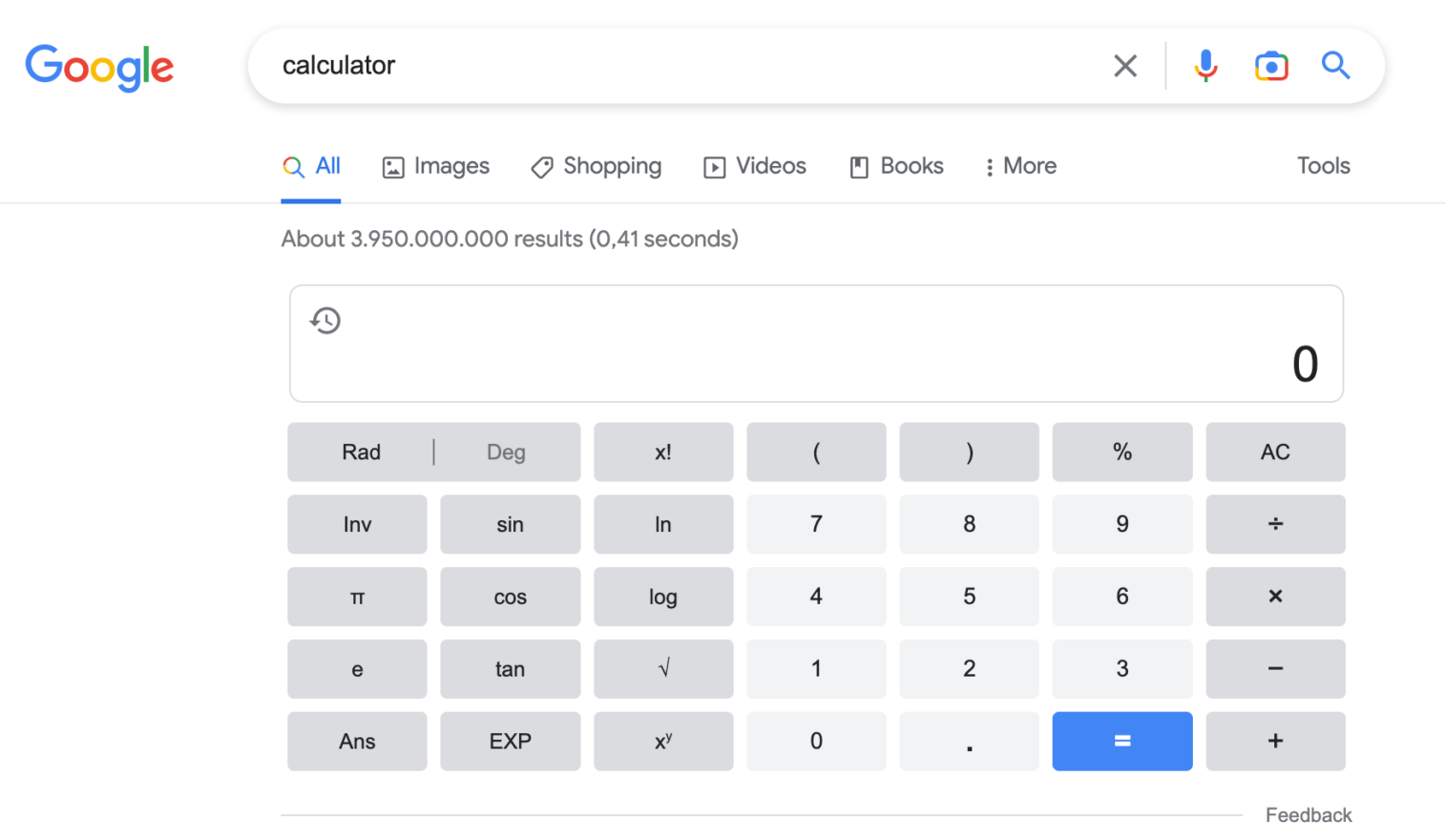 And there are many more of these so-called "featured snippets" where Google removes the first link on the page and replaces it with something that immediately gives the answer you're looking for.
The benefits of short-tail keywords
Let's say you're a shoe company. Targeting short-tail keywords can be highly beneficial. If your company has the resources to dominate the keyword "shoes" or "running shoes" on Google, your website will likely appear in many people's searches, leading to an increase in website traffic and potential sales.
In niche markets, competition over popular short-tail keywords may be less intense, making it easier for companies to rank higher in search results.
The drawbacks of short-tail keywords
However, it may not always be feasible for a small company to dominate short-tail keywords in a crowded market like the shoe industry. Google typically favors large, established businesses when ranking search results, leaving smaller, less authoritative websites behind.
Additionally, short-tail keywords often have a low signal-to-noise ratio, resulting in a higher volume of irrelevant traffic to a website.
Although short-tail keywords may drive more traffic to the site, they may not necessarily result in increased sales or meaningful consumer engagement.
Traffic from vague, short-tail search phrases often comprises people looking for general information rather than researching which product to buy.
How to find short-tail keywords for your business?
So how to kick off your keyword research and find short-tail keywords for your business? One of the first places we always like to start with is first jolting down some of the terms you think are related to your business, and when people are searching, for should rank you on the first pages of the search engines.
After we have that initial list, it is time to look at what is already popping up for your business in Google Search Console and what your competitors are ranking for.
Finding short-tail keywords in Google Search Console
If you did not set up a Google Search Console account for your business yet, now is the time to do so. After you've created one (or if you already created one before):
Go to performance in the left menu bar and click on "search results"
Click "Queries" and sort the list by the number of impressions
This will give you a list of all the high-search-volume keywords that your website is currently ranking for (that doesn't mean you're getting traffic for those keywords yet, but at least you're ranking for those terms). An alternative is using something like the free Ahrefs Web Master tools to get a similar type of list.
Finding short-tail keywords, your competitors are ranking for
Finding out the terms that you're ranking for is easy and free. If you want to get that kind of information about your competition, you should use a paid version of Ahrefs, SEMRush, SE Ranking, or just ask your SEO agency if they can help you get a list of keywords your competitors are ranking for.
Using one of these tools, you can easily see which organic keywords a certain domain is ranking for, then sort that list by search volume and only look at the top 20 keywords (to ensure you have the most important ones).
Should I target long-tail or short-tail keywords?
The choice between targeting long-tail or short-tail keywords depends on the goals of your SEO strategy. Most of the time, the decision is not as black and white though.
Short-tail keywords are broad, non-specific terms with high search volume. Targeting short-tail keywords can result in increased traffic to your website, but the traffic may not be highly relevant or result in many conversions.
Long-tail keywords, on the other hand, are longer, more specific phrases with lower search volume. Targeting long-tail keywords can result in more targeted, engaged traffic and potentially more conversions, but there may be less overall traffic.
Ultimately, the right choice depends on the nature of your business, audience, and competition. A mix of both short-tail and long-tail keywords, though is most of the time the most effective in a comprehensive SEO strategy.
How many keywords per page is ideal for SEO?
You can target as many keywords as you want — hundreds, thousands, the sky is the limit.
In reality, you do not want to target too many keywords per page, as that will confuse search engines and potentially distract users.
Search engines are looking for the ideal search results, and if a single page covers too many topics, that "confusion" will hurt you. Also, you want to be able to predict your user's intent based on the keywords you are targeting so they arrive and find just what they were looking for and convert quickly.
So, a general rule of thumb is to target one keyword per page with 2–3 keyword variations.
Using the same keyword multiple times doesn't count as two different keywords but affects your keyword density.
Keyword density is the number of times a keyword is used in a set of words. Using the keyword more than four times per 250 words pushes keyword stuffing.
Find out how we can help grow your business