How Facebook Groups Can Help You Increase Your Organic Reach
Years ago, before any of the major social networks popped up on the internet, every little niche had its forums on the web. Some of them had tens of thousands of active users talking about anything you can think of, from restoring cars to training your dogs.
All you had to do was perform a search in the reigning search engines of the day, and you could find a great forum to participate in and start building relationships with the people on the forums.
Nowadays, Facebook Groups have pretty much replaced those niche forums. This is great from the user's point of view because you can participate in 30 groups at the same time, and it all runs through your Facebook newsfeed.
What we've seen happening over the last year, though, is that more and more people and brands are moving away, migrating from Facebook Pages to Facebook Groups. This movement is understandable because Facebook made it harder and harder to get any of your fans to see any of your updates unless you pay to boost your posts.
There are, of course, ways to get better engagement on your Facebook page, even without ads, but at the end of the day, it is becoming harder every day to get noticed, and to appear in the newsfeed of your fans without payments.
One of the other reasons why Facebook Groups are becoming more and more popular is because you can build a real relationship with your target audience.
Between the migration from old school forums and Facebook page owners, Facebook Groups has created an ecosphere where every target audience is actively reading and engaging with posts. A Facebook Group allows for a two-way interaction, where group members can post messages and ask questions as well.
In this post, we will be looking at how you, too, can use this great medium to your advantage, and how you can build genuine relationships again with your audience on top of Facebook.
Why use Facebook Groups for your marketing?
As you might have noticed on your company page, the organic reach of Facebook Pages has been steadily declining for years. In an earlier post, we already talked about the decline of Facebook fan page reach before. With Pages with more than 500,000 Likes, organic reach could be as low as 2%.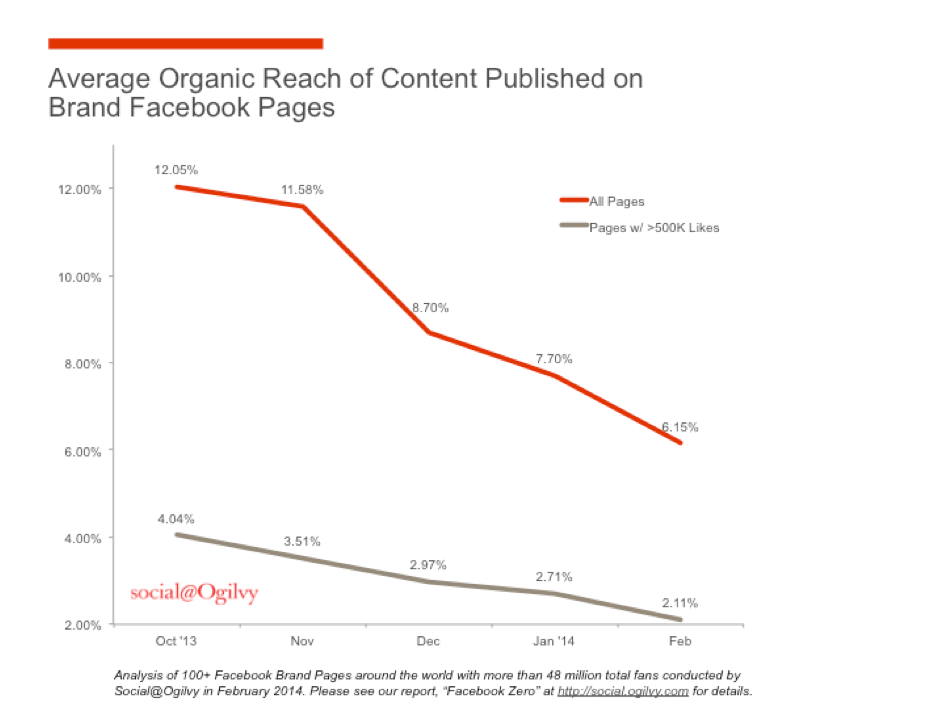 The Facebook algorithm favors groups
Then, later in 2016, Facebook adjusted its News Feed Algorithm again (to prioritize content from friends and family over pages further). In the blog post by Facebook Engineering Director Lars Backstrom at the time, he warned that Pages could anticipate a dip in organic reach, which could leave reach lower than that earlier 2%, in some cases.
For many businesses, the only way to see their posts on the social platform is to open up that marketing budget.
Why does Facebook keep on making these changes? Well, apparently, every time you log into Facebook, the News Feed Algorithm scans and collects everything posted in the past week by each of your friends, everyone you follow, each group you belong to, and every Facebook page you've liked. For the average Facebook user, that's more than 1,500 posts, according to Victor Luckerson.
To solve this, Facebook screens all the posts, based on thousands of different factors relative to the user, and ends up only displaying 300 of the most relevant stories for you in your News Feed.
As a result of the potential almost zero possibilities you might have as a brand to end up in the News Feed or a fan, it might be worthwhile to invest more in building relationships with those fans instead of trying to scream for attention on your page.
By starting and growing a group on Facebook, you will have a greater degree of control and a higher potential for engagement. And the more engagement, the bigger the chances of the posts appearing in the News Feed of your fans.
The great news here is that you don't have to spend money to have your posts seen in Facebook Groups. A Facebook Group shows the posts in chronological order, and when comments are added to a post, it moves to the top of the feed. Next, to that, you also have the option to pin a post to the top of a group for even more visibility.
Unlike Pages, which tend to focus mostly on promotion, Groups are collaborative by default. As the name already suggests, Facebook Groups serve as a rallying point or coming together of individuals around a cause or other similar interests.
Even better, if your group members interact with your content (likes, shares, comments, posts, or tags) regularly, Facebook will consider you on the same level as friends and family.
The platform will prioritize your content while deciding on the feed display sequence. As a result, your posts will be displayed higher up in your members' feeds.
So you can make the Facebook algorithm work for you and get higher visibility on your posts by creating a group.
Slowly, more and more businesses are starting to understand this and are using the power of Facebook Groups to build a community around their product or services. To interact with their customers and leads on a more personal level.
Facebook Groups strengthen brand-customer relationships
Because you build this relationship with your group members on a deeper level than you can with your Facebook page, you can extend your customer care. You can answer people's questions, gather feedback and provide after-sales service.
Some companies go as far as to have a separate Facebook Group for each product line, where they deliver online tutorials or hacks to use their products in different ways. This delighting of your customers, of course, will only strengthen the relationship that you have with your customers.
Facebook Groups help facilitate community building
This bringing together like-minded people works beyond the relationship between your brand and your customers. Bringing together like-minded people allows for the fostering of relations between your customers as well as building a community around your product or service.
That's why as the group admin, you should always encourage a healthy dialogue between your group members.
When you shift from "me" to "we," it helps to humanize your brand. And since humans trust others more than they trust a brand, it helps build trust in your company.
Facebook Group members are qualified prospects
And finally, because of these more personal relations in a group than compared to a Facebook page, people only join groups with which they have an affinity. This means, of course, that the members of your group are either existing customers or qualified customers that you can reach out to. They are more receptive to your content and ready to engage with you.
If you treat them well, it is much easier to turn these qualified customers into actual customers for your business than just running a random ad campaign.
Facebook Groups can generate a high Return On Investment (ROI) as a result.
How to create a Facebook Group for your Business
Creating a Facebook Group is pretty straightforward: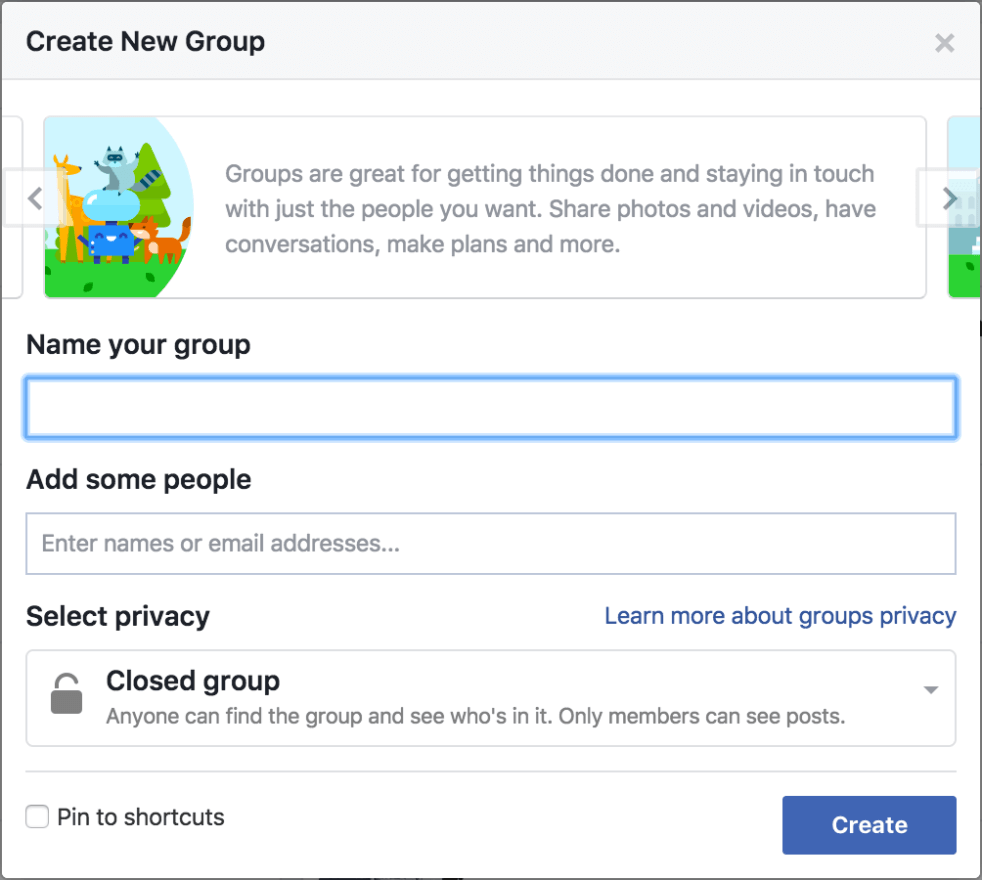 Go to Facebook.com/Groups and click on the + Create Group icon
A popup opens where you can name your group, invite the first people, select the privacy level of the group, and decide if you want to "pin it to shortcuts."
In the next step, you can decide on an icon for your group. In our case, we go for the icon of a trophy because we are all winners, right?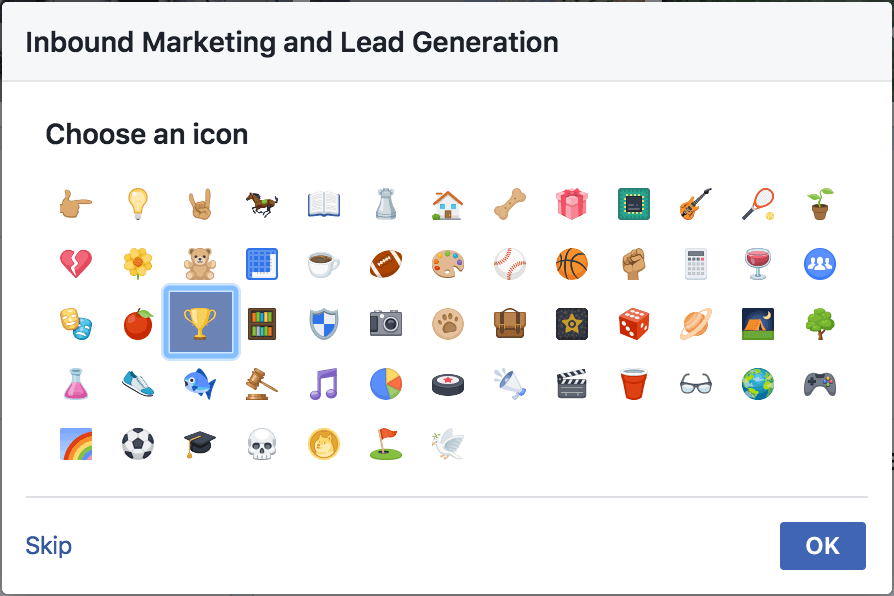 When you hit the OK button after you've chosen an icon, you will be taken to your newly created Group page, where you can customize the look and feel of your Facebook Group, things like a header image, and tags so people can find your group more easily, a description as well as adding more members.
If you don't have a great header visual straight away, a great resource to look at is "The Stocks", which has a great selection of royalty-free stock photo websites to help you get that good-looking visual.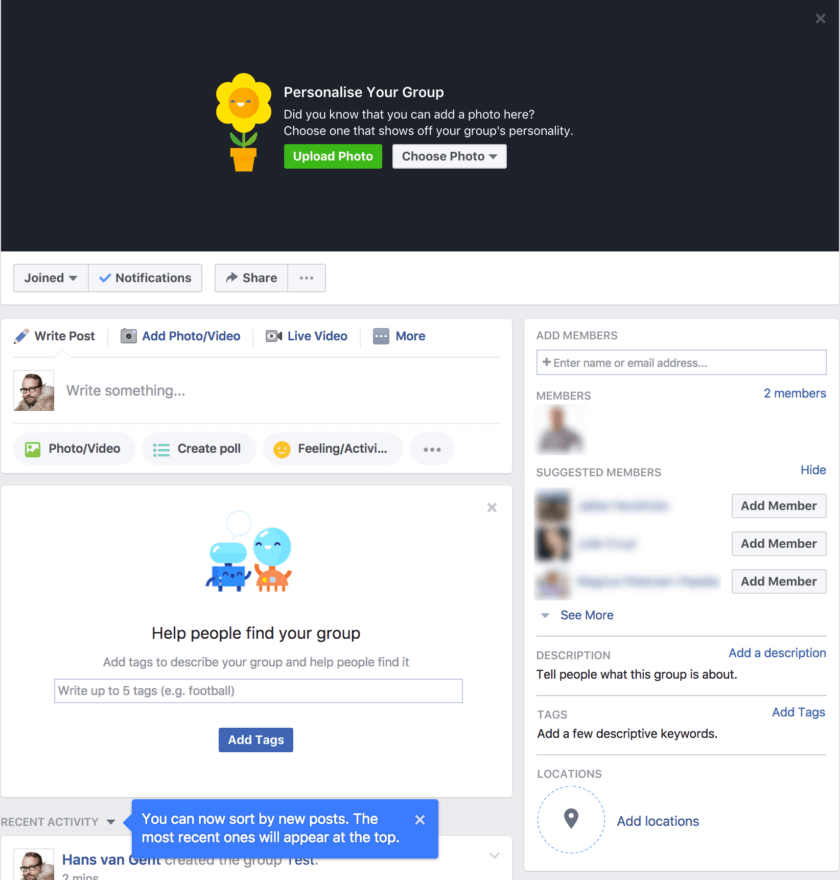 The biggest question with the entire setup concerns what you want to achieve with your group. Depending on your goals, you either want to set your group: secret, closed, or public.
Secret Groups can only be seen by their members and won't appear in a search. Closed Groups are visible to the public and will show up in searches, but only approved members will be able to see the post. Finally, Public Groups are visible to everyone, the content in the group is out in the open, and anyone can join.
After that is done, the other question you always need to keep in the back of your mind is that you need to make sure that your group is interest-based. People don't want to join a Group because they want to receive more sales pitches or product information.
People join a Facebook Group to interact with individuals who have similar interests as they do
Click To Tweet
They join Groups to learn, discuss, share, and have fun. If your biggest focus is on building a community, the sales will eventually happen. But like all great Content Marketing, you first got to give, give, give, give, give, before you can ask.
For example, when you're in the marketing business, you could start a Facebook Group where you share best practices, winning campaigns that are done around the globe, etc.
Or when you're in the business or building garden sheds, you could start a Facebook Group on gardening, which plants you can plant in which seasons, and give tips on how to make the most out of your garden. Now and then, you can show your products in action and the beautiful gardens in which they are located. You can answer questions and also encourage members to share tips and photos of their gardens.
The benefits of a Facebook Group for your business
If you might not have guessed it yet, starting your own Facebook Group has many different benefits. And we're not alone in thinking that. According to Suzi Nelson, Community Manager for Digital Marketer, in an article on Digital Marketer's blog, the establishment of a private Facebook Group for their customers has helped the company meet a number of important business goals including:
Increasing customer satisfaction
Reducing refunds
Increasing retention in monthly memberships
Increasing sales generated by word-of-mouth recommendations
These goals could only be achieved because, compared to Facebook Pages, Facebook Groups allow you to direct communication with your target audience (existing and not yet existing clients). It allows you to interact with them on a platform they are likely checking multiple times throughout the day. More and more individuals prefer to communicate through Facebook versus by email or phone (hence also the rise of chatbots).
By sparking conversations with your Group members, you can find out what is on top of your mind and incorporate that in your marketing messages as well. Or use this as feedback around your products.
Have you ever sent a request to a company's support team, only having to wait days for an initial response? Having a community, a tribe (as Seth Godin calls this), will also help with Customer Service and retention.
An excellent example of this is the mobile application Gyroscope for example. They set up a Facebook Group for their Pro members; instead of emailing the support team with feature requests or searching Google for health-related questions and tracking your health, the community is helping each other. Inspiring the other members to live healthier life.
A private community like that can help draw in more sales as well; it will give you the benefit of the product or service and home to talk with like-minded people.
The last benefit we would like to discuss is the increased authority you can get by starting a Facebook Group. As the creator of a Group, you are uniquely positioned to bring together people with similar interests and goals and initiate relationships between them. The effect is almost the same as when you would host a conference or a party, for example.
When you host a live event, many of the people attending will get lots of value from interacting with the other attendees. Since you're the one who made it possible for them to come together and have this experience, you get the credit.
That leadership position increases your perceived authority among your audience and could be another lead generator for your business.
How to use a Facebook Group for your business
You can build your Group and your community in many different ways to benefit your business. For example:
Get like-minded individuals together
Members can offer solutions to pain points or issues that they face. The more support members get, the more positive the experience for your members, the more positive word of mouth and the faster your group grows.
Nurture brand ambassadors
Because a Facebook Group allows you to interact with your fans, it will enable brands to identify real brand advocates. These ambassadors can then be provided with the information and tools they need to present your brand to the outside world and help grow your brand's follower base.
A great way to nurture those brand ambassadors is also to offer them special offers (that will, in turn increase sales again)
Exchange ideas
Use the collective brainpower in the group to exchange ideas about upcoming features of your product or new services that you're considering offering. You can also use the engagement of the Group to run a poll to get quick and reliable answers on which version they like better and what are they liking or disliking about upcoming features? This feedback can inform your product and marketing decisions.
Building awareness
By sharing case studies, video tutorials, research, etc., you can build awareness for your products and services.
Internal communications
Of course, there is also Facebook for work, and there is also Slack, and lots of other options. But often, the most simple approach is the best. When employees are scattered around different offices, you can set up a secret group and communicate with your internal teams. Since most people are logged into Facebook anyhow, it will be easy for them to follow updates and catch up on messages from the rest of the company.
You can use Facebook Groups to set up online interactions between your department and share meeting minutes and goals and plans.
Offer customer support
People love their favorite products and companies showing transparency. By doing customer support in the open, you're sharing that you have nothing to hide. By responding quickly to any issues that your clients are posting in your Group, you can win the trust of your customers.
Networking
A simple way to extend the experience of the conference you're hosting is to invite your attendees to be part of a Group. This will help strengthen the relationship for everyone that attends it. By getting the participants involved in discussions and chats, you will be able to maintain the momentum. It can help your group benefit from the new members' expertise, especially if they are influencers or thought leaders.
How to target Facebook groups with Facebook Ads
Since Facebook groups host highly qualified leads for your business, it would be ideal if you could target them with ads.
Sadly there is no way you can target people in Facebook Groups directly using the ad platform of Facebook.
However, there is a workaround if your business has some interesting videos you can share in groups. Let's have a look at how you can use videos in groups to create audiences for your ad targeting.
Step 1: Create a video that brings value to your target audience
How many people will watch if your video doesn't bring any value to your target audience?
Probably zero.
So go ahead and create an informational video that isn't just about selling your products or service. Create a video that brings value and maybe gives something worthwhile to the people watching it.
The longer they watch, the more accurate your targeting will be.
And yes, you can retarget people that only watch for two-second autoplay. Still, people viewing at least 15 seconds of the video (known as ThruPlay) will make your advertising targeting audience much more qualified.
Step 2: Create a new post to a Facebook Group using a video.
Once you've made your video, now it is time to post it to your target Facebook group.
In an ideal situation, you're the owner of the group you're posting this video post in or at least an administrator. This way, you can pin the post to the top of the group or list it as an announcement to the group, and as a result, as many people as possible can view your video.
The more people view your video, the better your target audience will be as Facebook learns with each new view what person is behind that view. If you can post a video in a group with 1K members top, otherwise a couple of hundred will be a good start, but the more views you can get, the better.
You can also put the video into a lot of different groups, as we can call on the viewing data from all those videos later when you put together your ad campaign.
We can see you thinking, "But most groups only let me post as a person, not a business!"
And yeah, sure, most groups have disabled the option to join a group as a business, but there is a workaround for this as well.
First, post the video on your company's Facebook business page, THEN share that video post in the groups that you want to share it with. The people who view that video can be used as an indicator of the members of that group.
This is not 100% accurate, though, as people also might have viewed that video directly on your business page from other sources, such as the followers of your page or other places where you shared that video.
You want to keep your audience data as pure as possible, to have a dataset to target that is as pure as possible.
In some situations, you might not want to also share on behalf of your personal profile, so that is something to keep in mind as well.
Step 3: Build a campaign to target your Facebook Group Custom Audience
The last part is where the magic happens. When you create a new ad campaign on the Facebook Ads Platform, choose whatever objective you want to reach with the custom audience. BUT when you start to build your Ad Set, create a new Custom Audience.
Build that Custom Audience based on video views from all those videos you posted in the different Facebook groups. Or if you're doing just one group at a time, then use just the views on the one individual video views.
Next up, when you've selected the video whose wish you want to target, you'll have the option to target different levels of engagement with your video. You can target people who viewed your video for the 15-second ThruPlay measurement or for two or even ten seconds.
As we mentioned earlier, the longer the watch duration, the more engaged your viewers are and the higher value your audience will be.
So you probably want to go for at least the minimum of the ThruPlay viewers or even durations longer than the 15-second mark.
On the other hand, you can also just use the people that only triggered the auto view and not have seen your full video. This will give you more people and might better represent the general audience of the Facebook Group that you want to target with your ads instead of people in a Facebook Group and are most likely to buy. The choice is yours.
So yeah, while there is a specific targeting option for Facebook Groups in the Facebook Ads platform yet, there is a workaround to build a target audience that delivers quite a lot of members of the Facebook Groups with audiences that might be of interest to your business.
It takes a little extra effort, but it is worthwhile to experiment with for your business.
Facebook Groups can be a potent Facebook Marketing tool if used to complement your other online marketing efforts. They allow you to build an engaged community around your products or services, with you, with other customers, and with potential leads.
This increased engagement will, as a result, make sure that people will see your content organically on Facebook in a way that your company's Facebook Page can't.
This alone will be a great value to any business and is often overlooked or underutilized.
Are you a member or even an admin of any Facebook Groups? Which benefits are you getting from them? And if not, will you join one or create one for your organization? Leave a comment below!
Want to learn more about growing your business through digital marketing? Looking to take your business to the next level? Let's talk!
No spam, ever. Your email address will only ever be used for notifications regarding our blog posts and product releases.
If you want you can easily unsubscribe with a single click at any time.