How to choose the right SEO agency to help grow your business online
Are you searching for the best SEO agency to help your business grow online? In today's market, with hundreds, if not thousands, of SEO agencies out there, picking the right one can be tough.
But don't you worry!
If you're wondering:
How do I choose the best SEO agency?
How can I find a top SEO company that doesn't need ads to rank the websites of its clients?
What do I look for in an SEO agency?
Then, we've got you covered! In this easy-to-follow guide, we'll help you learn how to choose an SEO agency that's perfect for you.
We'll explain what they do, why they're essential for growing your business online, and the questions you should ask before hiring one.
So, get ready to discover the secrets of finding the right SEO agency to make your business shine online!
What does an SEO agency do?
So, you've probably heard about SEO agencies. That might be the reason why you want to hire one in the first place, but do you know exactly what they do?  Let's break it down in simple terms.
An SEO or Search Engine Optimization agency is like a superhero for your business's online presence.
Their goal is to ensure that your website ranks high on the free (non-advertising) part of search engines like Google. Because when your website appears at the top of search results, more people can find your business, visit your site, and become your customers.
Sounds awesome, right?
Now, you might be wondering how these SEO specialists work their magic. Here's a quick overview of some key tasks they perform:
Keyword research: SEO agencies find the best words and phrases that people use to search for products or services like yours. This process is called keyword research. Targeting these keywords help your website show up when people search for them.
On-page optimization: This is all about making your website super-friendly for search engines and users. SEO agencies optimize your site's content, structure, and even the behind-the-scenes code to ensure everything runs smoothly.
Off-page optimization: SEO agencies also work hard to build your website's reputation online. They get high-quality backlinks, manage your social media presence, and promote your content on other websites.
Technical SEO: Like a skilled mechanic, SEO agencies fine-tune your website's technical aspects to ensure it's running at top speed. They fix any issues that might slow down your site or make it harder for search engines to understand.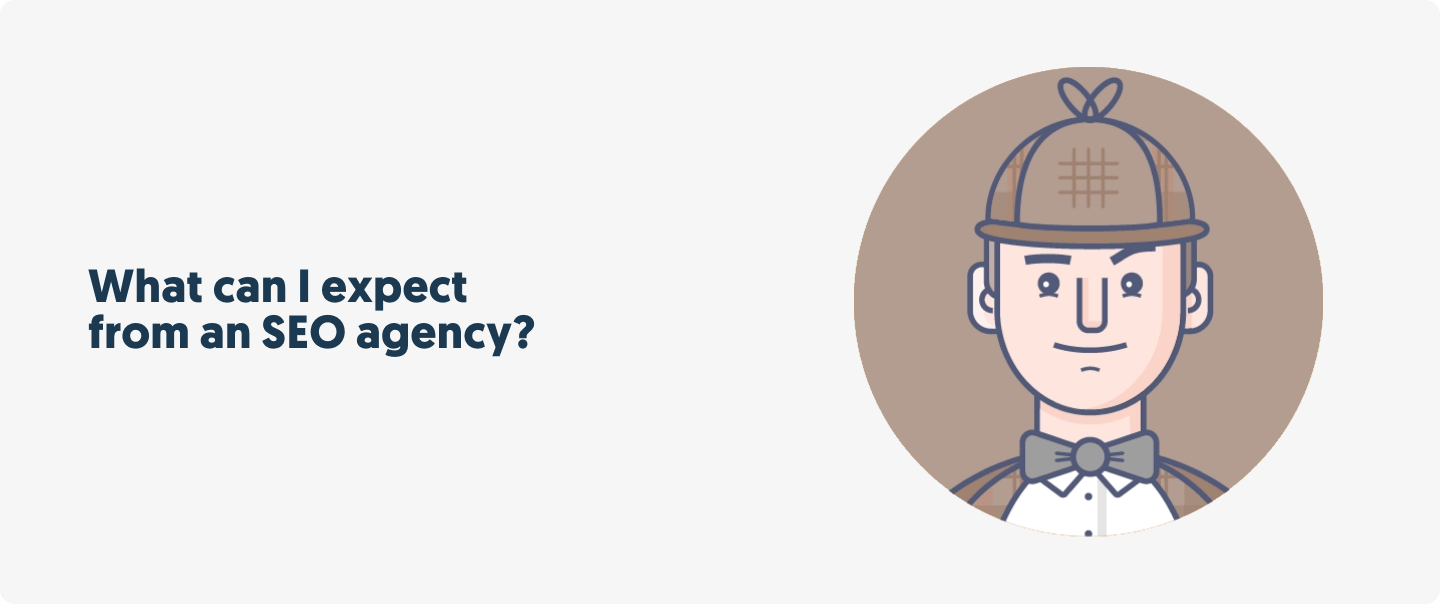 What can I expect from an SEO agency?
Now that you know what an SEO agency does, let's talk about what you can expect when working with one. SEO agencies are here to help your business grow. They'll do this by offering various services tailored to your needs. Here's what you can expect from a top-notch SEO agency:
Customized strategies: Every business is unique, and so are its SEO needs. A good SEO agency will create a customized plan that targets your specific goals and objectives.
Regular communication: You can expect open and transparent communication from a professional SEO agency. They'll keep you in the loop about their progress, share reports, and be available to answer any questions you have.
Measurable results: An SEO agency should deliver quantifiable results that show the impact of their work on your business. This could include improvements in your search engine rankings, increased website traffic, or a boost in sales.
Ongoing support: SEO is an ever-evolving field, and a great SEO agency will stay updated with the latest trends and best practices. They'll also provide ongoing support to ensure your website continues to perform at its best.
Remember, the right SEO agency will be your partner in success, working tirelessly to help your business reach its full online potential.
The benefits of hiring an SEO agency
So, you've learned what an SEO agency does and what to expect when working with one. But why should you hire an SEO agency in the first place? What are the benefits? Let's dive into some of the top advantages of partnering with an SEO agency to boost your business's online presence.
SEO experts are always ahead of the game
The world of SEO is constantly changing, with search engines like Google regularly updating their algorithms.
This means that staying on top of the latest trends and best practices is crucial for success.
SEO experts at an agency are dedicated to staying ahead of the game, so they can keep your website optimized and performing at its best, even as the digital landscape evolves.
SEO companies do all the hard work for you
Let's be honest; SEO can be time-consuming and complex. By hiring an SEO agency, you're putting your website in the hands of skilled professionals who know the ins and outs of the industry.
They'll do all the hard work for you, from researching keywords and optimizing your site to building backlinks and monitoring your progress.
This leaves you free to focus on running your business and serving your customers.
The best SEO agencies can offer an integrated marketing approach
A top-notch SEO agency doesn't just focus on improving your search engine rankings; they understand that a truly successful online presence requires an integrated marketing approach.
By combining SEO with other digital marketing services like:
These agencies can help you create a comprehensive strategy that drives more traffic, generates more leads, and ultimately boosts your bottom line.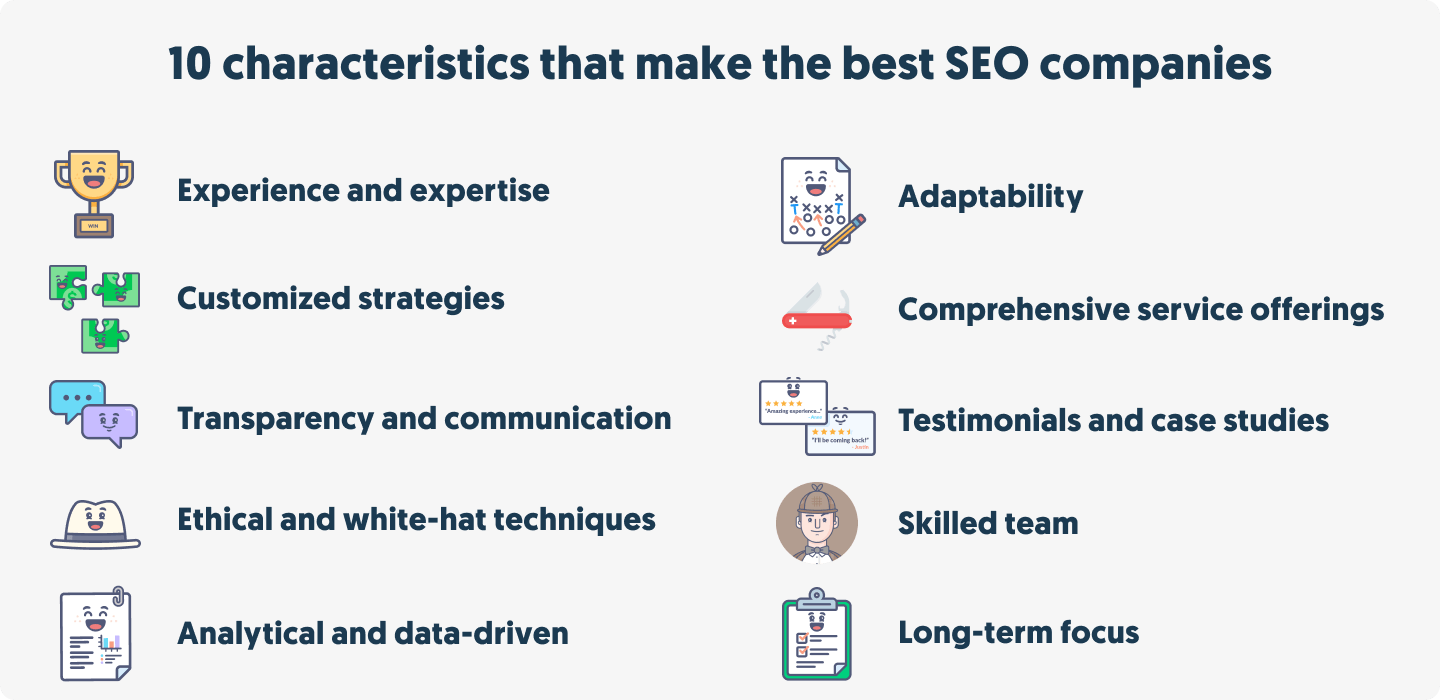 10 characteristics that make the best SEO companies
The best SEO (Search Engine Optimization) companies possess several characteristics that set them apart from their competitors. Here are some key traits to look for:
#1 Experience and expertise
Top SEO companies have a proven track record of delivering successful SEO campaigns and staying up-to-date with industry best practices. They have experience across various industries and niches, which enables them to adapt and implement strategies effectively.
Their teams are well-versed in the latest algorithm updates, emerging trends, and techniques to improve search rankings and drive organic traffic. This is one of the reasons User Growth has a wide variety of skilled people with experience in all matters of SEO. Search Engine Optimization is such a broad topic that it is difficult for one person to become a master in all of the different needed skills.
#2 Customized strategies
The best SEO companies understand that each client has unique needs and goals. They develop tailored strategies based on a comprehensive analysis of the client's website, competition, and target audience.
This in-depth understanding allows them to create customized plans that address specific challenges and opportunities, ensuring maximum impact and long-lasting results.
#3 Transparency and communication
Reputable SEO firms are transparent in their processes and maintain open lines of communication with clients. They provide regular progress reports and updates, ensuring clients understand the work being done and the results being achieved.
These companies value client trust and are committed to fostering strong working relationships through honest, open dialogue.
#4 Ethical and white-hat techniques
The best SEO companies adhere to industry-approved, white-hat techniques, avoiding manipulative practices that may result in penalties from search engines.
They prioritize long-term success over short-term gains, focusing on strategies that provide lasting value and protect the client's online reputation.
#5 Analytical and data-driven
Top SEO firms use data and analytics to guide their strategies, measuring the effectiveness of their efforts and adjusting as needed. They track key performance indicators (KPIs) to demonstrate the value of their services and make data-driven decisions to optimize campaigns continuously.
This commitment to data-driven analysis helps ensure maximum ROI for clients.
#6 Adaptability
The SEO landscape constantly changes, so the best companies stay informed about algorithm updates and industry trends. They are agile and can quickly adapt their strategies to maintain and improve their client's search rankings.
This adaptability helps clients stay competitive and capitalize on new opportunities in the ever-evolving world of search.
#7 Comprehensive service offerings
The top SEO companies offer a wide range of services, including on-page optimization, off-page optimization, technical SEO, content marketing, and more. They may also provide related services such as PPC management, social media marketing, and web design.
This comprehensive approach allows clients to benefit from synergies across multiple digital marketing channels, maximizing the overall impact of their online presence.
#8 Testimonials and case studies
Successful SEO companies have a portfolio of satisfied clients, showcasing their success through testimonials and case studies. This shows potential clients the company's ability to deliver results, providing evidence of its expertise and credibility.
By examining these success stories, you can better understand how the company has helped other businesses achieve their goals and the potential benefits they can bring to your own organization.
#9 Skilled team
The best SEO companies have a team of skilled professionals, including SEO specialists, content creators, web developers, and digital marketers.
This ensures a comprehensive and cohesive approach to each project, with all team members working together to achieve the client's objectives. Their collective expertise allows them to tackle even the most complex challenges and deliver outstanding results.
#10 Long-term focus
Effective SEO is not a one-time fix but a long-term commitment. The best SEO companies focus on building sustainable strategies that deliver consistent growth and results over time. They recognize that SEO success requires ongoing monitoring, analysis, and optimization, and are committed to providing ongoing support and guidance to help their clients achieve long-lasting success.
By considering these characteristics, you can identify the top SEO companies and make a well-informed decision when choosing an SEO partner for your business.

Tips for choosing the right SEO agency
You now know the benefits of hiring an SEO agency, but how do you choose the right one for your business? With so many options out there, making the right decision can feel overwhelming.
Don't worry; we're here to help! Here are some essential tips for selecting the perfect SEO agency to support your business's growth.
Follow your gut
While researching and gathering information about potential SEO agencies is crucial, it's also essential to trust your instincts. Please pay attention to how an agency communicates with you and whether they seem genuinely interested in understanding your business and goals. If something doesn't feel right, moving on and exploring other options is okay.
Read up on SEO
Before you start talking to SEO agencies, take some time to educate yourself about the basics of what is SEO. This will help you ask better questions, understand the agency's offerings, and make more informed decisions. You don't need to become an expert, but having a general understanding of the key concepts will go a long way.
Talk with multiple different agencies
Don't settle for the first agency you come across. Instead, make sure to talk with several different agencies to get a better understanding of what each one can offer. Comparing their services, strategies, and pricing will help you make an informed decision that best suits your business's needs and budget.
Research the agency's reputation
Researching its reputation is a great way to learn more about an SEO agency. Look for online reviews, testimonials, and case studies to see what past clients have to say about their experiences. You can also ask the agency for references or examples of their work to better understand their expertise and success in the field.
Ask critical questions
Don't be afraid to ask critical questions when talking to potential SEO agencies. This will help you gauge their knowledge, experience, and approach to SEO.
Doing this with all the different agencies you're talking to will also help you with that gut decision of the first point. See how they react; what answers are they giving you?
Want to know what types of questions you can ask?

Critical questions to ask an SEO specialist
When talking to one or multiple different SEO agencies, you must ensure you're asking the right questions upfront, as this will prevent surprises down the line.
To help you get started, we've written down 12 questions you can ask.
1. Do you guarantee ranking results?
Asking this question helps you identify agencies that use unethical practices or make unrealistic promises. Whenever an SEO agency says they can guarantee a number one spot, this should immediately be a red flag. Agencies, just like yourself, are at the mercy of Google's and other search engines' ever-changing algorithms.
One small change in these algorithms can have a huge negative impact on search engine results pages. As a result, no agency can truly guarantee results. Reputable SEO specialists will explain that they cannot guarantee specific ranking results but will focus on using proven strategies to improve your website's performance over time.
2. Can I see the analysis and the data?
Not all data might be understandable if working with it is not something you do daily, and a good SEO agency will always make sense out of the data for you so you know what you're looking at. However, this question ensures that the agency is transparent and data-driven in its approach. A good SEO specialist will happily share their analytical process and provide data to support their recommendations and strategies.
3. Can I take my data with me whenever our contract ends?
If all goes well, you will be happy for a very long time with your agency, and as a result, this question is never not really needed. But what happens when, for whatever reason, you decide to end a campaign with one agency and want to switch to another agency?
Knowing whether you retain ownership of the data generated during your partnership is essential. A trustworthy agency will confirm that you can take your data with you once the contract ends. This way, you can ensure that all the time and money invested is not wasted. Do make sure before you start a collaboration that you will be the owner of your own data.
4. How long does it take before I can see results?
This question is a complicated question for any agency to answer. Nonetheless, it is always good for any agency to set realistic expectations when starting a collaboration.
SEO is a long-term strategy, and results can take time to materialize. Asking this question helps set realistic expectations. A reputable SEO specialist will likely indicate that results can take several months or more, depending on various factors.
After you've had your onboarding, and they had time for a thorough market and competition research, they should be able to give a clearer answer but still, use these with some caution, as mentioned in the first point. Results can't be guaranteed, but you should definitely be able to see progression.

5. Which SEO tools do you use?
Knowing the agency's tools can provide insight into its expertise and capabilities. Are they using off-the-shelf tools you can easily use yourself, or are they investing in professional tools that are costing lots of money and time investment to use properly?
A professional SEO agency should be able to name the industry-standard tools they use for keyword research, analytics, and other essential SEO tasks. Some important tools and names you want to hear:
6. How do you measure results?
You don't know what you don't measure. Understanding how an agency measures success is crucial for aligning your goals. How will you know if your SEO campaign is a success and that you're moving up the ranks with your website if there is no proper tracking in place?
A good SEO specialist will discuss key performance indicators (KPIs) like organic traffic, conversion rates, and keyword rankings. They will also review (and potentially optimize) the tracking plan on your website as part of the onboarding process to ensure that conversions can be appropriately measured.
Interesting to know as well, is how often they are reporting back to you and what their reports will look like. And yeah, just measuring visitors is not enough. What good does it do your business if you all of a sudden start to get 200% more visitors to your websites, but you still don't get any business out of it?
7. Which results did you get with other companies?
This question helps you gauge the agency's experience and success in the field. A reliable SEO agency will be willing to share case studies or testimonials from previous clients to showcase their achievements. By looking at reviews and asking them how they achieved results with other clients will help you better understand their processes and what it took to get there.
After all, SEO is a long-term play, so you need to be sure that this agency is the one you want to work with for the coming years.
8. Which information do you need from me?
An SEO specialist can only do a proper job for your business if they thoroughly understand it. They need to know:
what makes your business unique
what you're highest selling products are
what business competitors do you have
how your ideal customers look like, and what words they are using to describe your product or service
what your business goals are, and what would you like to get out of the collaboration
how your sales process looks like
what marketing channels are you currently using or have already tried out in the past
if you worked with another digital marketing agency before, and what it is that they did exactly
Just to name a few. An SEO specialist who seeks your input demonstrates that they are interested in understanding your business and tailoring their approach accordingly.
9. What is my current SEO situation?
A competent SEO agency should be able to assess your website's current SEO status and provide insights into areas that need improvement. This demonstrates their expertise and ability to analyze your site effectively.
10. Do you know the webmaster guidelines?
When an SEO agency hears the term "webmaster guidelines," it should certainly not bring any questioning faces. After all, these guidelines from Google are essential to adhere to. Asking this question helps ensure that the agency adheres to ethical SEO practices.
A professional SEO specialist should be familiar with Google's Webmaster Guidelines and other search engine policies.
Does the agency violate the rules? Then chances are your website will receive a Google Penalty. That means it will disappear from search results altogether. Of course, that should not happen, so be very alert to this. Check out Google's guidelines for webmasters yourself here.
11. What would you currently recommend to me?
During your initial meeting, you will not only get to know your potential (new) agency but also the other way around. And just like any good meeting, people need to come prepared. They should have already taken at least (a quick) look at your website. A reliable SEO agency will provide initial recommendations based on what information is publicly available.
Some questions to ask and find out:
What are the search terms I'm currently already ranking well for? A lot of agencies can easily point out all the things that are wrong and could be done better, but that is something usually easy to say. Let's start with something positive and let them tell you what you're currently already doing well.
Who are my biggest SEO competitors? Sure, you know what your competitors are in general, but in the search engine result pages, you're not only fighting for a place in the top rankings with your local competitors, but you're up against a global market of potential competitors you've never heard of before. An SEO specialist has tools in place that let them map out your competition and their scores. For example, which keywords are they already ranking for that could be of interest to you?
What would be the first thing you would start to improve on when we start working together? Answering this question will help deduce how knowledgeable the agency is and if they already have an overall plan. On top of that, you also know if they have already looked at your website.
These recommendations can give you an idea of their approach and whether it aligns with your expectations.
12. How will you communicate?
Effective communication is essential for a successful partnership. Asking this question helps establish expectations for communication channels, frequency, and the types of updates you'll receive.
A good SEO specialist will be open to discussing your preferred communication style and adapting accordingly.

Finally, before you start: Know your goals and desired outcomes
The final thing we want to address before you can make a well-educated choice about which SEO company is best to work with for your business is that you must figure out your internal goals and desired outcomes before starting a collaboration.
Picture yourself wanting to go on a last-minute date with the person of your dreams. You book a ticket for a concert of the band they talk about and listen to every day. Everything goes smoothly, and you arrive at the concert hall. However, when the band starts to play it isn't Coldplay or Beyoncé. It is a death-metal band playing the type of music your date hates.
You'd be frustrated by the wasted opportunity, right?
Selecting an SEO agency could be looked upon similarly. Each agency has the potential to elevate your website's organic rankings. To take your business to the dream date and future, you imagined that would come out of it. But before you start on this potential journey, it is essential to:
Understand your business objectives (your goals), and
Define your expectations once you achieve them (your desired outcomes)
In the world of SEO, your goals require a specific approach (or agency). Some of the primary ones include:
SEO-focused content marketing
Link building
Local SEO
E-commerce SEO
This list is by no means comprehensive. As digital marketing, online trends, and search engines continue to evolve, these categories may expand or transform.
As for your desired outcomes, you might aim to:
Boost your website's overall ranking or specific keywords
Attract more targeted traffic and leads, or
Generate sales directly through organic search results.
Your ultimate business goals and outcomes will guide your SEO strategies and tactics. Since no SEO agency can cater to all strategies, industry sectors, and company sizes, understanding these fundamentals is crucial for determining the right partner for your needs.
Conclusion
Choosing the right SEO agency involves more than just identifying a company proficient in search engine optimization techniques. Finding a partner that offers honest, open, and transparent communication is crucial, sets realistic expectations for results, and keeps you informed as progress is made.
Remember that SEO takes time, and results typically don't become noticeable in the first month. On top of that, there are no guarantees, and the process can vary depending on the industry's competitiveness. For example, highly competitive industries like medical, legal, or those falling under the YMYL (your money or your life) category may take longer to see results than e-commerce or local businesses.
Understanding how to identify the best SEO company is crucial to your success, as not all agencies are created equal. Beware of companies that promise overnight success, as they likely lack a deep understanding of SEO. The most reliable SEO companies won't make outrageous promises; instead, they'll show you what's achievable and work diligently to reach those goals.
By giving your chosen SEO agency time, you'll see results in qualified traffic, leads, and sales. Once the momentum starts, it becomes a self-sustaining cycle, improving as long as you continue to collaborate with a top-notch SEO company.
If you're looking for a full-service SEO agency to help grow your business, User Growth can help you! Click the orange button below 👇
Want to learn more about growing your business through digital marketing? Looking to take your business to the next level? Let's talk!
No spam, ever. Your email address will only ever be used for notifications regarding our blog posts and product releases.
If you want you can easily unsubscribe with a single click at any time.