Increasing Website Traffic By Updating Old Blog Posts
Every day millions of words are being put down on websites to attract more readers and, hopefully more customers.
After all, small businesses that blog get 126% more lead growth than small businesses that do not blog.
But with millions of posts being written every day, how much of this content do you think actually gets seen by their target audience?
And what happens after you hit that publish button?
You might promote the post a bit after it goes live. You might put some ad budget on there to increase the traffic. You might include it in your weekly newsletter, and then what?
At one point, most people just forget about the content they produce and move on. After all, a new publication just went live, which also needs attention.
But if you're not driving traffic to those old blog posts, was it worth the time and money invested in them?
It probably doesn't make sense to spend all that time creating something and then just letting it die once the next thing comes out.
The answer to increasing your website's traffic is one of the easiest and most simple ones you probably overlooked: older blog posts.
Imagine that if each of these older posts just received 50 more visitors each day, 50 more visitors could contact you for the first time, maybe even find more interesting content on your website and eventually turn into customers.
Your old content is key to growing your blog and taking your company to the next level, and in this post, we will teach you how.
Why should you be updating old content
One of the biggest advantages of content marketing is that it continues to drive results in terms of traffic and leads over time.
People arriving at your site are probably searching for a solution to their problem.
But what if that information is outdated? What if you're presenting them with the wrong information? You don't want to send them in the wrong direction, do you?
Next, people who are reading and following your content right now are probably not there a year ago when you published that impressive piece, and even if they were, it doesn't mean they read all of your fantastic content.
By updating and putting some new spotlights on your older but high-performing evergreen content, you can extend its life of them and make sure it continues to bring in leads for you over time.
You already know who loved and shared your content in the past. Maybe you can ping them and tell them about the updated version you just released? Making promotion a lot easier.
Updating older content also takes up a lot less time than writing and producing a new article from scratch, and not just on the writing part. But what about search engine ranking?
When a post already has built up a certain level of authority, giving it a boost will make it rank easier than something that hasn't built any backlinks over time.
And while you should not only update your old content or all of your old content, there is still value in consistently bringing fresh new content and publishing. There is lots of value to be gained by analyzing which content your readers love and figuring out how you can make them love the post even more.
Which content deserves an update?
Now that we've hopefully convinced you that it is a good thing to keep on revising your old posts, the question is, of course, which content deserves an upgrade?
After all, not all content is created equal, and as a result, you could be wasting some time trying to optimize posts that are just not worth it. For a post to be considered a good candidate to keep fresh, we will look at four metrics.
Traffic
The first one will be the one we will use as the basis to get an overview of all our content. And for us to do that, we first create a list of all your existing content and put that into a Google Sheet.
The quickest way to do this is by using Google Analytics. Go to your Google Analytics account and then go to the "Behaviour" > "Overview" report in the left menu.
You will then see a list of your website's top 10 most viewed pages. You will get a more detailed list by clicking "view full report" in the bottom right corner.

On the more detailed list, scroll to the bottom again and change the "show rows" number to the maximum value it offers (or at least to have it at a significant enough value that it contains all your content).
In the top right corner, be sure to change the date to a bigger range so you can get a good enough overview of what is happening in the last month and click the export button.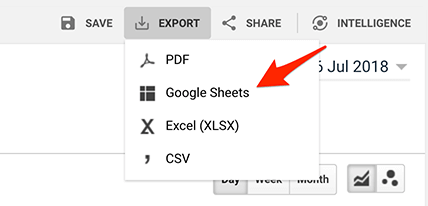 One of the beautiful things about Google Analytics is the tight integration to all their other platforms, and you can easily export this data straight away to a Google Sheet.
This will give a great starting point with a list of all your posts, including their:
Page Views
Bounce Rate
Unique Page Views
Avg. Time on Page
Entrances
Bounce Rate
% Exit
Although this is already great information, this is just the start because this only tells us what is happening on our site. But it doesn't paint the whole picture yet of what is happening outside our website.
So to do that, we will extend the Google Sheet with three more metrics.
Inbound or Back Links
Or the number of other websites pointing towards the unique content. This one is one of the most important metrics as it is an essential ranking factor in Search Engine Optimization (SEO). By identifying the posts that have attracted lots of links in the past, you know which content is essential to your readers and, hopefully, get more traffic.
Using Moz Open Site Explorer, you can manually check each link and see the number of links pointing to that page.

Write down the number of total links in a separate column in your Google Sheet.
Social shares
How often a post is shared on social media is a good indicator of a high-performing post, especially since social shares factor into search rankings, too.
To get the number of social shares for all of your content, we recommend using Shared Count. Although the tool is free, it only allows you to check for 1,000 daily queries. (The great thing is you can export to CSV, easily importing the data back into your Google Sheet).
Another way to do this, for the more tech-savvy readers, is to use a little script inside of Google Sheets so you can get them all at once. (and if you're just interested in Facebook data, have a look at this app.
Keywords
For the last part, you must head over to Google Search Console.
Because we want to figure out what all the phrases or keywords are that your pages are ranking for.
This last bit aims to identify the keywords Google has started ranking you for so you can begin optimizing your article to push it even further up.
Start by clicking the pages tab underneath performance in Google Search Console. If you click this option, you will get a list of all your website pages that have received impressions. You can then check the clicks, impressions, CTR, and position in the Search Engine Result Page (SERP) on a per-page basis!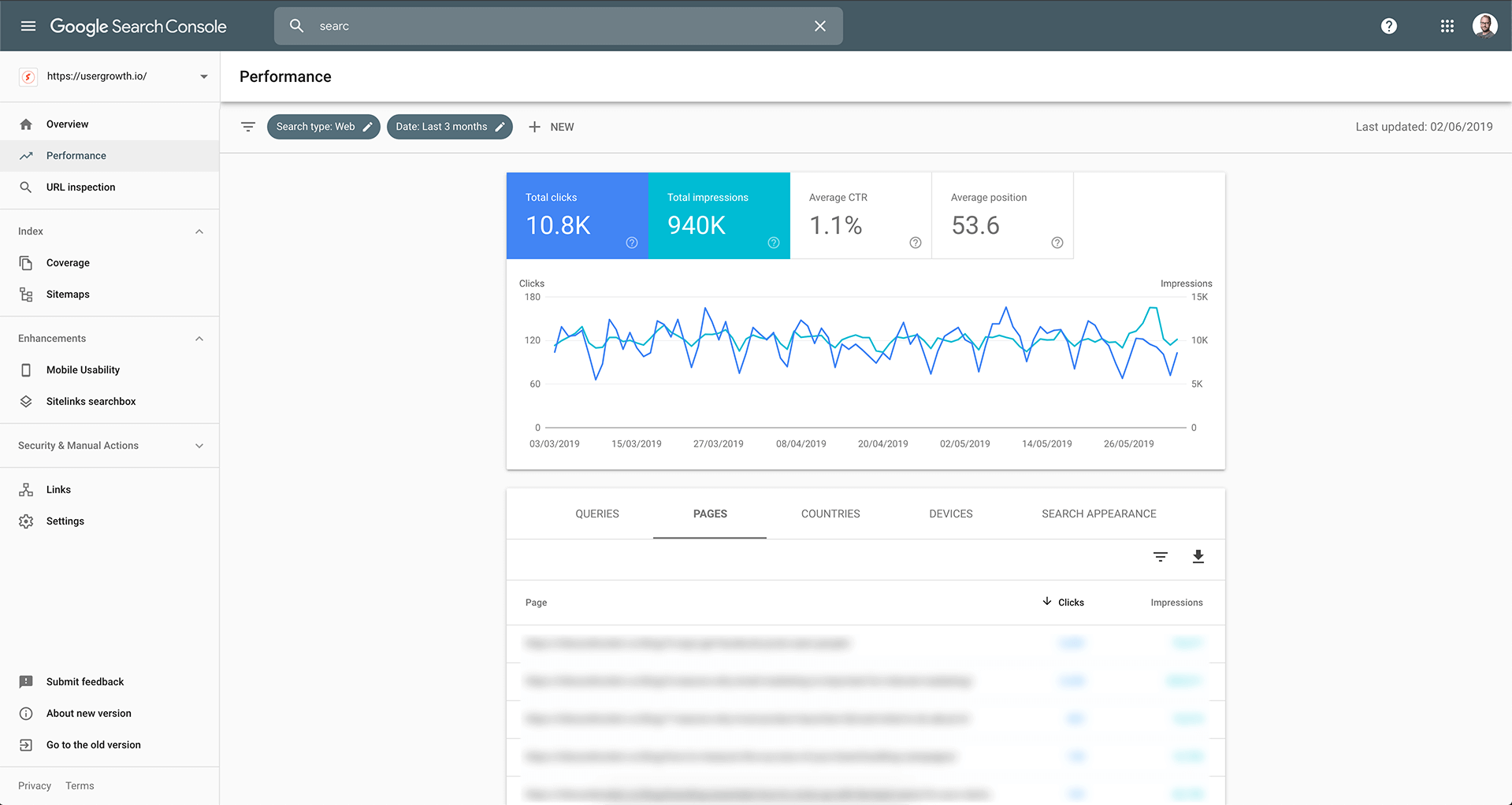 Now that you know which of your pages are the most popular and at which position in the SERP they are ranking, as we said earlier, we want to know all the phrases and words your pages are ranking for, so you can figure out which you can quickly improve on.
If you click an individual page, followed by clicking the Queries tab, you can see something that looks like the below visual.
It will show you the total clicks, total impressions, average CTR, and the average keyword position for the selected period (default is three months).
Below are the queries your page ranks for and its position on the SERP for that keyword or phrase.
From here, you can review this list of all the words found that you are ranking for but aren't getting any good Click Through Rate (CTR). Additionally, you can also see keywords that you might not know of, or are ranking for but for which your ranking can be improved by optimizing your content.
How to figure out what parts to update
With the information we gathered in the previous section, we know which pages are visited the most, combined with how often they are shared on social media, how many pages are linking to them, and how well they are ranking in Google Search.
Now the next step is to take this information and start optimizing the ones that are doing okay but are still not ranking anywhere on the first page of the Google results.
Remove content that is no longer relevant.
Sometimes certain parts of the original post are no longer relevant. The internet is a fast-moving place, and what was relevant some time ago might not be anymore. Have a good look at the post. Are there parts that are no longer relevant?
Maybe there are outdated data/stats that you can replace with a newer version? Perhaps you use some examples throughout your copy that you can update with new ones.
The same holds true for screenshots. Especially when you create a step-by-step guide or how-to, ensuring that all the images are still up to date could be worthwhile.
Since the original publication, you probably published a lot more content, are all the internal links still working? Or are there better or newer resources available on your website that you can link to? New lead generation offers to include?
What about the Call-To-Actions (CTA's)? Are they still relevant? Is the creative used on the CTA still in line with your guidelines?
Lots of small little things you can do to make the article up-to-date again.
Improving the content
After you've done some housekeeping on the article, it is time to extend it with the information we found in the first research.
Take the information from the Keywords and start adding around 20% more content to these articles focusing on adding more content around the keywords from the last step.
You can add the following:
Add details, examples, and length
Add media, such as images, audio, and video
Add input from experts, as in contributor quotes
As long as it includes the keywords that you still want a better ranking for, and you're not just randomly adding stuff, think about how the extra keywords can bring more value to the reader.
The result is that your articles will get pushed up much faster, as Google has hinted at what it sees the value of this article to be around, and you now satisfy Google's algorithms more, so they reward you by pushing you up.
One of the easiest ways to find more content is by searching for the keywords your article already ranks for. When you do, you can find some natural ideas for additional sub-sections for your content by looking at Google's own "people also ask" feature: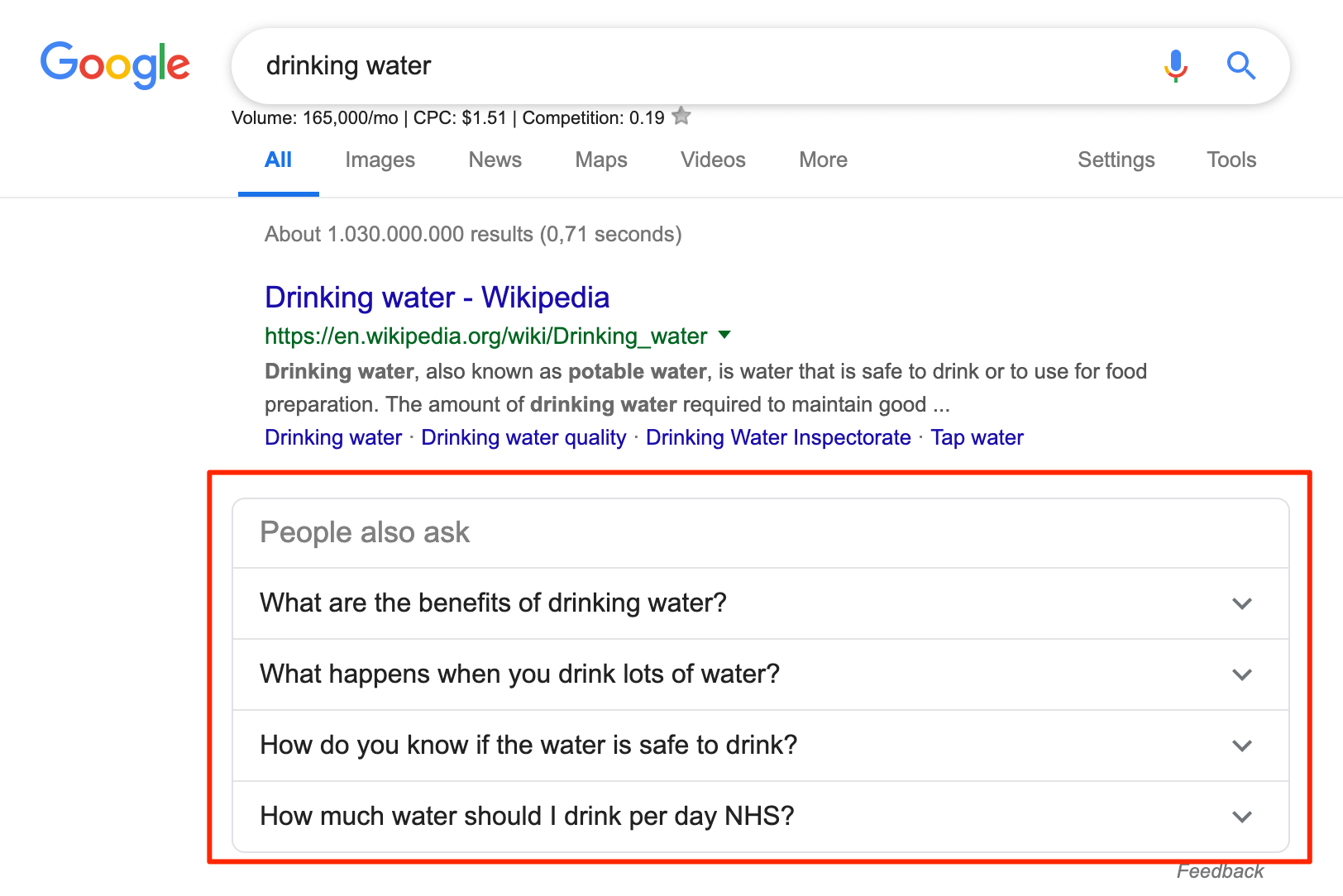 These questions are the keywords or phrases that Google clearly seems to think are relevant to your query. And most of the time, there are some good questions in there that you can use to thicken your existing content and make it more in-depth. Just remember, though, that the Google robot forms these questions, so sometimes they might be worded a bit strangely. Don't just copy and paste these additional questions; rephrase them the best way you can for your audience.
And if your keyword doesn't give you any "People also ask" suggestions, there are always still the Google suggestions at the bottom of the page:

Add an editors note for transparency
Especially when creating evergreen content that does not include a publication date, it is always interesting for the reader to know how up-to-date the information is.
Adding a little editor's note at the top or bottom of your post can greatly help here. It also helps transparency if you include a date on your post. (it might look weird if the publication date is newer than the comments below the post).
Update the meta description on your post.
After all your updates to your original post, is the meta description still up-to-date? Maybe it needs a little refresh as well. Maybe it can be written a little bit better? While a meta-description itself doesn't help in ranking, it sure does help in the clickthrough rate of your content.
And a piece of content at position seven that gets more clicks than a post of content at position three in Google sure is a sign for Google that maybe your article needs to go up higher a little bit.
What not to change
When updating your post, you might get carried away a little bit, and you start changing things that should be kept the same. So to make sure you don't hurt your ranking, there is one item that you SHOULD NEVER change; the web address or URL of the post.
If other websites are linking to the original post, you will break those links. This will give a bad experience to the readers of that content, but even worse for you, you will lose whatever authority and ranking these websites were passing on to you.
Bonus tip
Getting traffic to your content can be a time bomb. Even if you created the best piece of content ever four years ago, and the content is still relevant for your business and your customers today, when a reader comes to your website and sees "Published Oct. 21 2015" they will still think the content is outdated. The reader will immediately devaluate your content (even more so for queries that change more frequently)
The best way to prevent this is by making a small change in your WordPress theme (or website template if you're not using WordPress). Change the "Published date" to "Last updated: date." Not sure how to do this? WPBeginner has a great article that will help you set it up quickly.
This way, when you update your content, you will not only tell Google that your content is up-to-date and interesting, but you will also tell it to your reader—resulting in a lower bounce rate.
What to do after you update your old blog post?
So now that you've updated your content, it is time to let the world know about it.
Let Google re-index the post.
After you've updated your post, make sure that Google news about the updated content as quickly as possible by going to your Google Search Console. Here you just need to put the URL of the post in the top search bar "Inspect any URL in …"

And click on the "Request Indexing" button on the open screen.
This will let Google know about the updates straight away and have the changes indexed faster.
Start sharing your "old" content (again) on social media
Social Media should always be a part of any promotional strategy you have for your content, but unless you're writing ten new posts per day on your company website, you probably don't have much to share of your content.
The solution?
Sharing your older (and updated) blog posts consistently.
When you use WordPress, there is a great tool out there called the Evergreen Content Poster that lets you share older (and updated) blog posts consistently.
This plugin will automatically share old posts on Twitter and other social media if you have the plugin installed and activated. Besides the initial setup, this doesn't take any more time on your part.
To install them, go to your WordPress admin > Plugins > Add new and install the plugin.
The post will then be shared randomly, making your life easier and saving you time.
There you have it, a quick and easy way to ensure all your hard work wasn't for nothing.
By following the above guidelines, you can identify the hidden gems in your past content and ensure they rank the way they should be. 
When you follow these steps, you should see significant improvements in your ranking and organic search traffic on your site.
Don't forget to track the performance before and after implementing these changes to see what works and what doesn't.
How are you going to drive more traffic to your old posts? Leave a comment below and share your wisdom with the other readers.
Want to learn more about growing your business through digital marketing? Looking to take your business to the next level? Let's talk!
No spam, ever. Your email address will only ever be used for notifications regarding our blog posts and product releases.
If you want you can easily unsubscribe with a single click at any time.