How to Use LinkedIn Marketing to Grow Your Business
When thinking about social media platforms to use for your business, most people tend to automatically think of generating leads from Facebook or Twitter, starting on Instagram, and one of the last places people to think about is that powerful business network that is right in front of your nose; LinkedIn.
Sure, LinkedIn, when looking at Monthly Active Users (MAU), is not the biggest social network out there. LinkedIn has around 310 million MAU, compared to 330 million on Twitter, 2.7 billion on Facebook or the 1 billion on Instagram.
But the audience is one of the most lucrative ones.
Facebook, Twitter, and the rest are crowded and noisy. And while there was a time that it was definitely a lot quieter on LinkedIn, LinkedIn right now is starting to become busier as well.
BUT, unlike Facebook, where most people still go to connect with their friends or watch funny videos, LinkedIn is a destination for people to connect with like-minded people in their industry and to learn about their industry.
So if you're looking for a place to drive qualitative B2B traffic to your website or blog, this is THE platform.
Research by Econsultancy a couple of years ago already stated that
"LinkedIn is now responsible for a staggering 64% of all visits from social media channels to corporate websites."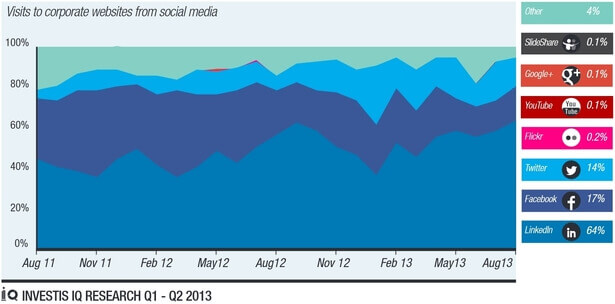 Even more so, the overall decision-makers in most companies (CEOs) use LinkedIn the most of any public social network. The same holds for 41% of millionaires.
The LinkedIn audience has been proven to be highly engaged with content – 6 out of 10 users actively look for industry insights.
We can go on and on, but you probably understand by now that the LinkedIn platform gives your brand access to a whole host of educated, skilled, and influential people with a high search intent (when you visit LinkedIn, you already have your industry cap on and are actively seeking knowledge).
So if you want to reach those people who aren't that active on most other social networks but could significantly impact your organization's sales, it is time to start taking LinkedIn seriously.
No time to read the entire article? No worry, we've got you covered, have a look at this summary video:
You do have some more time? Great, let's dive into LinkedIn marketing together.
It used to be that creating a valuable relationship with these people was extremely difficult, though they were swamped, and there wasn't more than just the InMail tool to start building a relationship.
However, LinkedIn has made some significant changes over the last couple of years, making it super easy to start using it for your content marketing.
You can:
create long-form content using LinkedIn articles or LinkedIn Pulse
post interesting content to the newsfeed
use stories to show the human side of yourself or your brand
use slide decks to create high-engagement carousel posts to educate your audience
or use bits of advertising budget to push them out to your target audience to generate leads for your business just to name a few
In this article, we show you how you can make the most out of LinkedIn for your (small) business.
What is LinkedIn Marketing
LinkedIn is a bit different than most social networks.
Most social networks are focused on the " fun" things you do in your spare time, while LinkedIn is focused on building business relations.
As a result, when you want to do marketing on LinkedIn, you need to think more along the lines of making connections with (potential) clients, generating leads, improving your brand awareness, fostering business relationships and partnerships, sharing content to develop thought leadership and lastly drive traffic to your website.
With all the recent changes since 2020, it is becoming more and more of a fun place as well, though, but the focus is still on companies and growing your business.
As a result, LinkedIn should be an essential part of your company's marketing strategy if you want to become more successful.
When you use LinkedIn to market your business, you gain access to useful features related to analytics, connections, brand-building, etc. (Don't worry, we'll review all of these and more in-depth momentarily.)
Why LinkedIn should be an important part of your marketing strategy
LinkedIn is a place for learning, for growing yourself and your business. People come to LinkedIn not to be directly sold to, so if you want to be successful, you should create a solid (content) marketing strategy.
Content marketing, as you might know, is about solving the same problems that your product or service solves only through the media you create and promote
It's not about blatantly pushing your business, spamming, and trying to sell hard; it's about helping others.
Surveyed B2B marketers said that LinkedIn is responsible for 80% of their social media leads, though, so if you want to be successful on LinkedIn, it requires a little bit of a different approach than on other platforms to get the results that you want.
But when used appropriately, LinkedIn is an effective marketing tool that can take your business to the next level.
LinkedIn Marketing Goals
Before we get to work on producing content for your LinkedIn Content Marketing strategy, we first need to figure out how we can effectively reach this highly targeted audience that LinkedIn has to offer.
And for that, we need to set a content marketing approach driven by these goals:
Be interesting. You might be included to start sharing your white papers as the primary driver of your LinkedIn Content Marketing strategy. However, there is so much more to offer. You can spark conversation around a news event or a conference you're attending. Maybe you can share some of the latest insights provided by an industry influencer, create some funny graphics about work-life, or share funny graphics by others and add your remarks to them.
Be helpful. It all starts by being helpful, producing content that presents new knowledge (to make your reader appear smarter) or that can assist in professional decision-making.

Help them help others. Content professionals on LinkedIn are always on the lookout for content that can benefit their professional network. Make sure you're considering the shareability of everything you distribute on LinkedIn.
Help them help themselves. When someone shares your compelling content, it makes the sharer seem smart, well-informed, talented, etc. People on LinkedIn are always looking to enhance their brand, so make it as easy as possible for them.
Focus on achievements. You should remember that the readers of your content on LinkedIn are consuming and sharing content to further their careers. Feed their desire for professional accomplishment with your content.

Be everywhere. Since the rise of the smartphone years ago, more and more people are consuming content on different devices than a desktop. LinkedIn is no different. Already in the first quarter of 2014, 43% of traffic from LinkedIn members came through mobile. If your content is not readable (not enough paragraphs) or if the visuals are unclear on mobile, you will lose trust and readers.
LinkedIn marketing tips for growing your business
Get noticed with LinkedIn's Publishing Platform
One of the strongest elements of a good sale is that it is personal. You can share updates via your Linkedin Company page; There is no option yet to publish long-form content (more on that later), but this gives a unique opportunity. This lets you use your company's strongest assets, your employees.
It helps empower your employees and, at the same time, gives a unique insight into your company. This, however, doesn't mean you can't share the content of your employees on your business page.
Benefits of LinkedIn's Publishing Platform
#1 Position yourself as a thought leader
This one might seem like a no-brainer, but one of the main benefits of the LinkedIn Publishing Platform is that it allows you to position yourself as a thought leader in your industry.
Publishing content on LinkedIn adds credibility to your skillset and expertise. It is not just you saying, "I know something about Content Marketing," for example, but it allows you to showcase your talent. This, in return, will help you to make your sales easier, because people trust you more.
Familiarity breeds trust", when you and your company show up consistently in the newsfeed you will build trust, and trust brings business. Being active on LinkedIn and investing in my network brings me consistent leads

Jenny Björklöf – LinkedIn Trainer and Co-founder & Community Manager Freelancers in Belgium
#2 Reach a relevant audience with a high search intent
As we stated earlier, the people on LinkedIn are a highly targeted audience set. At first, the first people seeing your content will be your direct connection, but second, when they start to engage with your content, their connections will start to notice your expertise and your content as well.
These are the people you would like to notice your content, of course! After all, you already did business with them in the past, or they are leads to your business. What better way to get on their radar by showcasing your talent?
#3 Your content is displayed on your profile
One of the great features of the LinkedIn Publishing Platform is that it showcases the content you created at the top of your profile. This means that when a potential business client or someone else views your profile, the first thing they will see is the content you published.
By creating great, engaging copy, you can impress them enough with it that it will help you close your next deal faster.
#4 Extend your content's reach by engaging "followers"
When content resonates through the social graph of LinkedIn, it will get picked up by people who aren't contacts of you yet. If they like what they see, they can always hit the "follow" button.
By having more followers, will increase your content's influence and reach, and it has the potential to show up in more people's newsfeeds. By extending your reach to people without direct contacts, you can attract the attention of new potential connections, helping you grow your leads for free.
How to publish on LinkedIn's Publishing Platform
LinkedIn makes the creation of quality content super easy.
After you've logged in to LinkedIn, at the top of the page, you will find the option to share an article, photo, or update. But there is also the option to "Write an article," as you can see from the screenshot below:

After that, you can immediately start writing in the field presented to you, add a headline that will urge your readers to click, and add a compelling visual that will be used as featured visuals and you're good to go.
Of course, you don't always have to write content from scratch, and you can reuse existing content that you've already published somewhere else (make sure it is not a one-on-one copy though).
When it is ready to publish, LinkedIn will take care of the formatting, so it will always look great on their platform.
What to publish on LinkedIn's Publishing Platform
Although the process of publishing is super simple, you still need to have content to post, of course.
So what type of content works best on LinkedIn? Like we said in our intro, according to LinkedIn themselves, six out of ten LinkedIn users are most interested in reading about insights of their industry. After that, 53% are interested in company news, and 43% are interested in new products and services.
The good news, you can "steal" your existing content, add relevant industry insights (if you did not do so already), hit "publish," and see yourself and your leads grow quickly.
Use LinkedIn Stories to show a raw glimpse into your business
Rolled out at the end of October 2020, LinkedIn finally jumped on the "stories" craze that so many companies have done before them.
LinkedIn Stories is a fantastic tool for companies to invite their connections, clients, and prospects to get a more relaxed, behind-the-scenes look at their business.
What are LinkedIn Stories?
You have probably used the stories feature on Instagram, Snapchat, or Facebook before, so you might already be familiar with the concept.
LinkedIn Stories is not that different than all the other platforms. It's an easy and highly engaging way of sharing a small piece of content with your audience on LinkedIn.
And just like all the other Story features on other platforms, they expire within 24 hours.
For now, it is only available on mobile, though. You can recognize them by the little circled heads of you, your connections, and the brands that you follow just beneath the search bar.
How do LinkedIn Stories work?
Using LinkedIn Stories is quite intuitive. To create a new story, open the LinkedIn app on your mobile phone and scroll down a little bit (sometimes it is right at the top underneath the search bar, sometimes, you have to scroll past the first regular post), and tap the little circle with your LinkedIn avatar. If you're the administrator of a LinkedIn company page, there will be little circles for those as well: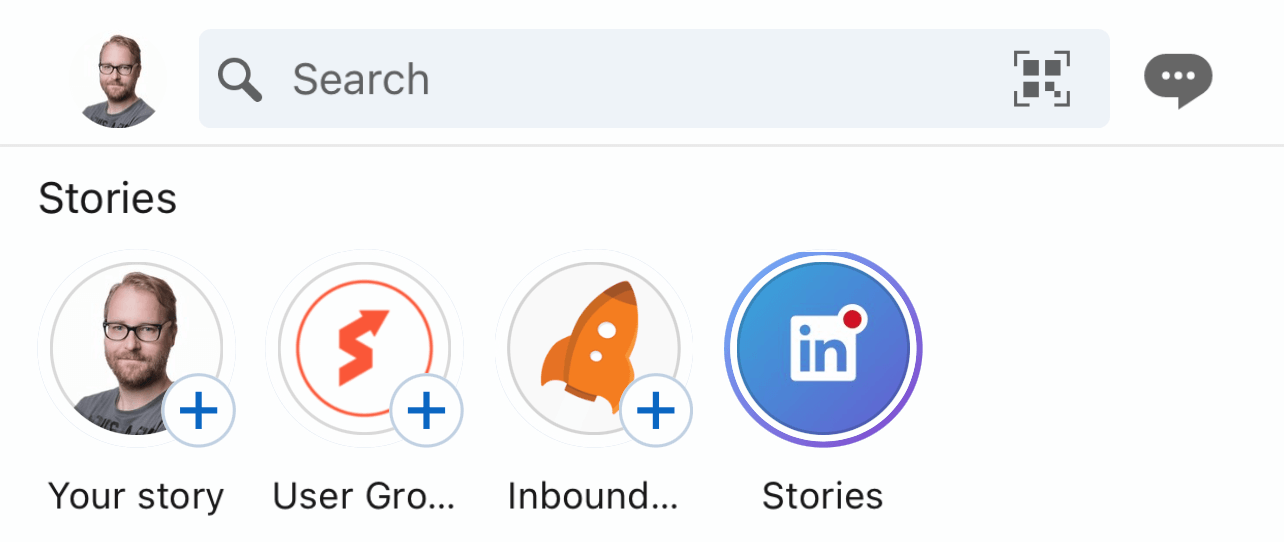 After you click on the circle for who or which company you want to create a story, you can choose two types of content. You can take a photo or record a video using the camera on your phone, or you can upload an image or video from your gallery. (videos can be a maximum of 20 seconds long).
Of course, if you genuinely want to stand out, your work is not done yet. As you can enhance your photo or video by:
adding text overlays as captions to explain what is happening in your content
tag a connection of you on LinkedIn in your story (their name will show up on the screen)
add stickers from a selection of illustrations and animations
Share LinkedIn's "Question of the day" as a conversation starter.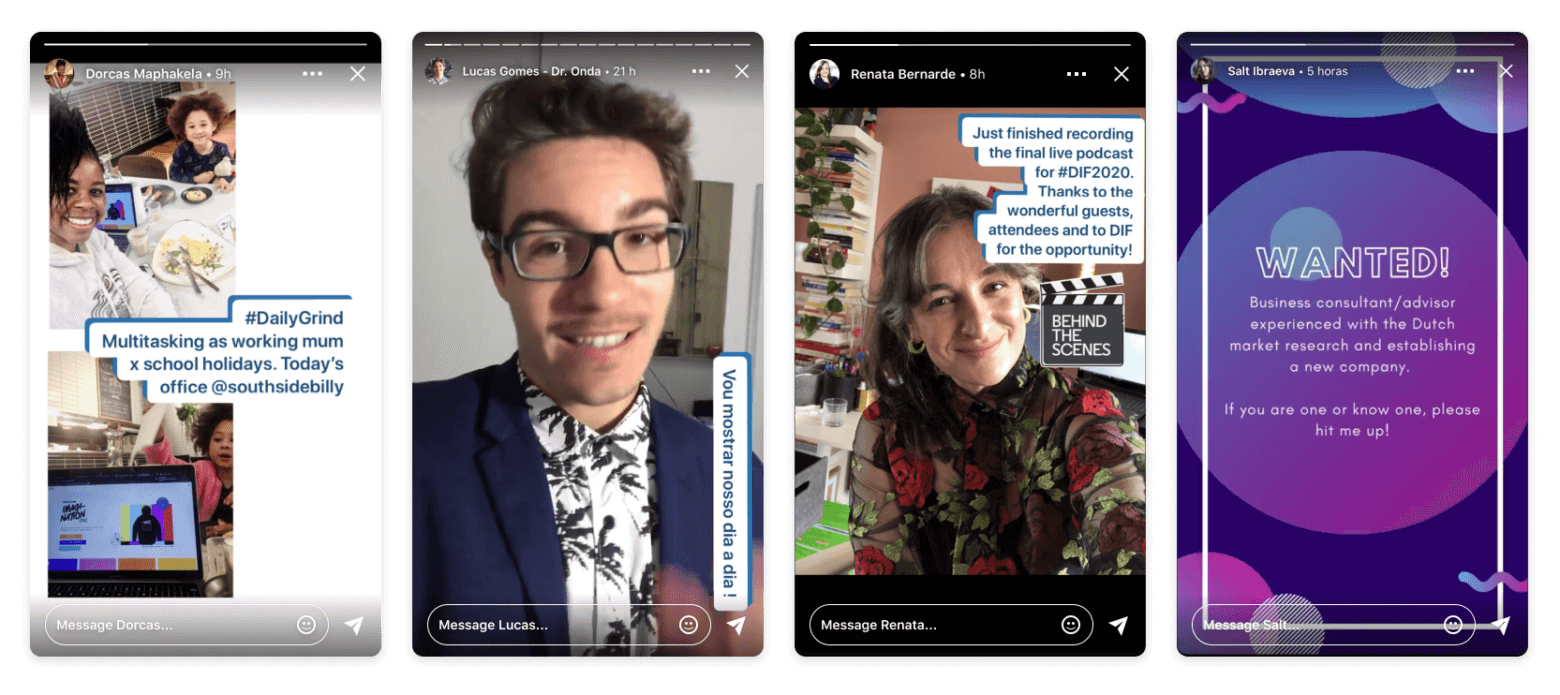 After you hit that post button, your story will be shared with your followers, who can share it with their connections.
Since most people probably still use LinkedIn from their desktop, this might be a minor inconvenience as you can't post or view them yet on your desktop.
Unless…
Once a connection reacts to your story, you will see a screengrab of that reaction in your message inbox. If you view that message on your desktop, you can click the screengrab, which will play in a window.
Copy the URL at the top, and you end up with a permalink to your story, a link that you can add to a regular post encouraging people to watch it within the next 24 hours. This will really increase the visibility of your stories!
What makes a good LinkedIn Story?
As (LinkedIn) Stories allows you to show a raw glimpse into your or your company's life, you should not just go on selling your product or service. If you want to create a LinkedIn story that is worth looking at, that is worth engaging with, be sure to:
Be real; because of the quick, easy-to-digest format, Stories has a certain charm that is less scripted than a normal video or polished team picture you might share. People like to watch and interact with companies and individuals when there is a certain authenticity. Don't worry about it being the perfect picture. Worry about showing your true self.
Deliver value; just like any other (content) marketing message you share with the world, Stories should always bring value to your audience. So share tips, advice, knowledge, entertainment, or insights. Don't just post because you feel you have to because if your audience doesn't get value out of it, they will skip your Stories in the future.
Selling last; this feature is called "Stories" for a reason. Telling stories and delivering value is not something you achieve by just using it as another place to push your standard (scripted) sales message. Focus on your story first, and maybe you can sell a little bit…last
Six ways to use LinkedIn Stories to enhance your brand
Out of the 760 million global LinkedIn users, only around 1% of them share content on a regular basis. And because LinkedIn stories are still such a new (and, for most people, untested) feature. The number of people that are currently using LinkedIn stories is even less.
This means there is an excellent opportunity to cut through the noise and put yourself in front of your company or your brand at the top of your connections' and followers' eyes.
You can do this by:
Taking people behind the scenes of your workday or how your company creates things
Showing the people behind your brand
Enhancing your recruitment strategy
Making your content easier to digest
"Live" Broadcasting from Events
Hosting Q&As
Engage With Influencers on LinkedIn Groups
Another great way on LinkedIn to engage with people is by using LinkedIn Groups. LinkedIn Groups are a great place to find people from the same industry, with the same interests as yourself but who are likely not yet a connection.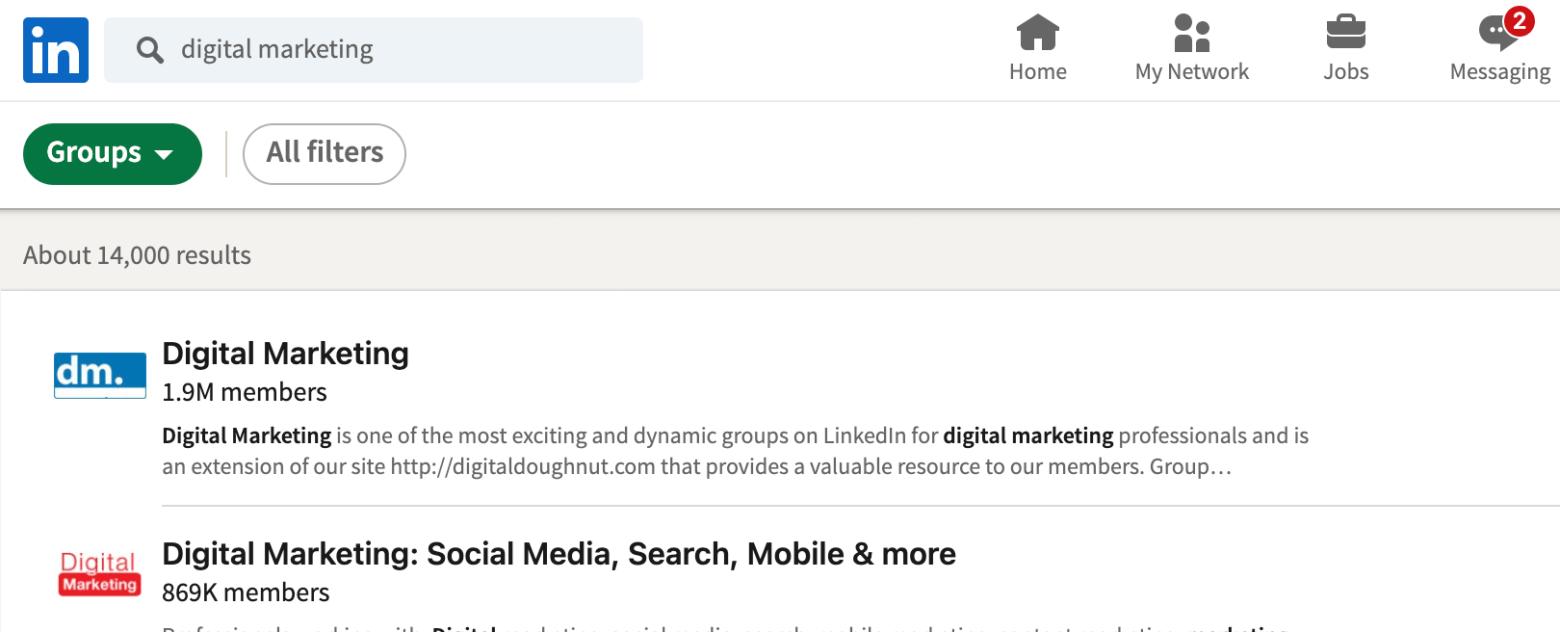 A LinkedIn Group aims to create a place for quality industry discussions. Although they seem a bit forgotten with all the updates LinkedIn released to their platform last year, LinkedIn Groups are still very powerful.
By going to the " discover group section," you can identify and join relevant groups for you, which gives you access to all the influential people in your industry.
Choose the most relevant groups for yourself and your company, depending on how much time you can spend; you can join as many as possible or maybe even create one yourself.
Next up is regularly contributing value, insights, and ideas. Groups are a great way to share your content, but even better, don't just post your content and run away. It is about building real and lasting relationships with the people that matter to your business.
So add value to these groups, post interesting articles from others that you found online, contribute to the discussions, and mostly add value. Only by adding value, without expecting anything in return, can you build those lasting relationships.
The benefits of publishing to LinkedIn Groups
The power and advantages of LinkedIn Groups are bigger than just the ability to share content and potentially meet essential industry people. If you join the right groups, you can talk directly to people organically without paying for any ads (ideal for small businesses with a limited budget).
You can use these conversations to engage with a community, ask them for feedback on topics or ideas, or contribute your thoughts to other industry-leading surveys.
Using LinkedIn Groups to get feedback is one of the most potent ways to use them. Candid reviews are difficult to come by these days.
Make sure to be active in a group for some time, though, and help others before asking anything in return. And don't use this as a sneaky way to promote your content by posting, "I just wrote this blog post. What do you think? Discuss below!". That is not asking. That is self-promotion and is something that is frowned upon.
Another great benefit of a LinkedIn Group is that as the owner/moderator of a group, you can send messages to your group members for free once a week. Members have to opt-in for this with the groups they join, but our experience is that they usually do this.
This is an excellent opportunity to get your content to a highly targeted audience without building up your email subscriber list. You can use this to notify your members of new, valuable, or popular posts in your group to re-engage them continually.
Like everything, you want to use this to bring value to your group members first and use this for lead generation last.
You can also send a welcome email to people after they join your group. This helps set you up as a group authority and allows you to share links to valuable resources (including your sites) as well.
Lastly, LinkedIn groups can allow you to find out other people's content and learn from their thoughts, insights, and ideas that you can include in your content marketing. Or use this as a form of curation to find content to share on your other social channels.
Since their inception in 2016 in the mobile app, you could start to include hashtags in your posts that " were tappable and lead to search results so that you can discover other posts with the same hashtag".
In other words, hashtags help you find content on a specific topic that could be relevant to your industry.
Plus, if you add hashtags to your content, you're making your content discoverable to other people, including those that are not connected to you.
You can also follow hashtags on LinkedIn, meaning posts containing a certain hashtag will start appearing in your newsfeed.
Hashtags are a great way to let the LinkedIn algorithm know what your post is about and the audience it is intended for. Usually, it will recommend ~10 hashtags you might consider using based on the keywords already visible in your post.

I usually include most of those and a few more at the very bottom of my post so it doesn't interfere with the look and feel of my content, but it gives LinkedIn the information it needs to distribute my content to those it will be relevant for.

Hailey Friedman – cofounder of GrowthBar, the #1 SEO tool for growth
For now, hashtags and the ability to search them only work on content posted on LinkedIn, so it's not working on profiles and company pages. If you include them in your profile or company page, people won't be able to find them using search, and they also don't turn into a blue clickable link.
The good news is that they work excellently when posting content.
You can use hashtags on LinkedIn:
to your advantage when creating content so other people can more easily discover your content
to find relevant topics where you can potentially add value and join the conversation
Let's look at how you can use both ways to your advantage. First, let's look at how you can add hashtags to the content you're creating.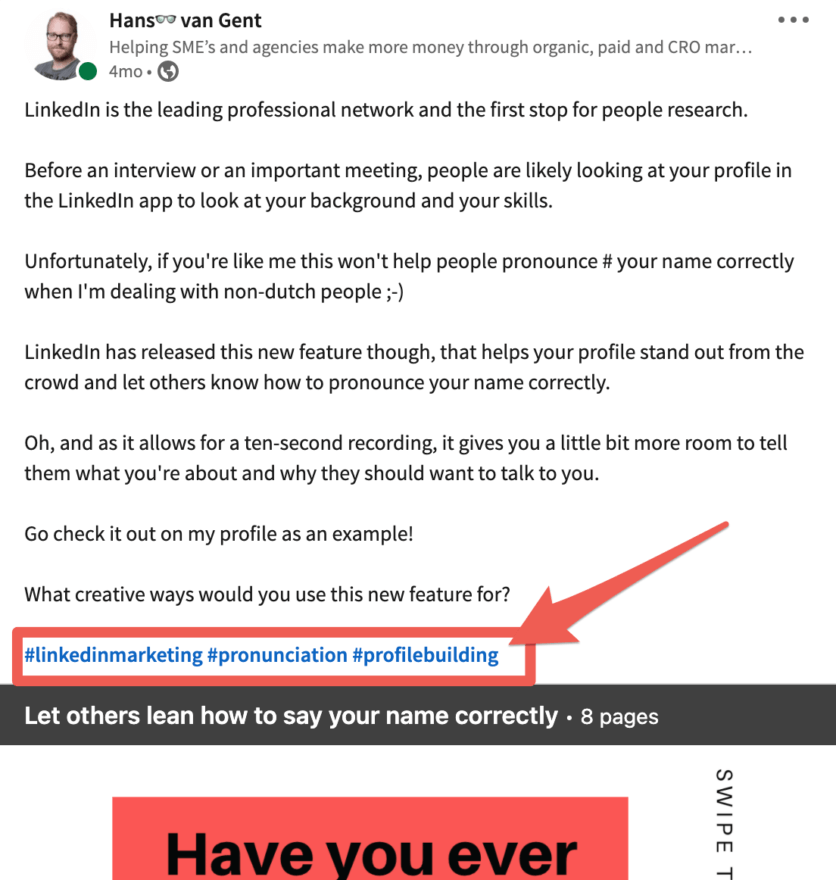 You can do this simply by hitting the "write an article" option underneath your status update field.
When you're done, and you click " Publish" in the top right corner, a pop-up window will ask you to "tell your network what your article is about." You can then add a short intro about the article, including relevant hashtags. Do this right now, though, as you can't edit or remove the hashtags after the article is published.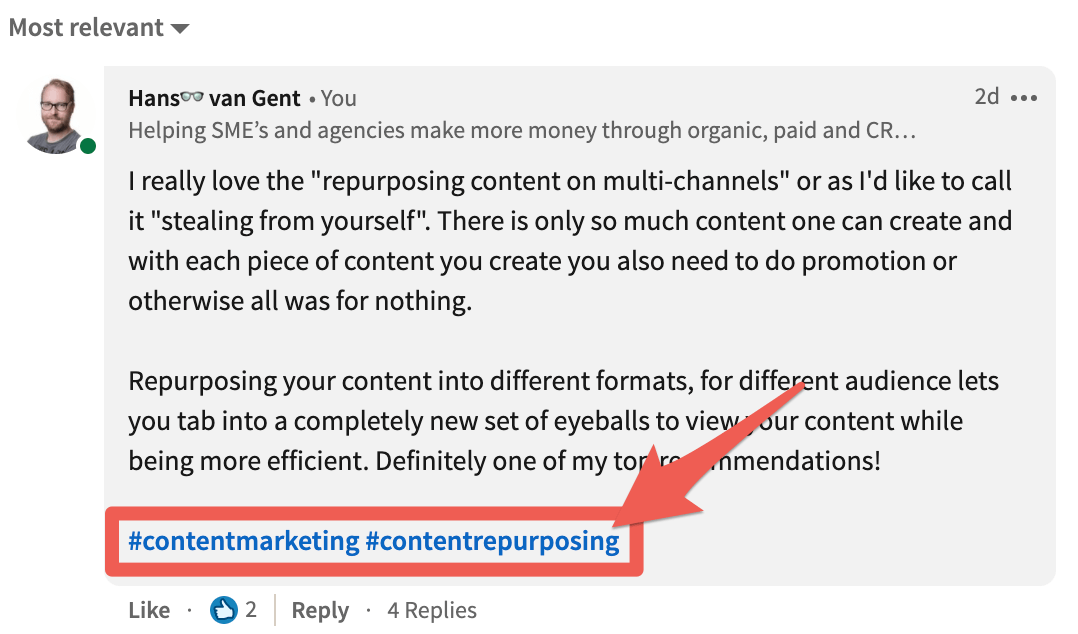 Next up is finding relevant content to start interacting with. LinkedIn makes it rather easy to find hashtags of the topics that might interest you, as you can begin typing them straight from the search bar at the top of the page.
For example, when you type  #contentmarketing, you get a list of content marketing-related hashtags: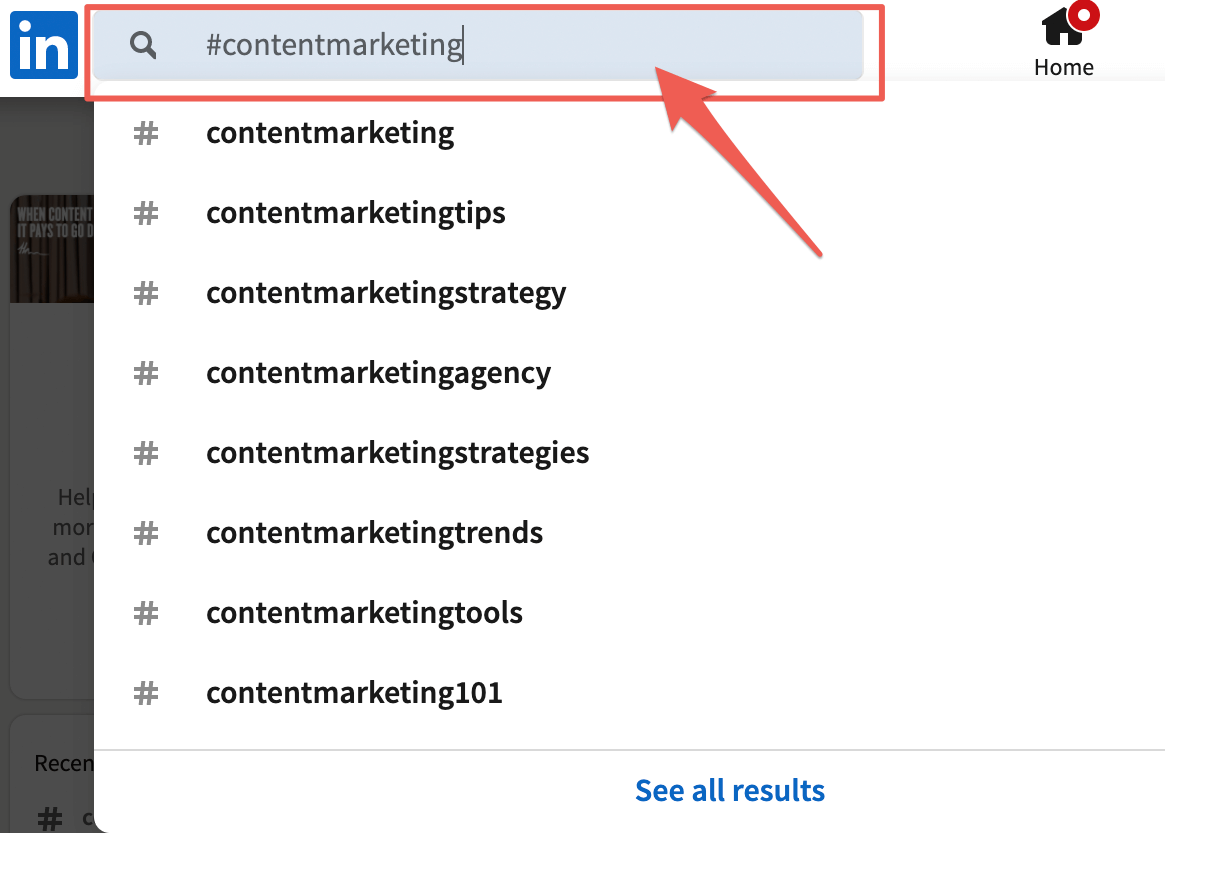 You can then select the hashtag that seems the most appropriate for you and your business, for example, #contentmarketingstrategy, and by clicking the " follow" button at the top of the page, you can add the hashtag topic to your list of relevant topics to follow:
Now go use this tactic to find relevant content for your business, to help you find and connect with other people that share the same interest, and start responding and talking to these people that could be of clear value to you.
Don't forget to add relevant hashtags to your content as you write posts and add comments to make the most out of every piece of content that you publish. Not sure which ones to use? LinkedIn also has an autosuggestion feature that you can use.
Use the power of your existing network
Your existing are people that you've already built valuable relationships with in the past. Why not use them to kickstart your email newsletter? By using the export contacts function in LinkedIn, you can create a .csv file with all your contacts:
Click the My Network icon at the top of your LinkedIn homepage.
Click Your connections on the left rail.
Click Manage synced and imported contacts near the top right of the page.
Under Advanced actions on the right rail, click Export contacts.
You may be prompted to sign in to your account.
Click Request Archive.
You will receive an email to your Primary Email address, including a link to download your list of connections.
You can then import these contacts into your Email Service Provider (ESP) or Customer Relationship Management (CRM) tool of your choice and contact them outside of LinkedIn.
Be sure to don't automatically start including them in your regular newsletter from the start, though; you don't want to spam your contacts and make them dislike you. Send a welcome email telling them about your business, make it personal, and tell them if they want to be kept informed that they can reply to keep subscribed, for example.
While not available to everyone yet, this is something to keep your eye out for LinkedIn Newsletters (previously series) is a set of articles you regularly publish on LinkedIn, typically about a specific topic (like most newsletters).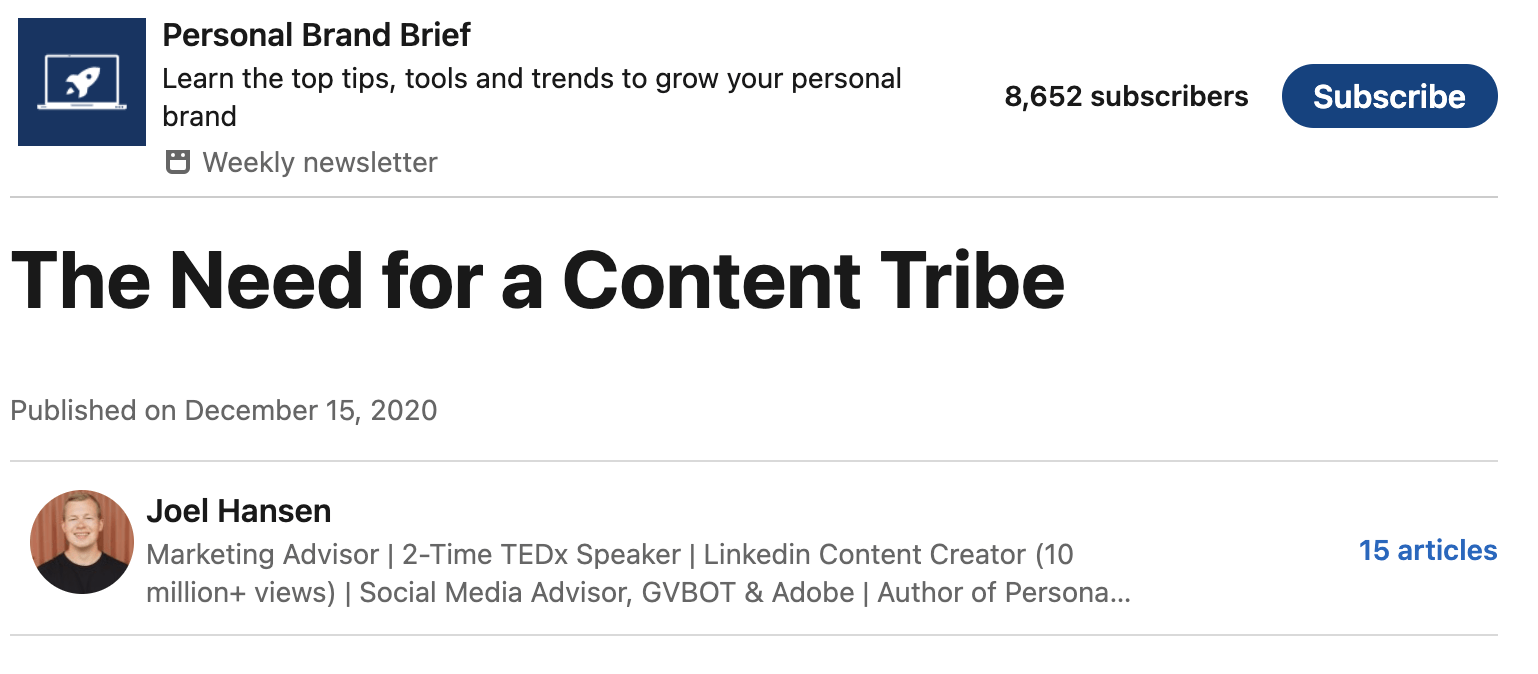 People can "subscribe" to your newsletter, and the moment they do this, they will get a push, in-app, and email notification whenever you publish a new article in the newsletter on LinkedIn.
Using LinkedIn company & showcase pages for your marketing
Although all the previous examples are examples focused on the individuals within your company and the action they can take to help your business to the next level and generate leads, there is also a way for companies to showcase their brand identity on LinkedIn.
Your company page should represent the highest-level information about your business.
A Company Page helps LinkedIn members learn about your business, your brand, and job opportunities with your business. Company Pages are also an excellent way to establish industry expertise.
If your company has different business identities, you can also use the "showcase" feature to show different brand identities that are connected to your mother brand.
The benefits of LinkedIn Company Pages
When LinkedIn Company Pages were created, they were primarily used as landing pages for the Human Resource department of businesses.
Although this is still one way of using your company page, your company page is also becoming the perfect place to drive business results, raise brand awareness, promote career opportunities, and educate potential customers on your products and services. You can do this by sharing the content of your employees created on LinkedIn or by sharing content created outside of LinkedIn.
Think of your company page as the page you might also have on Facebook. It is an outlet next to your main website, which helps drive traffic to your site and allows you to promote your products, services, and content.
Your LinkedIn Company page, as a result, helps you with free (although you can boost this with ads) marketing opportunities and increases the credibility of your brand.
If you don't have a strong website yourself, you can also use this page as a way to promote awareness around your brand in search engines. By doing keyword research, you can identify the keywords that are important to your business and include them in your page's copy.
How to create a LinkedIn Company Page
Most businesses probably already have a LinkedIn company page. If this is true, you, as a marketer, should ask for the correct access to start creating content on your company page.
If you're starting, you still need to create a page. And just like publishing an article on your profile, creating a company page is pretty straightforward (you do need a personal LinkedIn profile for this, though):
Go to the "Add a Company" page, and enter your official company name and your work email address. (LinkedIn will send you an email to verify the creation of this page and that you're eligible to create your Company page). Alternatively, you can also go click the Work icon in the top right corner of your LinkedIn homepage and then click "Create a Company Page." You'll also select this option to create a Page for a school.
Fill in your company details (mandatory fields are the industry that you're operating in, company size, and company type)
Add a banner, logo, and tagline.
You can now click "Create Page," and your new LinkedIn Company Page is online. After your company page is online, don't forget to add some more info to your company page so people can get to know you better.

Create a company description. (You only have a maximum of 2K characters to describe what your company does and why someone should follow your brand. Be sure to include your Value Proposition and that you're using your company's brand voice.
Add a cover image for your page (recommended size 1128 pixels x 191 pixels)
Add the location of your company
Add a custom button to your company page
Adding hashtags that are important to your business
And finally, your first post
What to do on your LinkedIn company page, and what are some best practices?
As with everything online, just because you "build" something doesn't mean people will come. This also holds true for your LinkedIn Company Page. Just because you have one doesn't mean that followers will come. You can boost your chances of success, though, with the following LinkedIn business tips and strategies.
#1 Use the power of your employees
The biggest part of this entire post is dedicated to empowering your employees so that they will make your company stand out from the crowd on LinkedIn. Your company page is no different. You need your colleagues and your employees; they are your most significant and first brand advocates. You can indirectly use their network by adding them as followers to your page.
By asking them to add your " Company Page" to their profiles as the current place they work at, they will automatically become followers of your page. Making it easy for them to get noticed about any posts you make so they can easily share it with their following.
#2 Let your brand personality shine through on your page
Just like your company's Facebook page, your Twitter profile page, etc., LinkedIn offers the ability to adapt your company page to let your brand personality shine through.
By using the style guides you created for your visual brand, you can make your banner image more creative.
Ask yourself why someone would want to read your company profile. Include relevant links to your website, your blog, and so on.
#3 Provide valuable content
Your brand personality is mostly insufficient for the static parts of your company page to keep people interested. The best way to grow your audience and keep your followers interesting is by providing value to them.
Try posting different types of content that your target audience might be interested in—things like company news, thought expertise, and the content created by your employees. Make sure to be consistent with posting and posting regularly, and mix it up.
Next to that, try to actively engage with your followers by asking them what matters most or what they'd like to see.
By making it as attractive and valuable as possible, you will surely increase followers and gain company recognition over time.
Using LinkedIn Groups for your marketing
We're not sure what your experience has been over the past years, but many LinkedIn groups seemed to be filled with self-promotion and spam rather than valuable discussions and meaningful interactions.
And sure, there are always some outliers, but that doesn't mean a LinkedIn Group can't be useful for your business.
Social media is changing to more and more closed communities such as Facebook Groups, and a well-maintained and great interactive LinkedIn Group might be the next best thing to engage with your audience.
Why use LinkedIn groups as part of your marketing mix?
Social media has been in constant change since its first inception. Where it was first a tool for broadcasting whatever you thought was important to you, it increasingly turns into marketing your messages to groups of engaging fans.
You can see the decline happening in reach on Facebook pages and the emphasis that they are putting on groups and niche communities, for example, and this same change is likely going to be followed on LinkedIn as well.
In 2018 they already reached out to group admin stating, "Groups is at the heart of what makes LinkedIn a trusted place for professionals to help and support one another."
Next to that, you can clearly see that LinkedIn is growing; they are putting more and more emphasis on building your professional network and your brand and helping you to increase your industry knowledge.
This is the reason why communities like LinkedIn Groups are a great way of bringing your customers and the fans of your brand together, especially if you are a business-to-business (B2B) company.
And the best part?
As a LinkedIn Group admin, you have some powerful community management features that are unavailable on places like Facebook Groups.
Did you know LinkedIn sends a daily or weekly digest of your group's activities to the people in your group to keep them engaged and updated? Or did you know you can send an admin announcement to your members once a week? Almost like a newsletter that ends up in their inbox and not as a notification in the app.
So yeah, if done correctly, LinkedIn Groups can have a hugely positive effect on the marketing of your business.
How to create your own LinkedIn Group
Creating a group on LinkedIn is rather easy, but before we dive into the steps that go with it. Take a step back and ask yourself what your group's purpose will be.
After all:
A Group, however, should be focused around a topic that has a natural connection to your brand and less on directly promoting your brand or company.

People should join the group because they are interested in the topic, not your company. Over time, the audience will create a natural connection with the topic and your brand, through an earned connection, which is much more valuable.

Charlie Lowe at Social@Ogilvy
So ask yourself:
What are the goals you have for your group?
What conversations would be helpful to your current and future customers that the group can facilitate?
What are some questions that your customers and your prospects are often asking you?
What are the common topics that are related to your brand?
Write these down as a big part of the success of your group will depend on the value that it will create for its members.
Now that we have those out of the way, let's start creating your LinkedIn Group.
Step 1: Create your Linked Group
Creating a group on LinkedIn is quite simple. Head to https://www.linkedin.com/groups/ and click " Create group" in the top-right corner.
After that, you need to come up with the following:
A group name
A group description
Select up to three industries your group will relate to
A location where your group is primarily active
The rules of your group
How you want your group to be discovered by other people (listed – your group appears in search results and is visible to others on members' profiles, or unlisted – your group does not appear in search results for non-group members and is not visible to others on members' profiles)
Group permissions (can members invite other people, and does every post need approval by an admin before being publicly visible).
One of the items in there that you might quickly overlook as something that " I will do later" is your group rules.
But while the other items mostly help with the discoverability of your group (your name, description, and industry, for example), your group rules will help set the tone for how people behave in your group. This is crucial to help people understand what is encouraged in your group and whatnot, which will result in a better place for people to be and interact with each other. On top of that, it will make it easier for you to manage your group, and there will probably be less moderation too.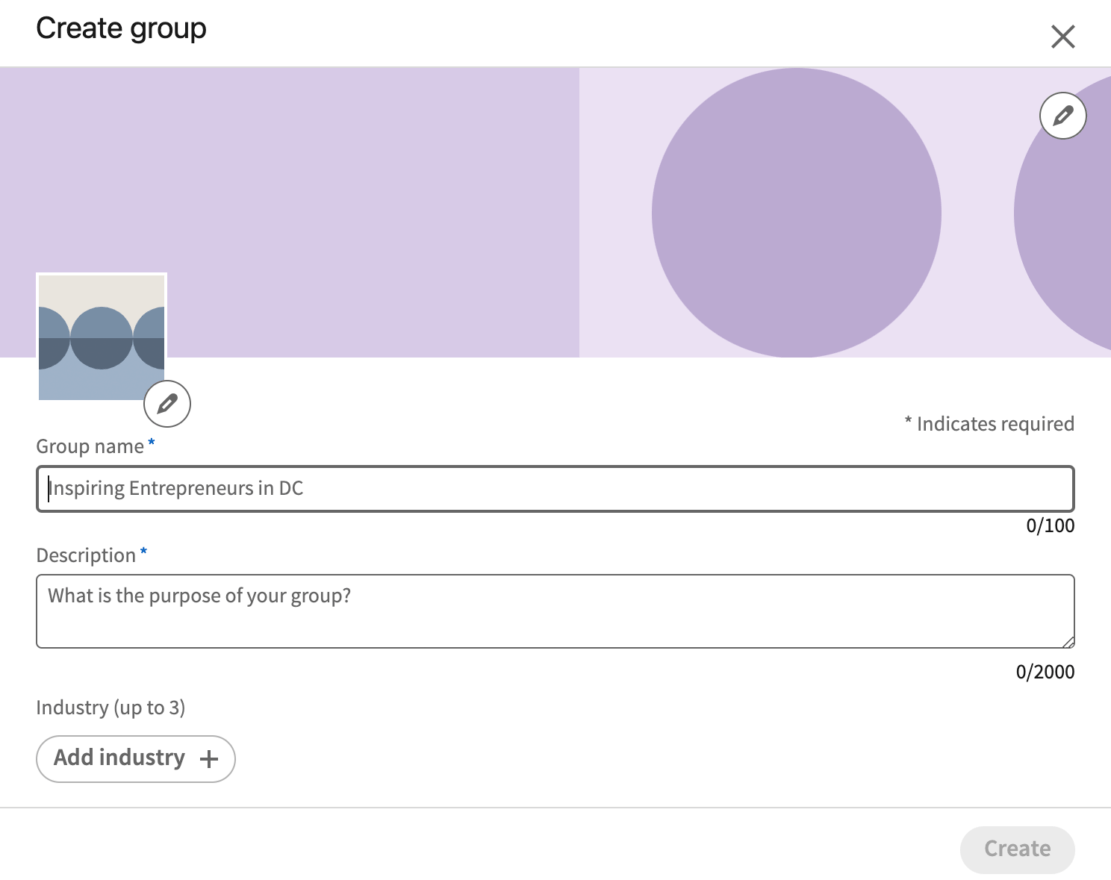 Step 2: Invite your connections and start building your group
Now that your group is created, it is time to start inviting members into your group.
To invite your connections, click on "Manage group" on your LinkedIn Group homepage and select "Invited" on the left.

From here, you can start inviting your existing connections into the group. Sadly you can't include a personal message, but you can only select whom from the existing contacts you want to invite.
Suppose you already have some other marketing channels at your disposal, like a newsletter, a blog, or other social media profiles. In that case, you could also use these to promote your new LinkedIn Group.
And why not share it on your personal LinkedIn profile and encourage your colleagues to do the same?
This way, you can really jumpstart your LinkedIn Group.
Step 3: Start stimulating conversations by starting your own
The first sets of members are rolling on, so how can you stimulate discussions? The easiest way is to start welcoming new members and asking them to introduce themselves.
When they start responding to the content and the questions that you're posting, also acknowledge their effort. Thank your members for their contributions through a like or comment and encourage original posters to do the same.
Although LinkedIn doesn't allow you to pin a post anymore to the top of a group,  we would still recommend creating a "Welcome post" as the group's first post, and maybe once every week (depending on how active your group is) welcome the new members into the group with a small welcome post. You can ask them to introduce themselves and gently remind them what the group is about and what the group rules are.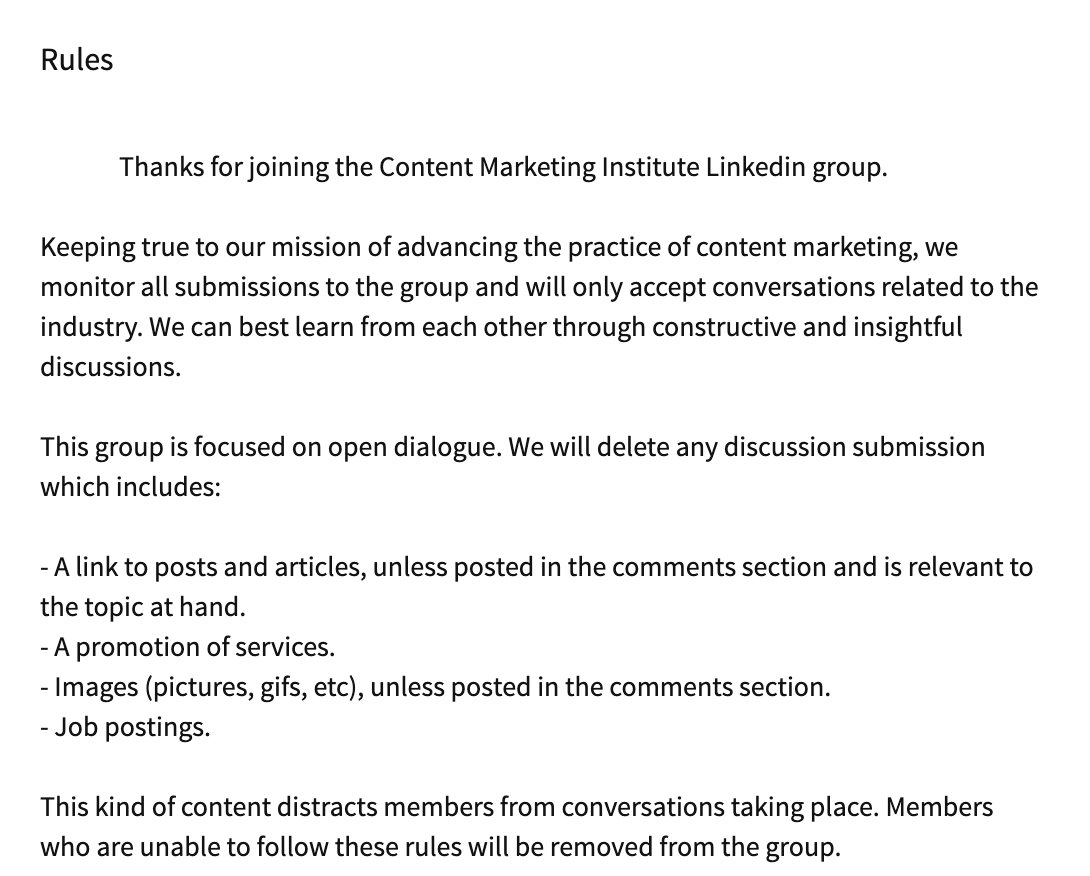 After that, it's time to get the discussions going in your group. Posting (some initial) discussions in your group help your group in two different ways:
It helps kickstart conversations (as most people might be a bit afraid to be the first ones to post)
It signals to your group members what kind of posts are welcome and appreciated in your group.
The easiest way to get people to respond to a conversation is using a question-and-answer format, but feel free to experiment and see what works best for you.
When other people start to post topics in your group, you definitely want to participate by commenting and liking, as this will encourage people to post more often.
Sure, you might have a lot of things on your plate already, and starting discussions can participating in them can be quite time-consuming. But Rome wasn't built in a day, and all the work you put in now will pay off in the future when discussions and posts come more naturally with the people in your group.
New members in a group always tend to mimic the behavior of existing members. When they only see self-promotional posts, they are less likely to contribute to the posts and try to use the group as a promotion vehicle for their business. But they will be more likely to contribute and add value to your group and its members when they see quality conversations.
Best practices for managing LinkedIn Groups
If you have any experience in community management, managing a LinkedIn group will probably feel quite natural. Nonetheless, let's look at some of the best ways to manage your LinkedIn Group to make it a fun and engaging place for your group members.
Creating and inviting people into your group is only the first (and easiest) step. However, your group will never be successful if you don't nurture it.
Here are some best practices:
All the things below can be derived from one thing, being an active manager. Welcome new group members every week in the group with a small post asking them to introduce themselves.
Regularly contact your members directly with helpful (not sales) information.
When you see someone start to post more often, support and encourage them, this type of behavior makes it more interesting for everyone in the group if they see a lively community.
Remember, a group is a bunch of people that, for a community, isn't all about you. Yes, you should participate in all discussions, but participating is not trying to push your product or service at every opportunity you see.
As your group grows, think of other ways to connect people. (Virtual) Meetups, webinars, and online chats are great options.
Figure out what is of interest to your members by starting a poll
Ask open-ended questions, as these can start discussions, and it gives your members the room to add their own perspectives;
Maybe do brainstorming sessions with your key group members to get some more ideas on how to make your group even better;
Don't just take things for granted. Publicly thank people for their participation in your group and maybe feature them and their contributions
When you start to get to know your members better, you're in the key position to make introductions between people. Use this to make being a member even more valuable
But most of all, have fun.
Sure, you want your brand to extend and get more established as a valuable brand. Still, the whole idea why you want to start a group in the first is to create a spot on the internet where you, your peers, and other like-minded people can come together, share ideas, and learn from each other.
That's it. LinkedIn may not have a reputation for being the biggest or the sexiest social network of them all. Still, it houses some of the most profitable decision-makers across numerous industries.
Just that fact alone makes it a perfect fit for B2B companies, especially when trying to reach upper management.
The least approachable people within a company become approachable again, and marketing with a well thought strategy on LinkedIn can be your secret weapon to breakthrough.
How are you using LinkedIn at your company for generating leads and getting a higher return on your marketing? Leave a comment below!
Want to learn more about growing your business through digital marketing? Looking to take your business to the next level? Let's talk!
No spam, ever. Your email address will only ever be used for notifications regarding our blog posts and product releases.
If you want you can easily unsubscribe with a single click at any time.