Twitter For Business: How To Use Twitter For Your Marketing
Twitter, is every marketer's favorite social network, but at the same time, it has become harder and harder as a small business to make it work for you.
With over 330 million monthly active users, it could be a traffic goldmine for your organization. However, there are also 500 million tweets sent out every day, so how can you get your tweets seen? Should you still invest in it?
Just like LinkedIn and Facebook Groups, there are lots of different ways you can use it for your business, but at the same time, there are lots of companies struggling to make Twitter work as effectively as it used to be in the past.
So what is Twitter marketing?
The beautiful thing about Twitter is that it is whatever you want it to be.
Want to learn more about your customers? Bring a human touch to your brand? Build buzz about your new product? Provide super-fast customer support? Start cleaning up after a PR disaster? Hold a group chat and educate your customers?
It doesn't matter what your marketing goals are; there is a pretty significant change. Twitter has got you covered.
There is no question that Twitter can be a very potent tool to help you achieve your marketing objectives.
The problem, though is that it might sound a bit overwhelming, you've got no idea where to start, or maybe you've already started, but you're having trouble getting your business objectives.
No matter at which stage you are, this guide will help you either start from scratch or guide you to the next level of using Twitter to grow your business, traffic, and sales.
What is Twitter, and what makes it so unique?
First, if you're new to this whole social media marketing thing and you might have heard the name Twitter sometime before on the news but never really used it before, what is Twitter, and what makes it so unique?
At its origin, Twitter is a short message communication platform that allows you to send out messages (or Tweets) up to 280 characters (it used to be 140, but that officially changed in November 2017) to people who subscribe to you (the followers).
Your Tweet can include a link to any web content (think of your blog posts, website pages, etc.) or a photograph or video. Just like people can follow you, you can also follow others. This allows you to read, reply to and easily share their Tweets with your followers (retweet).
However, next to this basic use Twitter has grown to so much more over the more than ten years of its existence. Twitter can be anything you want or make it to be. But before you can do that, you must create an account.
Setting up Twitter for your business success
Step 1: Creating an account
In an always-connected mobile-first world, of course, you don't need to use your desktop computer to create a Twitter account (Twitter is even used for 80% using a mobile), but if you want some ease of use setting up your account, choosing the right pictures for your profile, etc. we still recommend using your computer.,
Your Twitter account and profile are the foundation of your Twitter experience for your followers. It's your chance to tell your business story to the Twitter community and will most of the time be one of the first contact points when someone is figuring out if they want to follow you (or not).
As a result, It is important that your Twitter presence have the same look and feel as your other presence online. This helps people identify your business and builds trust. So, as part of your social media strategy, choose an account name and images consistent with your other online presence and your brand.
Basic account setup
Let's start by going to Twitter.com where you will be greeted with a blank page, where you can give your email address, come up with a password and leave your real name.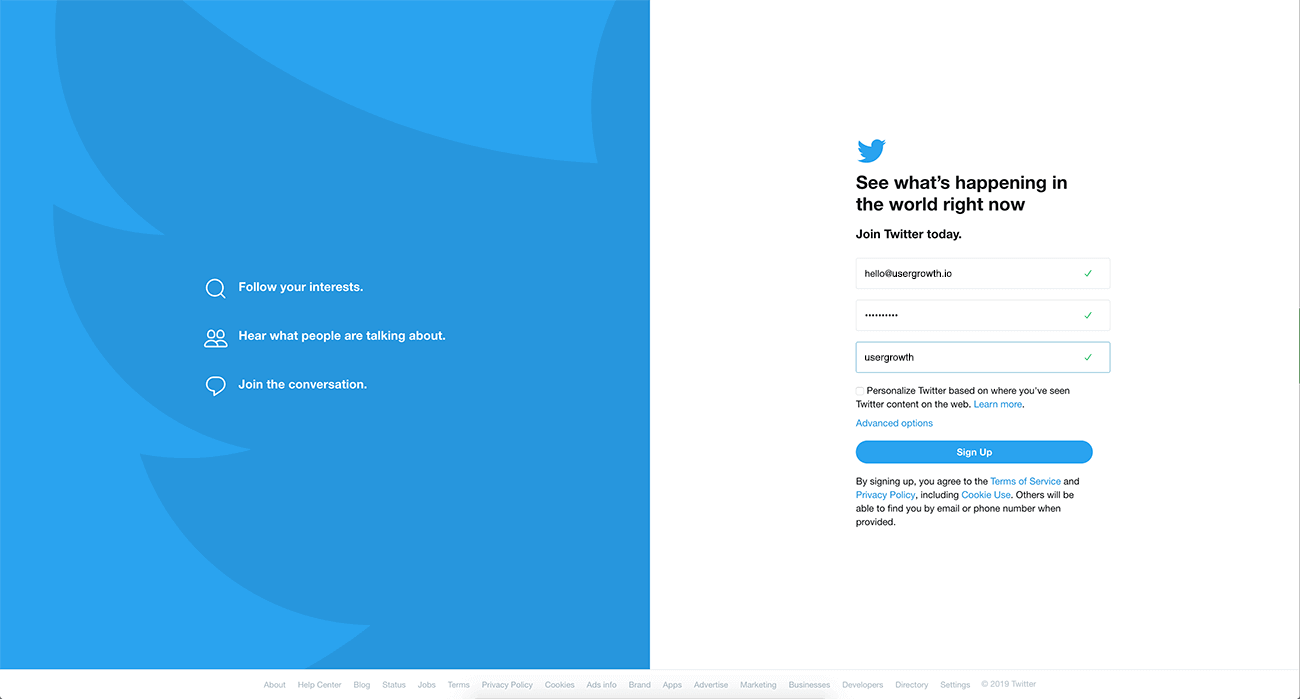 After that first step, you will be asked for your phone number as an extra layer of security for your account (optional):

And to come up with a Twitter handle or username. On Twitter, your username, or handle, is your identity. If you can, sign up for Twitter by using your name or a variation of it as your username (assuming somebody else isn't already using it).

That's it your done; you just created your account. Twitter will now ask you for topics you're interested in and will give you the opportunity to start already following suggested accounts or accounts of the people you already know by connecting your Gmail or Outlook email accounts.
We suggest you skip these for now. People will get a notification when you follow them, and it is better to show a full, interesting profile to them when they figure out who is following them instead of the empty profile your profile is still right now.
At a later stage, you can always still use the "Find people you know" button located on the right side of your profile page. This will give you the option to find people you already know using your address book from either Gmail or Outlook.
Profile image and background image
Now that you've created your account (don't forget to hit that confirmation email), it is time to make your profile visually more appealing and in line with your brand…
Twitter uses two different images to make your account represent your brand. It's essential that you take advantage of both of these images to tell your business story.
Your Twitter profile photo is a circular photo that appears next to every tweet you send. You can use either your company logo or your headshot for your profile photo.
If you're a really small business, we might suggest using your business name as the name for your account, but using a personal photo for the profile photo, adds a personal touch and might resonate better with your customers.
The second picture you need to upload is the Twitter header photo; this is a large background photo. The big-screen real estate gives you enough space to tell a story about your business maybe. Similar to the cover you have on your Facebook company page, this visual will appear at the top of your profile page.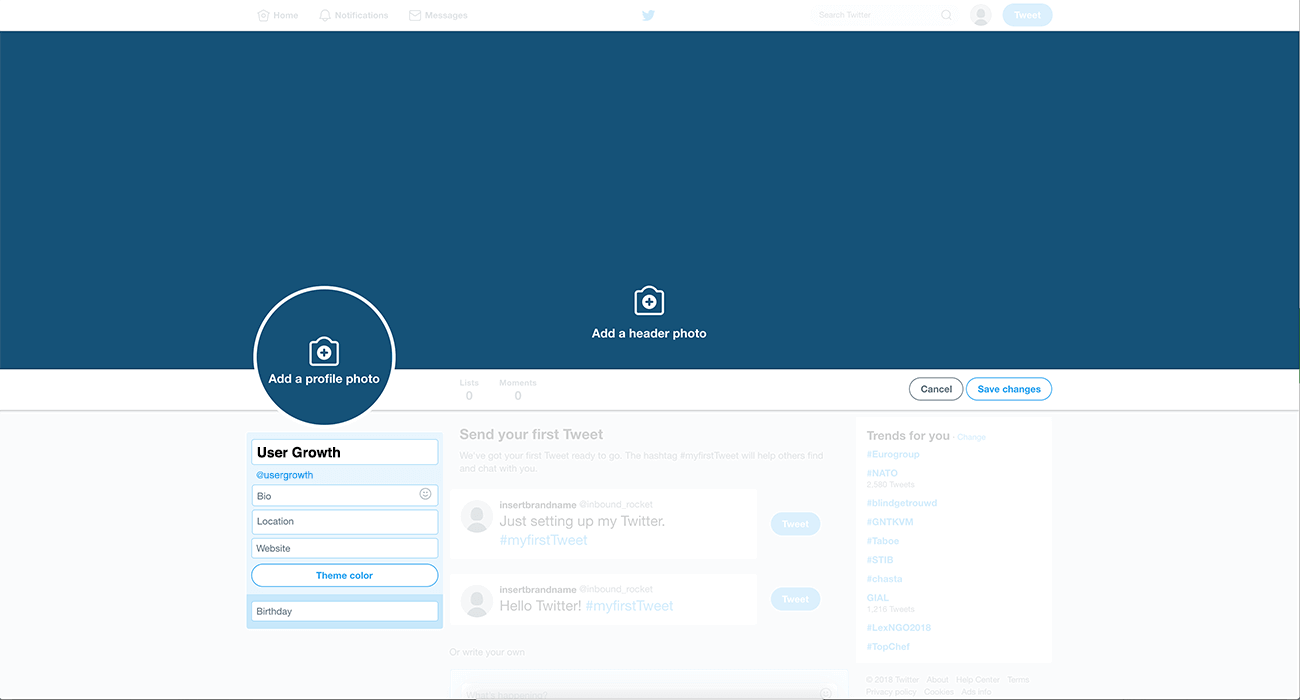 If you go to your profile, you will be greeted with a beautiful empty profile. By clicking on the "edit profile" button, your profile transforms into an easy way to upload a new profile picture and header photo.
Location
While you're still editing your profile, don't forget to add your location. Especially for a local business, this can help build a stronger connection with your potential audience. But remember, Twitter is a global phenomenon, if people from another city or country are visiting your profile, they might not recognize your specific neighborhood or community name.
So go specific, but not so specific that people don't have enough information anymore to be able to find you.
Website
Of course, you want people that visit your profile also end up as visitors to your site. By adding your website or link to your blog, you make it easy for people to find out more about your business.
Maybe put a link to a special landing page for people coming from your Twitter profile? This is a great way to welcome those visitors to your site and make them feel right at home.
Bio
Next, to your visual branding like your profile picture and your header photo, your bio might be one of the most critical items on your profile. It gives you the opportunity to tell the people viewing your profile precisely who you are and what you do.
You've only got 160 characters though, so skip the mission statement and talk about the benefits you deliver. Why would someone want to follow you? And while you're at it, add a little personality to help your profile stand out even more from the crowd.
Step 2: Five types of tweets to keep your followers engaged
Your profile is complete, and you might feel the urge to start following a lot of accounts to let the world know that you're alive (and in the hopes of them following you back). But hold your horses a little bit longer, your profile is still empty on one important point, and that is the tweets themselves.
If you're used to communicating on Facebook or LinkedIn for your small business, you're probably used to maybe sending out one post per day or maybe even every couple of days.
Talking on Twitter, though, is something completely different. It is a fast-paced place where people share ideas, parts of sentences, quotes from others, etc. At first glance, it might look a bit hectic, almost like a bar, but that's where the charm lies with Twitter.
For a lot of people hitting that publish or Tweet button might feel a bit scary at first, give yourself some time though.
Try using the search function of Twitter to search for people talking about words that you use in your business as well and start engaging or Tweeting with them. Getting yourself familiar with sending out tweets.
So, how can you engage with your audience or how can you talk on Twitter? Well, basically there are five types of Twitter messages:
General Tweets
Let's first start with the basics; a Tweet is a message that you post on the network. It can contain text, pictures, a GIF and/or a video, or a combination of these.
@replies and mentions
When you see someone else posting something interesting, you can send a reply to that person, or if you want to talk to people directly, you can send an @reply to them. The @reply is a public message that mentions the Twitter username of the person you're replying to or sending a Tweet towards.
Everyone who follows both of you will see this message in their streams, and it will appear on the notifications tab of the person you're talking to.
If you want to say something to someone and you want the Tweet to not just appear in the timeline of everyone who follows both, be sure to start your tweet with a dot, and it also appears to everyone just following you.
Direct Message (DM)
Sometimes you want to send something in private to another person; this is where Direct Messages (DM's) come into play.
A direct message allows you to send something to another Twitter user who appears in a special private place. Although it used to be that you could only do this to people who follow you, nowadays you can send a DM to everyone (unless they specifically blocked this in their settings).
Direct Messages are also a great way to form a group chat with your most loyal customers straight on Twitter. You can start a private conversation or create a group conversation with anyone who follows you.
Anyone who is in the group can send DM's to the group, and everyone in the group can see all messages, even if everyone doesn't follow each other. Lastly, anyone in your group conversation can add additional participants, newly added members won't see the history from before they joined, though.
Retweets (RT) and Quoted Tweets
A Retweet (RT) or Quoted Tweet is a message created and sent by someone else that you think is relevant to your audience as well. You can hit the RT button, and it gives you the option to RT something straight away or add a comment and quote the Tweet of the other person.
This is a great way to share relevant content or endorse what your customers say about you.
Promoted Tweets
The last type of Tweets that are relevant to your business is Promoted Tweets. Just like boosting a post on Facebook, you can also use Twitter's Ad platform to promote a tweet to reach a bigger audience.
Step 3: Start following other people
Of course, if you're not following anyone else on Twitter, your timeline could look a bit lonely. Now that you've got your Twitter account created, you know the basic of how to Tweet and how to engage with other people. It is time to start following them.
When you follow someone on Twitter, you subscribe to what they share on the platform. Try finding relevant people using the Twitter search or by connecting your Gmail or Outlook address book as described earlier to start following your first set of people.
To follow someone, all you need to do is visit their profile and hit that Follow button.
Although there are certain Chrome extensions out there that let you automatically follow all the followers of another account (let's say your competitors) be careful to use these since they are against policy of Twitter.
Take it slow, start following relevant people, and start engaging with the ones that follow you back. After all, you don't want to get your account suspended in the first week because of violating their policies.
As a business, there are a couple of categories of interesting people you might consider following:
Your customers
Your business partners, suppliers, contractors, basically anyone who you work with
Your competitors or peers
Professional organizations linked to your industry
If you're a local business, be sure to follow businesses in your neighborhood as well
People from your existing professional network
If all goes well, you should start to get your first sets of followers back by now as well, don't be afraid if it is also people you've never met before, be kind to them, welcome them with a personal message to your online following and start engaging with them.
Step 4: Drive traffic to your website
Although the first line of business on any social network is being social and being helpful to your followers, it doesn't sometimes hurt to share some of your content as well to help drive traffic back to your website.
Twitter is a great tool for this; you can do this by simply typing a good reason why your particular piece of content will bring value to the reader, adding your link, and don't forget to add a Call-To-Action (CTA) in your copy that will make your readers want to read the entire piece.
When sharing your and other links on Twitter it is always best practice to use a URL shortener because of the limited space offered in a Tweet. Next, to the added benefit of having more characters in your Tweet for the surrounding copy, URL shorteners are available that give you some nice extra options.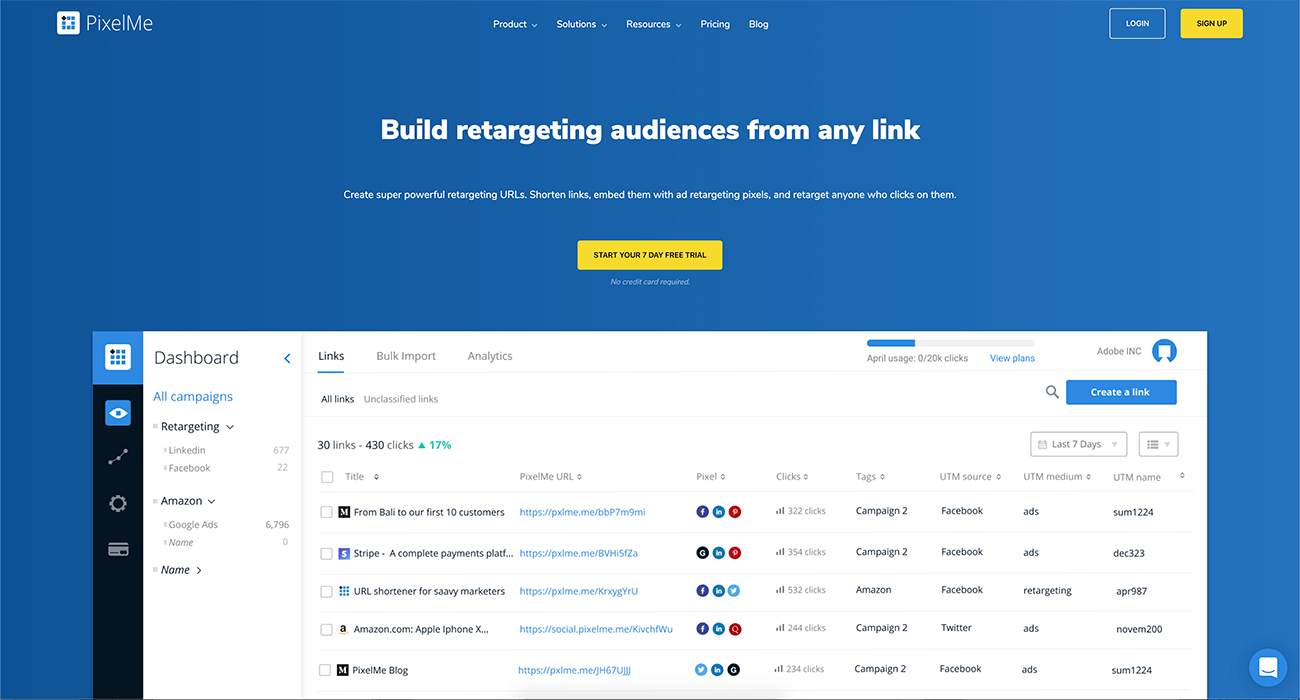 One of our favorites is Pixelme; Pixelme gives you the option to automatically have everyone who clicks a link you share to be added to a retargeting pool on Facebook. They shorten any link, and they'll include a Facebook Pixel, which in turn helps you grow your custom audience on Facebook every time someone clicks. Simple, but effective!
Promotional tools like Quuu, Hiplay, Buffer
Sharing a link to a content piece you created is a great way to get more traffic to your website. However, you might not get everything you can from each piece of content you create and share via Twitter.
Twitter is a fast-paced medium, and with so much awesome content shared on Twitter every day, it is impossible to see it all. And the same is true of your content. There is a high probability that although your audience is enjoying reading your articles or seeing your tweets, they are likely missing out on most of them because they are just not online all the time.
If you're serious about content marketing, you also need to drive as much traffic as possible to these pieces of content. Here at User Growth, we do this in three different ways:
So much content is shared on social media every day that it's impossible to see it all! The same is true of your content. Chances are, as much as your audience might enjoy reading your articles or seeing your latest tweet, they are likely missing out on most of them. That is why it could be vital to re-share your content multiple times to ensure the people who missed it the first time might see it the second or third time around.
Quuu Promote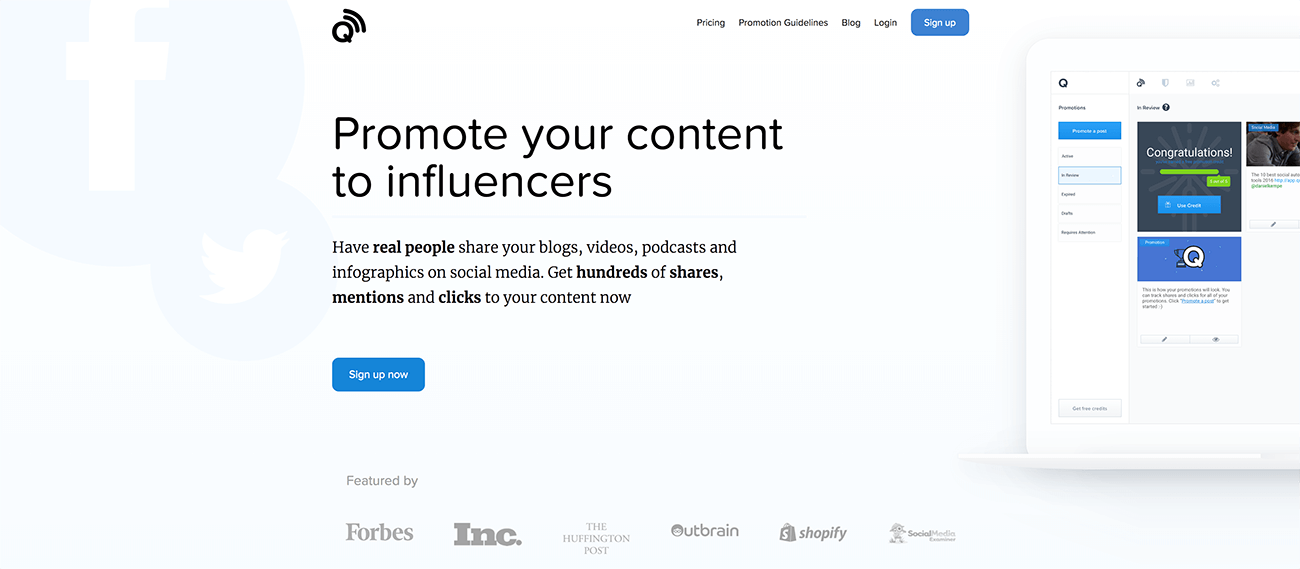 The first one is easy and pretty straightforward. Quuu Promote lets you promote your content to an ever-growing, highly targeted audience base.
Quuu promote is the business backend for Quuu, and Quuu gives their members content suggestions based on the categories they want to share with their audience (a great tool in itself to find highly curated content for your audience to share).
By submitting your content using Quuu promote, they validate the quality internally, and if it is found like a great piece of content, it will be added to the content suggestions of Quuu. One submission gets your content easily get a couple of hundred or more additional shares; it is well worth the investment. (Starting at $40 per month).
Hiplay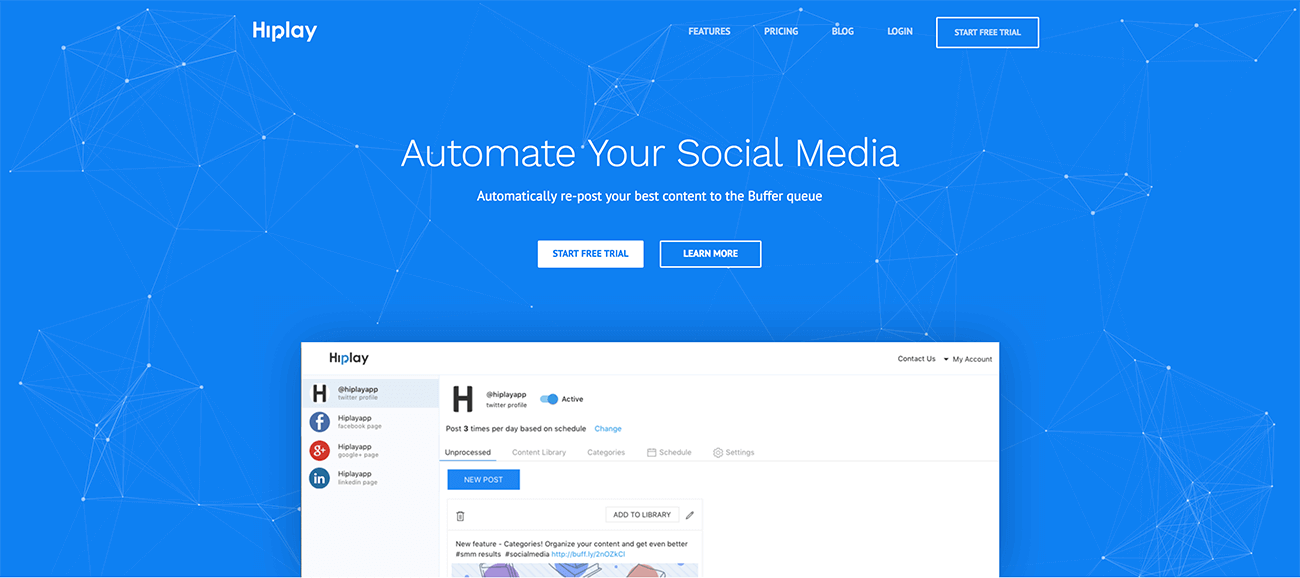 The second tool we love is Hiplay. Hiplay lets you create a list of your evergreen content and slowly add those pieces of content one by one (on a schedule you create) to your Buffer profile.
This way, you can automatically re-post your best content to the Buffer queue and make sure that even months from the first release of your piece of content, you're still giving it the love it deserves.
Buffer
When a new piece of content goes live, you want it to get seen by your audience. That's why it is vital to re-share your content multiple times in the first couple of days. This ensures that people who missed it the first time might see it the second or third time around.
There used to be a time with Buffer when you could share messages multiple times using the Power Scheduler. Since the 3rd of April 2019, they decided to remove that option though.
So our final tip involves a little bit more manual work, see you don't want to share the exact same message quickly after each other, but since Twitter is also a very quick-moving medium, it makes sense to not only share a (new) post straight after you've put your content online.
Share it 8 hours later, a day later, and seven days after you've posted it for the first time online. This is a great way to make sure your content gets seen by all your followers instead of just the ones being online the moment you shared it first.
Never share the same message twice, though. You don't want your posts to become monotonous for your followers. The best strategy for doing this is to add variety by asking questions or including quotes from the article.
So the first time you share it, it can be just the article title with a visual and designator that it is a new post. The second time you share it, you will ask a question. The third time you cite a fact. The fourth time you can share a quote, etc.
Step 5: Let the world know
You're on the right track, your Tweeting, you're engaging with your (non) followers, and you're sharing great content. The next step is letting the world know that you're active on Twitter.
You can do this in a couple of different ways.
Add your Twitter account information on your website and blog
Next, to the other social icons you have for your other social media accounts. Most of the social follow tools and plugins for websites allow you to add this information to your website easily, or maybe the theme you're using supports this out of the box, so it is even easier.
Twitter itself has a great little toolkit available as well that allows you to create follow buttons for your website quickly.
Include your Tweets on your website or blog
If you want extra exposure to the content you Tweet, you can also use the previously mentioned toolkit from Twitter to create an embedded box to showcase all your latest tweets on your website.
This is a great way to share your Twitter conversations with your website visitors, getting double exposure from the same effort. Before blindly adding all your Tweets to your website though, be sure that it makes sense from your business perspective and the goals you have for your site though.
It might be worthwhile to be selective about the tweets you share on your website, for example, only showing tweets that contain a certain hashtag.
You've probably already had a set of sharing buttons on your website, and in case you didn't have a Twitter button with them yet, now it is time to add one. Don't forget to include your Twitter handle in the settings so that when people share your content, your account is linked to it, and people know that it comes from you.
You can also use the Selection Sharer plugin on WordPress which allows people to select a piece of copy on your website and share it as they do on Medium as well.
Whatever way you choose, make sure that you allow your visitors to share a tweet about your content easily, share it with their followers, and give credit to your Twitter account.
Step 6: Standing out
While Twitter is for sure a unique social network that can bring lots of value to your business, the amount of tweets getting delivered every second is staggering. Even if you follow the above steps, making your Tweets stand out from the crowd from all the other accounts that your followers are following can be difficult.
So how can you get heard in such a fast-paced world, especially when everyone is trying to do the same?
Let's focus on four different ways to make your Tweets stand out from the crowd.
Photographs
Why tell your followers when you can also show them?
Many people on Twitter ignore the potential for sharing photos on their profiles. Sure, the original promise of the website is a microblogging platform, but it wasn't meant to be used like this. That doesn't mean it doesn't have the capability, though.
People like visual content as much on Twitter as Facebook or Instagram adopters. By including relevant images, you can catch the eye of your followers and encourage engagement. Especially when sharing photos of people. For example, you can tag up to 10 people per image.
Video and Personal video messages
Just like with photos, the popularity (and effectiveness) of multimedia, in general, continues to grow on Twitter. A survey from Twitter in 2015 already found that 82% of their users are watching video content on Twitter and that they wanted to see more videos from celebrities, other users, and brands. So why not offer your followers what they are asking for?
Wyzowl's State of Video Marketing 2017 report has similar video numbers as the one supplied by Twitter in 2015. They say that 79% of consumers are rather watching a video to learn about a product than learning by reading text on a page. Even more (84%) of consumers were convinced to make a purchase after watching a video by a brand.
Why not make full use of this on your Twitter account? You can create your videos and upload them, create small video responses as a personalized thank you message to your followers, and retweet relevant video content your followers might find valuable.
GiF's
If you're adding photographs and videos, you can't go without using GIFs as well. According to Twitter, 100 million GIFs were shared on Twitter in 2016 when you cannot record a personal message on video, at least use one of the little-animated GIFS in your communication.
With GIF support built in, right to the mobile client, it is easier than ever, so what are you waiting for?
Twitter Chats
The last item on our list to help your business stand out on Twitter is hosting a Twitter chat. Hosting one lets you better engage with your followers and customer while at the same time building a community and getting a higher reach.
As a result, Twitter chats are a great way to grow your social following, generate valuable discussions and feedback, and help you to demonstrate your thought leadership for your domain.
All you need is a proper hashtag (more on that in the next item), a host (could be yourself, or you could invite different people from your industry), a topic, and a date and time.
If you want to do it well, set a recurring date, like every second Tuesday of the month, and announce it upfront to your followers and email subscribers to help generate buzz.
And if you're not up for hosting one yourself yet, try figuring out relevant Twitter chats in your industry and join them to showcase your thought leadership.
Twitter Polls
Twitter polls are a super fun and easy way to connect and interact with your audience.
And no matter how many followers you have, Twitter polls are an excellent way to get into their heads. So you can know what they think, what they want, or what they're doing.
This will, of course, help you to determine what you should be doing for your brand and for your business.
Twitter polls are super easy. All you need to do is come up with a question and up to four response options (but if you want, you can also choose two or three options).
And because it is integrated directly into Twitter, people don't go to another page. They don't need to fill in a form. It won't take ages of their time. It only takes a second or two – at most to participate.
Setting up is easy too. Just hit the "add poll" button in the "compose new Tweet" box:

Add some poll questions and duration for the poll: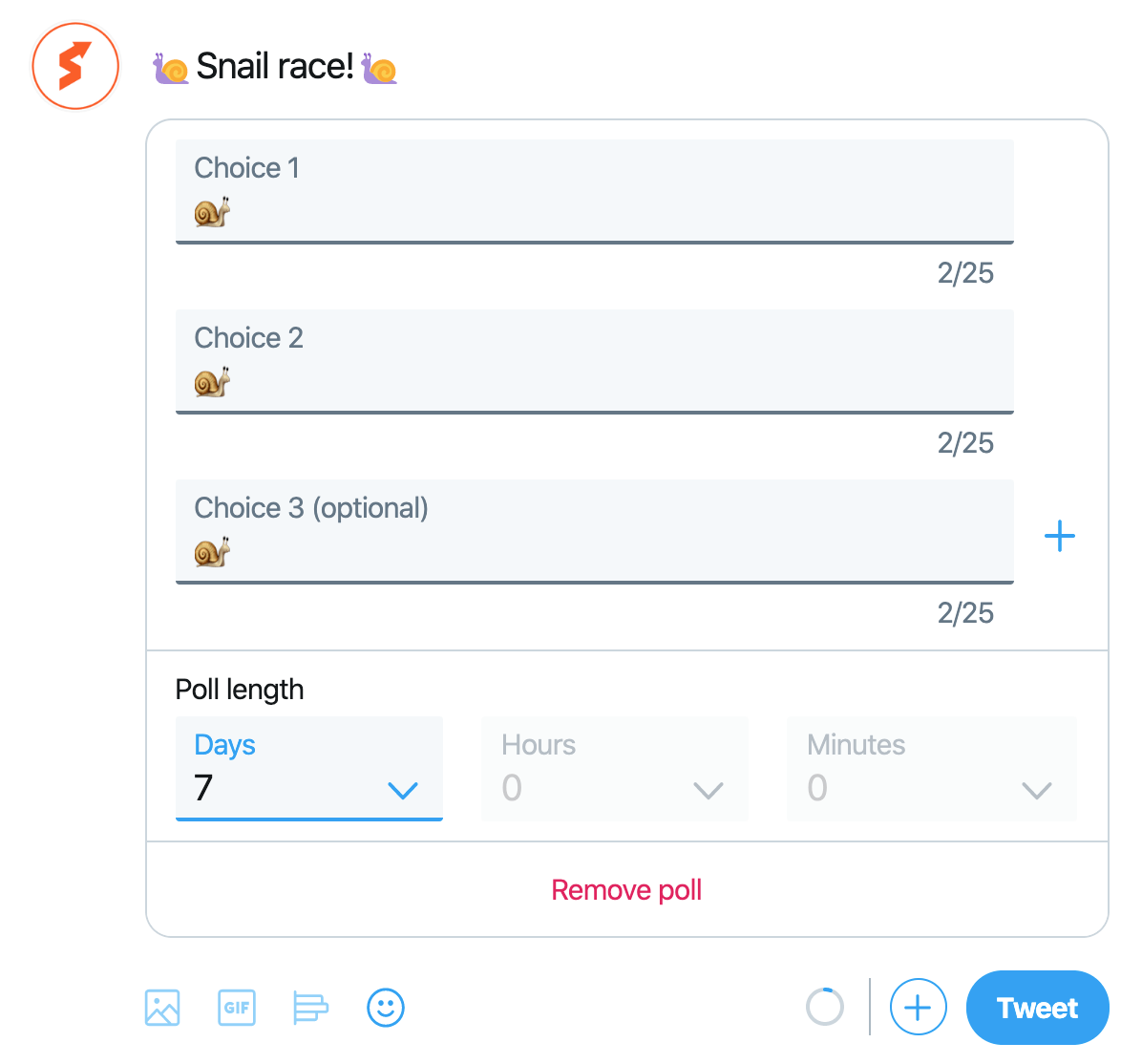 Sit back and let the results run in: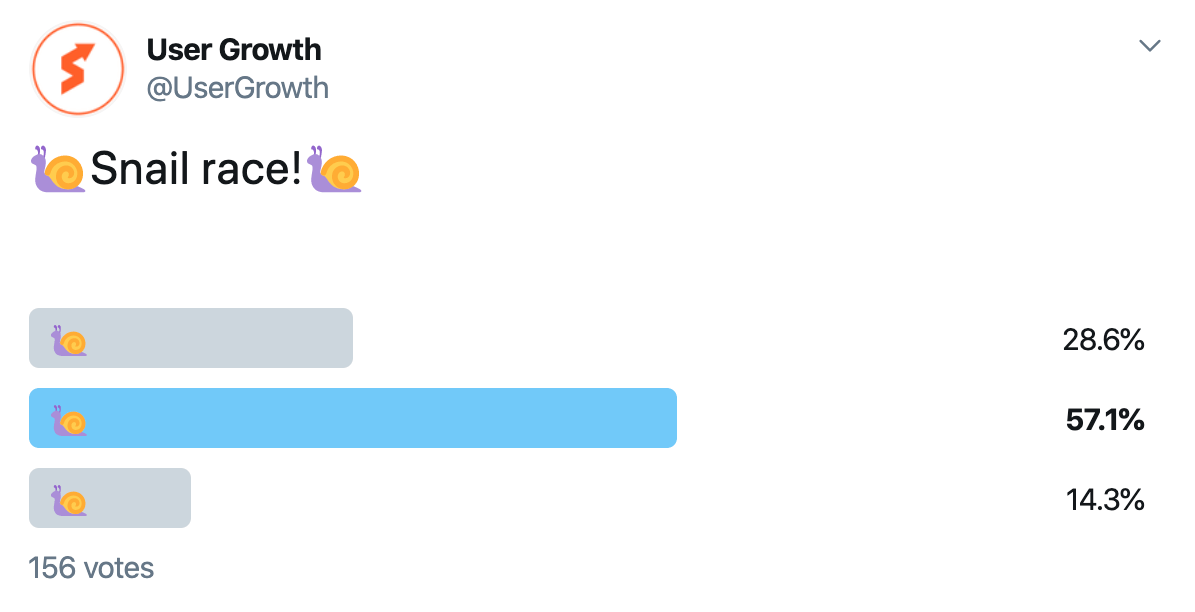 Aah, hashtags. Finally, we can start talking about them. Hashtags are one of the best ways to increase exposure to your tweets AND find potential relevant leads to start engaging with. Without the use of hashtags, your followers would probably be the only ones to see your tweets.
Hashtags enable you to classify your Tweets so that your content is grouped with other relevant Twitter content around the same subject. This helps other Twitter users to find your content quickly, just as it can help you to find influencers and others in your industry.
If you're using hashtags, anyone can search for that specific hashtag and quickly come across your tweets, and as a result, it allows your Tweets to reach an audience far beyond your standard followers.
Did you know that tweets containing 1 or 2 hashtags have 21% higher engagement than those with there or more?
So how do you identify the best ones for your organization?
Using tools like Twitonomy you can identify the hashtags of influencers, then using hashtagify you can identify related hashtags for the ones you identified with Twitonomy. Finally, by using Ritetag, you can identify the Tweet density for the hashtags you identified to pick out the little gems that are best to use for your business.
Step 8: Organising followers to conversation lists
After some time, when you start to follow more and more people, it might be challenging to focus on all the information coming your way from all the accounts that you're following. This is where Twitter lists come in.
A Twitter list helps you separate your Twitter accounts into separate groups. Setting up lists is fairly simple and can be very helpful to quickly read all the tweets from your top customers or from press agencies that you're following.
Besides the difference between a normal list (a person gets notified when you add them to a list, the list is public, and other people can follow your list), or a private list (a person doesn't get a notification that they are on the list, the list is private and just for yourself), there are not much more things to know.
The options, however, are endless. You can use it to connect with all the people who attend your company events, monitor your competitors, etc. you can even add people to a list without following them!
Here are some ideas for building your lists. Why not start by building a list for your:
Customers
Potential customers
Business in your neighborhood or community
Professional or trade organizations
People who inspire you
People you talk with the most
Your competitors
Using a Twitter client like Tweetdeck, you can easily create separate timelines for your lists. This helps you distinguish the most interesting people for your business from the crowd so you can pay extra attention to what they say.
Step 9: Finding local customers to engage with
The last item we want to focus on for you and your business is finding local customers to engage with. A lot of time, the internet focuses on the entire world, and you can engage with people on the other side of the globe. And even though that is true, one of the strengths of Twitter is also the ability to focus on the things happening in your neighborhood.
Not all businesses are operating on a global scale, and those people are local to local customers. Twitter is there to help you find potential customers who live and work near your business.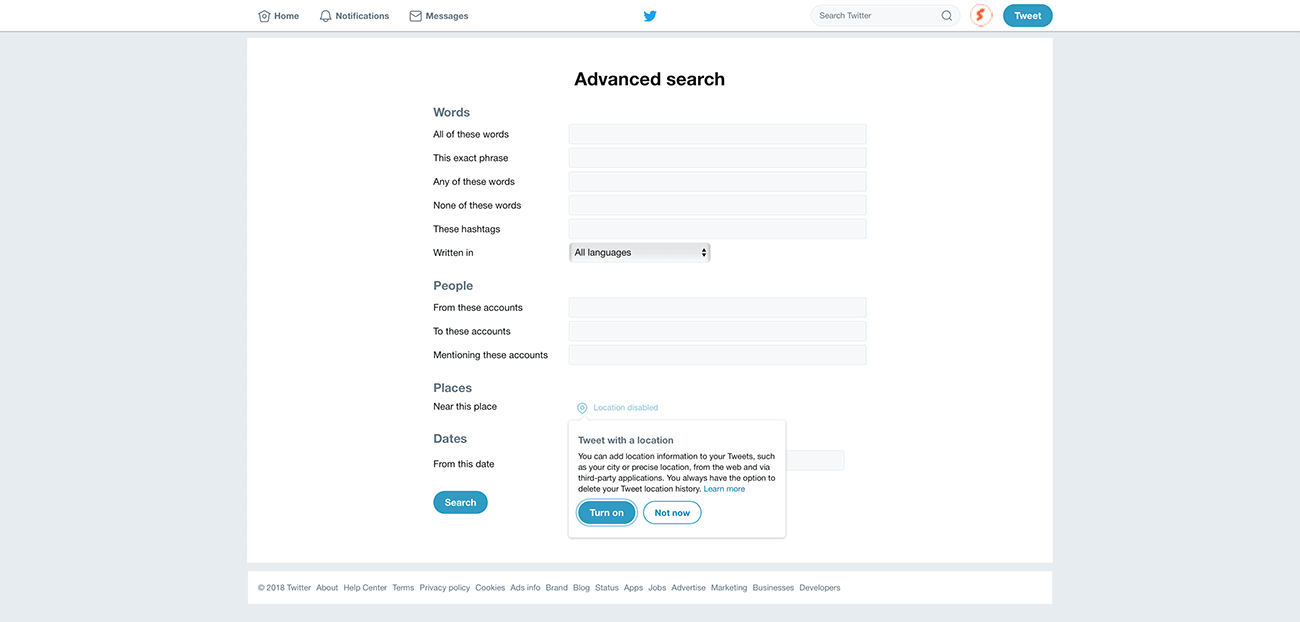 Using Twitter Advanced Search, you can identify these people and start engaging with them. For this to work, you need to enable location sharing on your account, but after that, you can use the "Near this place" feature to find your potential customers.
Use these search results to find people who could be potential customers. You can follow them or add them to your potential local customer lists. It is the first step, so you can start engaging with them and building those relationships.
How to advertise on Twitter
As great as any social media strategy might be, there will always be times when you can use that little bit of extra push that can come from a paid strategy.
Depending on the objectives you have, you can either:
promote an individual tweet
promote your account
promote a trend  you'd like to amplify and associate with your business
There is even a mode where you can have Twitter automatically promote your tweets and your account (although this is only available in the US, UK, and Japan).
To get started advertising on Twitter, just follow this link.
From there (depending on the location you want to target), you can either choose the automated option(left) or the manual option (right).
If this is the first time you're going here, you must also give some additional info, like your country and your timezone, before you can continue.
Twitter Ads Step 1: Choose your Twitter ad objective
Just like Facebook, Twitter ad campaigns are based on specific business objectives that you and your company might have.
So the first thing you need to do when starting a Twitter ad campaign is figuring out what you want to achieve with your Twitter ads. This is something you must think of carefully, as this will later determine the engagement types you can choose from and the actions you'll end up paying for.
The objectives you can choose from are:
Tweet engagements: Choose engagement if you care more about people engaging with your Tweet (like retweets, replies, etc.) than just plain impressing. You're billed for all the engagement types but only on the initial engagement with each user (so if someone sends a bunch of replies, you only pay once)
Promoted video views: You want people to watch your videos or GIFs. You're billed for each video view.
Awareness: If you just want the maximum number of people to see your Promoted tweet. You're billed per 1,000 impressions.
Website clicks or conversions: Maybe you want to drive people to a specific product page or a new blog post. If you want people to go to your website and take action there, this is the option you want to choose. You're billed per click.
In-stream video views (pre-roll): You want to run a short video ad at the start of videos from Twitter's premium content partners. You're billed for each video view.
Followers: If you're just starting out and you want to build your audience, this is the objective for you. You're billed for each new follower but not for other engagements, like retweets and likes.
App installs: If you don't want people to go to your website but rather install your beautiful app, you have to choose "app installs." You're billed for each app install.
App re-engagements: You want people who already have your app to open and use it. You're billed for each app click.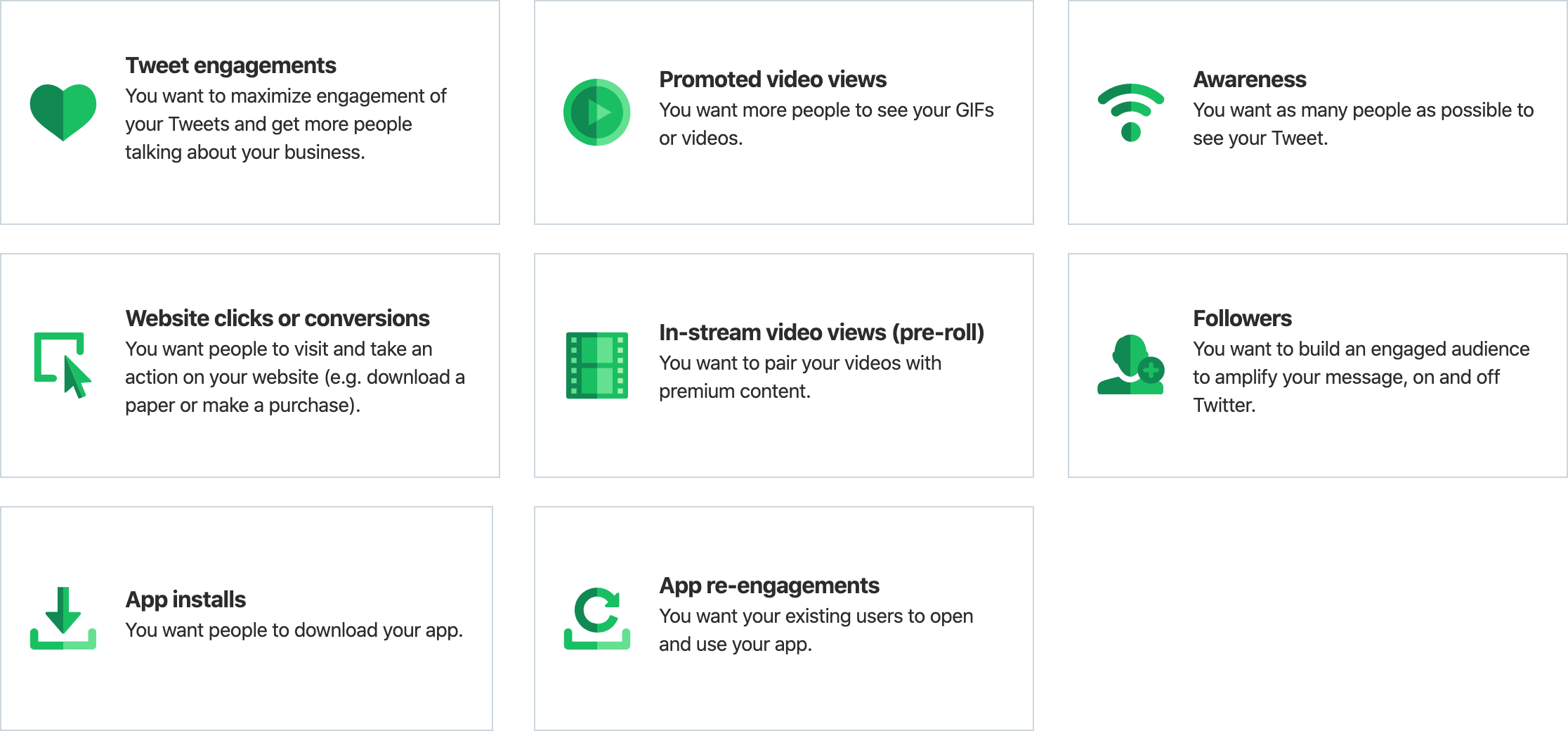 Twitter Ads Step 2: Set up your Twitter Ad Group and bidding
After you've chosen your objective you will be taken to the following screen where you can do the initial setup of your campaign, give your campaign a name, and how much you're willing to pay for each interaction.

After this, you need to set up your ad groups. If you're just starting, you might want to stick to one ad group. Suppose you're getting better at understanding how ads work overtime. In that case, you might want to start splitting up your campaigns to target different audiences or use other creatives, budgets, or timings.
If you're already familiar with Facebook ads, this entire structure and interface might sound very familiar. You have a campaign level, ad group level, and ad level.
Or as Twitter explains it itself in this visual: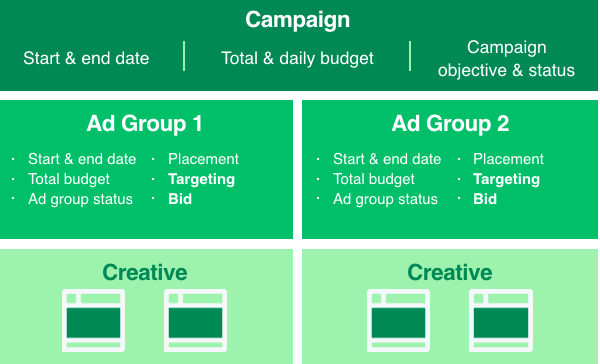 Setting up an ad group is pretty self-explanatory. You give your ad group a name and how much you're willing to pay for each interaction for that particular ad group. If you choose automatic bidding, Twitter will automatically set your bid to get the best results at the lowest price based on the budget you gave them.
If you're just starting out, the automatic bidding might be your best choice at this point.
Twitter Ads Step 3: Choose the target audience for your Twitter Ad
Next up is defining your target audience. Twitter offers a couple of options to help you choose the right audience for the ad you're creating and helps to maximize your budget.
It starts out with demographics, like gender, location (from a whole country to specific zip codes), languages, and technology (like OS versions, platforms, devices your target audience is using or certain mobile carriers).
In the audience feature, you can target based on specific characteristics like events, interests, and behaviors, or even particular keywords and TV shows people tweet about.
While you make changes to the various options, the Twitter ad platform will show you the audience size that will be targeted based on the options you choose.
Twitter Ads Step 4: Choose your Twitter Ad creative and ad placement
And the final step before you can launch your campaign is to choose the creative that you want to use for your ad. You can search your existing tweets to find the one that you want to promote or if you prefer you can choose to create a new tweet specifically for your ad.

Don't forget to select the places where you want your promotion to show.
Twitter Ads Step 5: Launch your Twitter Ad campaign
Now all you have to do is review all your options one final time and click that "Launch Campaign" button in the top right corner to launch your ad.
A bit similar to the "boost post" option on Facebook and not really recommended because of the lack of detailed targeting options (like on Facebook), you can also try out "Quick Promote" by Twitter. Still, in our opinion, this is really a waste of money, and you will get better results by using the detailed targeting and options that you get from going through the entire setup.
That's it, your first introduction to using Twitter for successful business marketing.
Following these nine steps will help you to grow your business on Twitter organically. It will increase website traffic and, in the end, increase your sales.
And if you want some quicker results, the paid options of Twitter are here to help you as well get that extra traffic that you might be missing out on.
This is just the beginning, though. The possibilities with Twitter are endless, and if you think outside the box, you can easily think of more use cases to use Twitter within your organization.
Start measuring your Twitter performance to identify what works and what doesn't work with your following. Learn which type of Tweets are more effective than others.
Content marketing is just solving the same problems that your product solves through media you create and promote.
You want to be a helpful guide, helping your potential customers improve their day.
This can be done by bringing a smile to their face or by giving solid advice, but whatever you do, always keep building a community in the back of your mind.
What do you think? Are you ready to give Twitter a(nother) try? Are you ready to start engaging with your fans and (potential) customers? Share your most defining Twitter moments in the comments below!
Want to learn more about growing your business through digital marketing? Looking to take your business to the next level? Let's talk!
No spam, ever. Your email address will only ever be used for notifications regarding our blog posts and product releases.
If you want you can easily unsubscribe with a single click at any time.