Clutch Recognises User Growth as Top SEO firm
Online traffic is predominantly driven by search engines. SEO, when done right, can help your business grow and gain brand recognition online.
As long as you're creating better content than your competitors, using the appropriate keywords, doing proper digital PR to work on securing those backlinks and at a little bit of magic User Growth sauce, your organic traffic will increase steadily and you'll rank higher in no time.
Here at User Growth, we believe that there is no such thing as a one size fits all solution when it comes to growing your business online. We'll help you connect the right people to your product or service, and build the foundations of your long-term success.
We do this by using the skills and talent of the people working for User Growth and by building products like:
Clutch finds the best firms in the industry to help business owners find the perfect marketing company for them. The directory shows client reviews, price points, location, and contact info for the agencies within your search parameters.
Every year they award the highest performing B2B companies by industry and location. In order for a business to become a "Top SEO Agency" on Clutch, you must have verified reviews, data-driven content, and better business solutions than your competition.
Out of the 200,000+ agencies on Clutch we are honoured to have been chosen as a Clutch Leader!
We are now part of the growing list of 2021 B2B leaders and it's all thanks to our wonderful team and amazingly supportive clients.
2020 was a difficult year for most businesses, struggling to keep their heads above water. The fact that we got this industry-leading award, showing that what we do makes an impact for our clients is something truly awesome and gives great recognition to the entire team

Hans van Gent, Founder of User Growth
For example, for this creative agency, we continue to deliver compelling and engaging SEO strategies that ultimately nabbed us a perfect 5-star rating: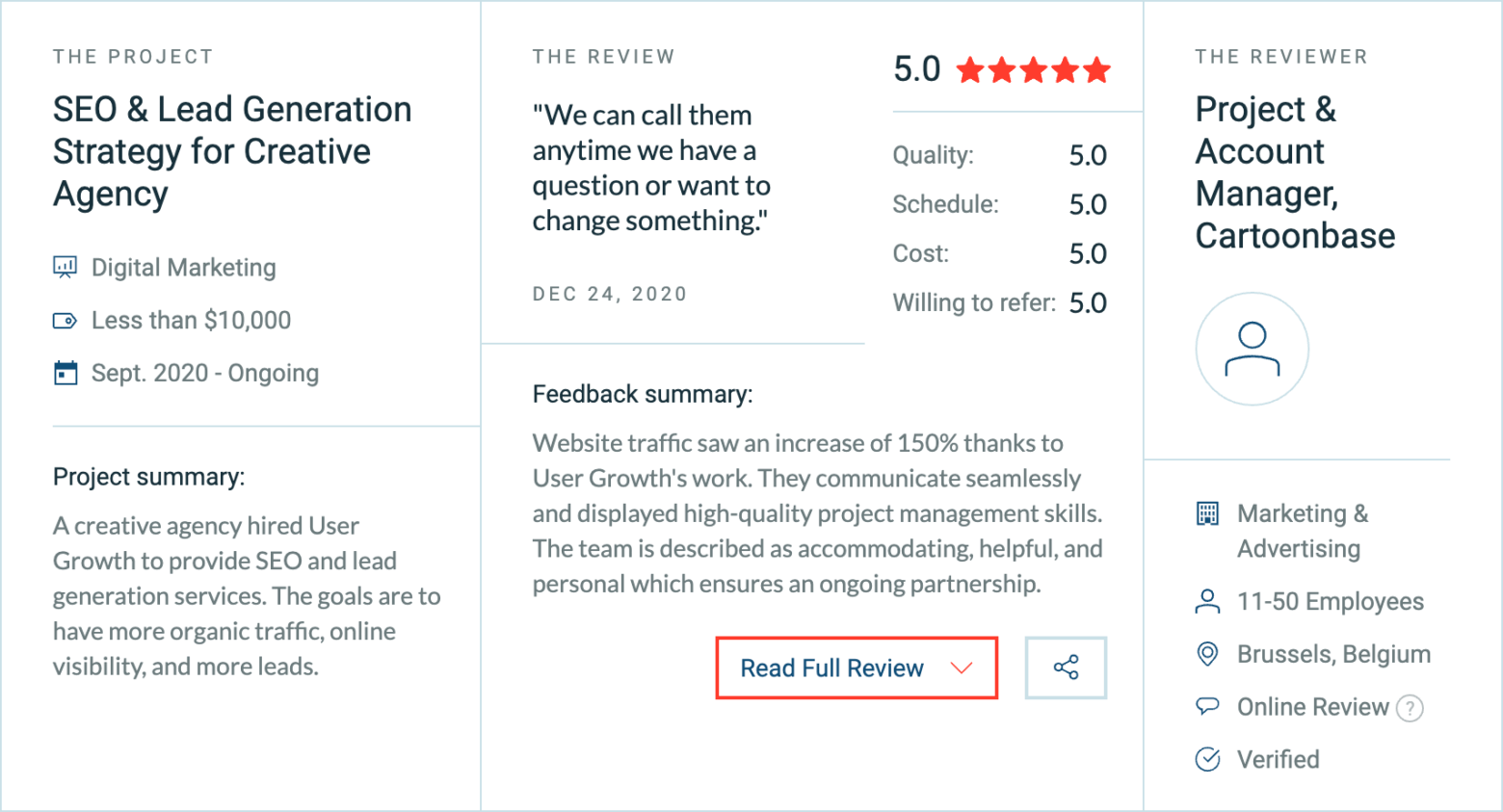 We would like to extend our most sincere thanks to our clients who made this all possible.
We could not have gotten this far without your positive feedback. Let's make 2021 a productive one!
Are you looking to drive real profitable growth into your business? Contact us today! If you want to read the rest of the review, please visit our Clutch profile and take a look at what our clients are saying about us.
This just in, Best in Ireland also named User Growth one of the best SEO companies in Dublin!
Want to learn more about growing your business through digital marketing? Looking to take your business to the next level? Let's talk!
No spam, ever. Your email address will only ever be used for notifications regarding our blog posts and product releases.
If you want you can easily unsubscribe with a single click at any time.