From Zero to Hundreds: The Transformation of User Onboarding in a Thriving SAAS Company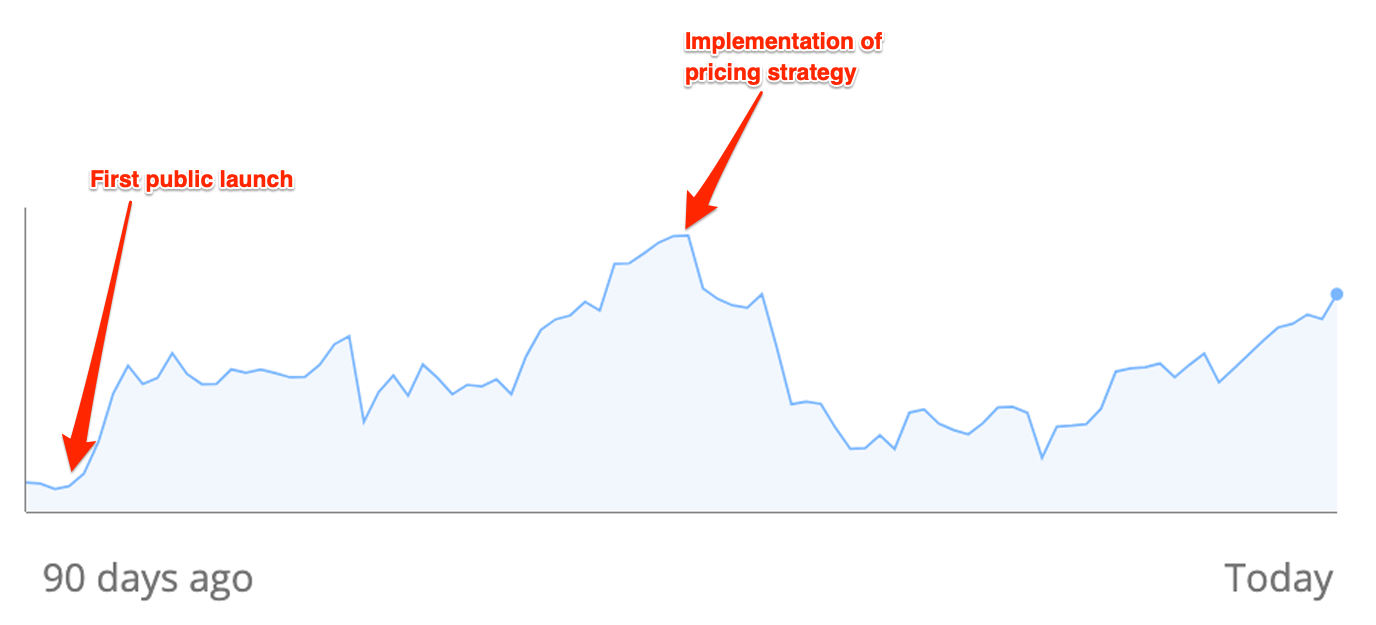 Our customer is a SAAS application that helps website owners to get more subscribers from their websites.
The idea for the product is not something new, but their take on it showed that they were ready to tackle a piece of the market share.
When they approached User Growth, they were still building the product. Together with the founders, we came up with the concept for the build-up to the launch, the launch strategy itself, and the aftermath of what to do after their product was successfully launched.
Challenges:
highly saturated market
complex technology
product was still being built (resulting in a terrible user experience with onboarding after the first signup)
Solutions
After analyzing the product, we found that our customer's biggest bottleneck in the customer journey was activation.
Activation is when users have a great first experience with the application and hit the WOW moment. In this particular case, the data showed that customers did signup but, in the end, never really implemented the product on their website and knew what to do with it.
However, the data showed that when users implemented the solution on their website within the first 30 minutes after signup and saw the power of what the product could do on their website, they were more likely to stick around and keep on using the product.
Yet, we found that only 7% of users did implement the product on their website within the first 30 minutes.
As a consequence, activation became our primary focus.
Before we could open the water tap and let in a flood of new users, we first had to fix the leaky basket.
The Customer Journey through the AAARRR Funnel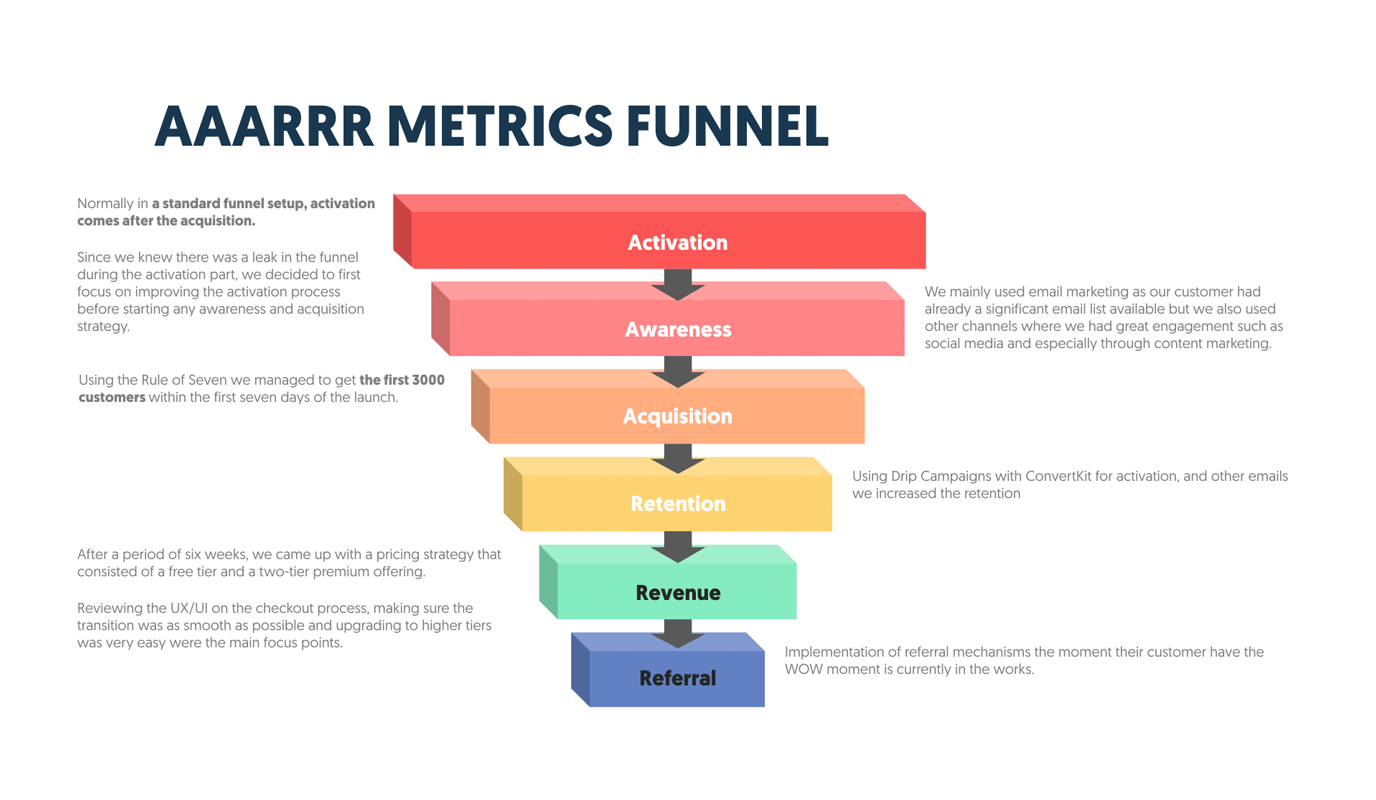 #1 Awareness
Normally in a standard funnel setup, activation comes after the acquisition.
However, since we knew there was a leak in the funnel during the activation part, we decided to focus on improving the activation process before starting any awareness and acquisition strategy.
We first proposed changes in the onboarding flow. We were making the onboarding easier and more direct, accompanied by instructional videos on implementing the tool on your website. Combined with a plugin for the most commonly used CMS out there (WordPress), we made the process of installation a lot easier.
This resulted in an increased activation rate of 300% in just under a month.
#2 Acquisition
Now we knew how to activate our users, it was time to ramp up traffic slowly.
For this, we mainly used email marketing as our customers already had a significant email list available. Still, we also used other channels where we saw great engagement, such as social media and primarily through content marketing.
The key was to build awareness around a newly to be launched product before the product was even live so we could test our hypothesis around the activation more thoroughly and generate interest on how the product could be used for gaining new subscribers on your website as part of any company's overall marketing strategy
#3 Activation
When the moment arrived to go all-in on the acquisition, we came up with a comprehensive launch strategy based on the Rule of Seven.
The Rule of Seven is a marketing principle that states that your prospects need to come across your offer at least seven times before they really notice it and start to take action.
The "seven" touch-points we used for our customer were:
YouTube/LinkedIn/Facebook and other existing social media platforms on which our client was active
Email Marketing
Podcasts (guest posts)
Display Bannering and Search Engine Marketing
Push notifications from existing owned web properties
General Content Marketing
Influencer Marketing
This strategy resulted in their first 3000 customers within the first seven days of the launch.
#4 Retention
We designed a drip campaign for newly acquired users to not just sign up but keep on coming back.
Drip campaigns are automated emails based on specific timelines or user actions. They enable you to stay in touch with groups of people based on events like when a user signs up for an account or how often that user visits your site, when they don't return, etc. Each time a drip email is sent out, it comes from a queue of already-written emails—there's no need to write and send each one manually.
We used ConvertKit for these drip emails.
Drip emails were sent, on activation, after onboarding, and in the following days and weeks after signup.
#5 Revenue
Obviously, Revenue is key for any business. Without revenue, you will not have cash flow; without cash flow, your business will die from a lack of cash, which is the oxygen to any business.
Without it, you will be unable to pay for all the other functions, and you will go out of business quickly.
Revenue trumps all.
For this customer, we had a little bit of runway. As a result, we first proposed to stay free for a little while to gain as many insights as possible on how people were using the application.
After a period of six weeks, we came up with a pricing strategy that consisted of a free tier and a two-tier premium offering.
The main focus points were reviewing the UX/UI on the checkout process, making sure the transition was as smooth as possible, and upgrading to higher tiers was very easy.
#6 Referral
This stage aims to get happy customers to recommend the product to others so that you create viral loops and increase the Customer Lifetime Value (CLV) of these customers so that you can afford a higher Customer Acquisition Cost (CAC) to reach out to new audiences.
The next step would be to start implementing referral mechanisms when their customers have the WOW moment.
This strategy and implementation are currently in the works.
Impact
Successful product launch, with a steady flow of 400 subscribers per day after the launch
Funnel fully optimized
Increased activation rate of 300%
Find out how we can help grow your business