Hoe User Growth een SAAS lanceerde in een concurrerende markt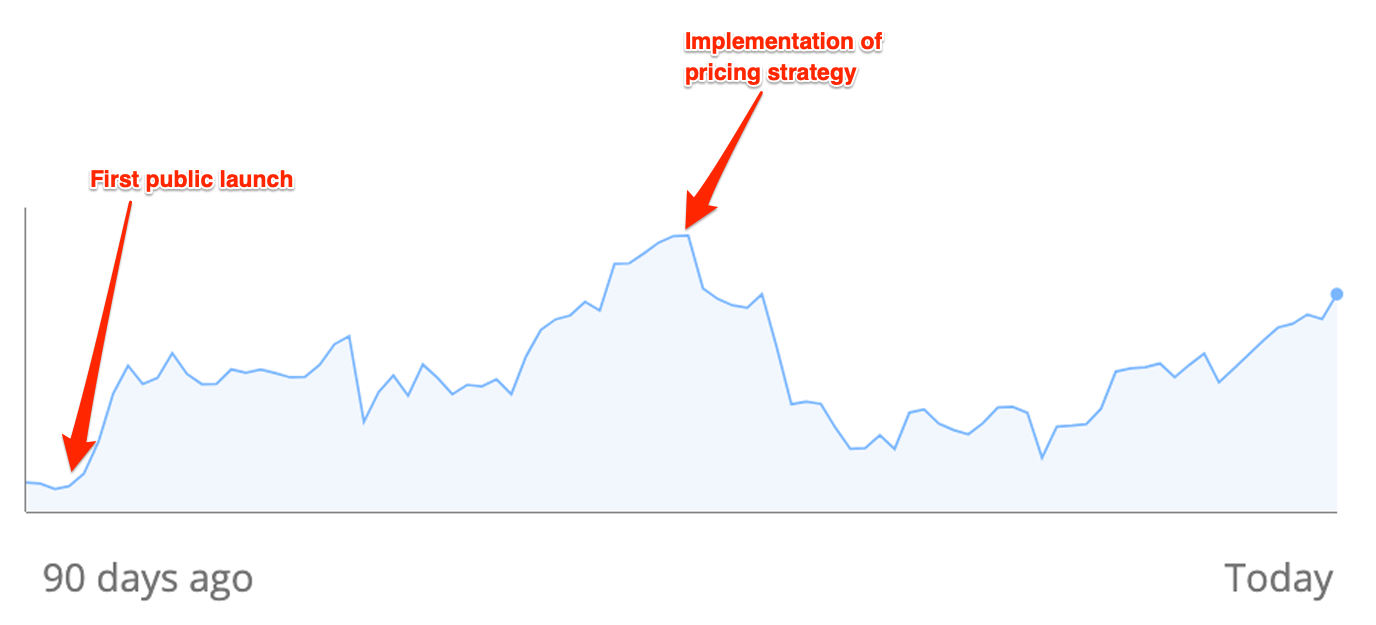 Onze klant is een SAAS-applicatie die website-eigenaren helpt om meer abonnees op hun websites te krijgen.
Het idee voor het product is niet iets nieuws, maar hun aanpak liet zien dat ze klaar waren om een stuk van het marktaandeel aan te pakken.
Toen ze User Growth benaderden, waren ze het product nog aan het opbouwen. Samen met de oprichters bedachten we het concept voor de opbouw naar de lancering, de lanceringsstrategie zelf, en de nasleep van wat te doen nadat hun product met succes was gelanceerd.
Uitdagingen:
sterk verzadigde markt
complexe technologie
product was nog in opbouw (met als gevolg een vreselijke gebruikerservaring met onboarding na de eerste aanmelding)
Oplossingen
Na analyse van het product ontdekten we dat het grootste knelpunt van onze klant in de customer journey de activering was.
Activering is wanneer gebruikers een geweldige eerste ervaring hebben met de applicatie en het WOW-moment bereiken. In dit specifieke geval bleek uit de gegevens dat klanten zich wel aanmeldden, maar het product uiteindelijk nooit echt op hun website implementeerden en wisten wat ze ermee moesten doen.
Uit de gegevens bleek echter dat wanneer gebruikers de oplossing binnen de eerste 30 minuten na aanmelding op hun website implementeerden en de kracht zagen van wat het product op hun website kon doen, ze meer geneigd waren om te blijven en het product te blijven gebruiken.
Toch ontdekten we dat slechts 7% van de gebruikers het product binnen de eerste 30 minuten op hun website implementeerde.
Daarom werd activering onze primaire focus.
Voordat we de waterkraan open konden zetten en een stortvloed aan nieuwe gebruikers binnen konden laten, moesten we eerst het lekkende mandje repareren.
De reis van de klant door de AAARRR-funnel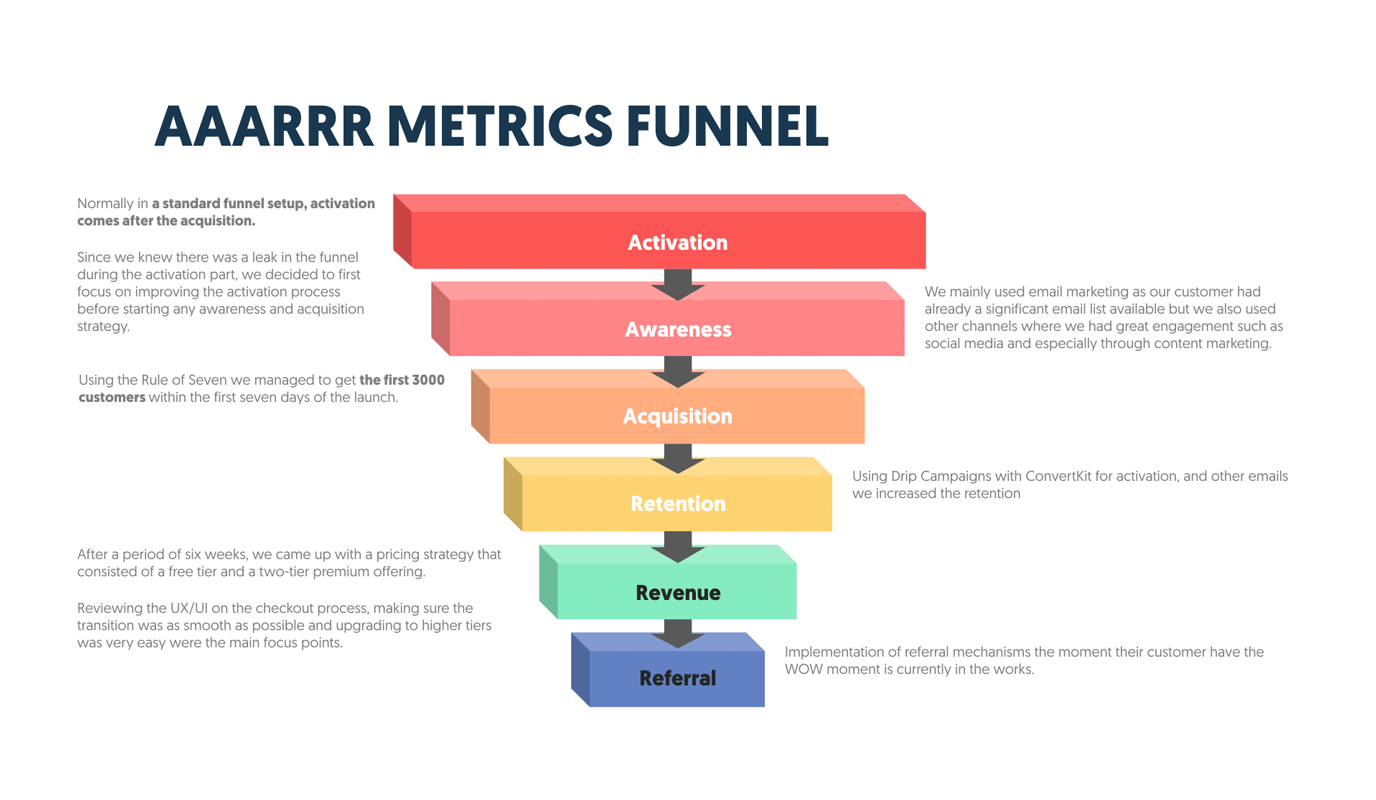 #1 Awereness (Bewustwording)
Normaal gesproken komt in een standaard funnel de activering na de acquisitie en bewustwording.
Maar omdat we wisten dat er een lek in de trechter zat tijdens het activeringsgedeelte, besloten we ons te richten op het verbeteren van het activeringsproces voordat we met een bewustwordings- en acquisitiestrategie begonnen.
We stelden eerst wijzigingen voor in de onboarding flow. We maakten de onboarding eenvoudiger en directer, vergezeld van instructievideo's over het implementeren van de tool op je website. Gecombineerd met een plugin voor het meest gebruikte CMS dat er is (WordPress), maakten we het installatieproces een stuk eenvoudiger.
Dit resulteerde in een verhoogd activeringspercentage van 300% in iets minder dan een maand.
#2 Acquisitie
Nu we wisten hoe we onze gebruikers konden activeren, was het tijd om het verkeer langzaam op te voeren.
Hiervoor gebruikten we vooral e-mailmarketing, omdat onze klant al over een aanzienlijke e-maillijst beschikten. Toch gebruikten we ook andere kanalen waar we grote betrokkenheid zagen, zoals sociale media en vooral via content marketing.
Het belangrijkste was het opbouwen van bewustzijn rond een nieuw te lanceren product voordat het product zelfs live was. Zo konden we onze hypothese rond de activatie grondiger konden testen en belangstelling wekken voor hoe het product gebruikt zou kunnen worden, voor het werven van nieuwe abonnees op je website als onderdeel van de algemene marketingstrategie van elk bedrijf
#3 Activering
Toen het moment was aangebroken om all-in te gaan met de acquisitie, bedachten we een uitgebreide lanceringsstrategie op basis van de "rule of seven".
De "rule of seven" is een marketingprincipe dat stelt dat je prospects je aanbod minstens zeven keer moeten tegenkomen voordat ze het echt opmerken en tot actie overgaan.
De "zeven" contactmomenten die we voor onze klant gebruikten waren:
YouTube/LinkedIn/Facebook en andere bestaande sociale media platforms waarop onze klant actief was
E-mailmarketing
Podcasts (gastoptredens)
Display Bannering en Zoekmachine Marketing
Push meldingen van bestaande eigen web properties
Algemene content marketing
Influencer-marketing
Deze strategie leidde tot hun eerste 3000 klanten binnen de eerste zeven dagen na de lancering.
#4 Retentie
We ontwierpen een drip-campagne voor nieuw verworven gebruikers om zich niet alleen aan te melden, maar ook terug te blijven komen.
Drip campagnes zijn geautomatiseerde e-mails op basis van specifieke tijdlijnen of gebruikersacties. Ze stellen je in staat in contact te blijven met groepen mensen op basis van gebeurtenissen zoals wanneer een gebruiker zich aanmeldt voor een account of hoe vaak die gebruiker je site bezoekt, wanneer ze niet terugkeren, enz. Elke keer dat een drip e-mail wordt verstuurd, komt hij uit een wachtrij van reeds geschreven e-mails – je hoeft niet elke e-mail handmatig te schrijven en te versturen.
We gebruikten ConvertKit voor deze drip e-mails.
Er werden drip e-mails verzonden, bij activering, na onboarding, en in de volgende dagen en weken na aanmelding.
#5 Revenue (Inkomsten)
Het is duidelijk dat inkomsten de sleutel zijn voor elk bedrijf. Zonder inkomsten heb je geen cashflow; zonder cashflow sterft je bedrijf door gebrek aan geld, wat de zuurstof is voor elk bedrijf.
Zonder dat geld kun je alle andere functies niet betalen, en ga je snel failliet.
Voor deze klant hadden we gelukkig wat tijd om onze hypothesen te testen. Daarom stelden we eerst voor om het product een tijdje gratis te laten blijven om zoveel mogelijk inzichten te krijgen over hoe mensen de applicatie gebruikten.
Na een periode van zes weken kwamen we met een prijsstrategie die bestond uit een gratis niveau en een premium aanbod op twee niveaus.
De belangrijkste aandachtspunten waren het herzien van de UX/UI van het afrekenproces, ervoor zorgen dat de overgang zo soepel mogelijk verliep, en het upgraden naar hogere niveaus heel gemakkelijk was.
#6 Referenties
Deze fase is erop gericht dat tevreden klanten het product aan anderen aanbevelen, zodat je virale kringlopen creëert en de Customer Lifetime Value (CLV) van deze klanten verhoogt, zodat je je een hogere Customer Acquisition Cost (CAC) kunt veroorloven om een nieuw publiek te bereiken.
De volgende stap zou zijn om verwijzingsmechanismen te gaan toepassen wanneer hun klanten het WOW-moment hebben.
Aan deze strategie en uitvoering wordt momenteel gewerkt door klant.
Impact
Succesvolle productlancering, met een gestage stroom van 400 abonnees per dag na de lancering
Funnel volledig geoptimaliseerd
Verhoogd activeringspercentage van 300%
Ontdek hoe wij jouw bedrijf verder kunnen helpen