How to Come Up with Great Blog Post Ideas Consistently
You probably know that content marketing is a powerful way to market your company online.
It's a way to demonstrate your expertise and increase your online following, all in all, to help you gain more leads for your company and help you sell more.
But what is the hardest part of creating high-quality content?
How many times has this happened to you?
You sit down to write a blog post, and… nothing.
You've been writing for some time now; you see traffic every day. But no matter how long you sit and stare at your screen, it's still just… nothing.
Coming up with a constant flow of ideas to write about for your audience can be challenging. How do you keep the ideas and creativity flowing to ensure your content calendar is filled with topics that ensure consistent traffic, leads, and conversions?
Here's the good news: Everyone gets stuck sometimes, but there's a much better way to come up with content ideas than just staring at your screen and waiting for a miracle.
But before we give you specific topics and ways to generate blog topics, there are two key principles you need to keep in mind:
Write about your niche, not your product. Even more so when you're just starting out, and nobody has heard about you yet, people don't search for your product name or categories. Most people search because they've got a problem and they are searching for information or a solution to their problem. Content relevant to your audience's life is way more valuable than content just hammering out product specs. Think of it like this, what would you rather click on: "Content Services $150" or "How to Promote Your Content"?
Deliver value. Content marketing should deliver entertainment and/or educational value to your audience. Always ensure that your target audience will be interested, intrigued, having fun, or will learn the next time they engage with your content. Practising Customer Development is learning about whether your product or services are solving the problems of your potential audience. By doing customer development, you can also learn and discover topics of value for your audience.
By keeping these two items in mind, let's dive into different ways to develop ideas for your content machine.
#1 Using BuzzSumo or Ahrefs
The first way to get inspiration for creating engaging content for you and your audience is by using two online tools. One is called Buzzsumo, and the other one is called Ahrefs.
If you've never heard of them before, both tools let you see the most highly shared posts on the internet over various periods and across different platforms.
By looking into what stories are most shared, you can figure out what topics are hot right now. After identifying hot topics for your niche, you can chip in, add your voice and experience to the masses and get your content potentially shown to a wide audience eager to learn more about the subject.
Usage is very straightforward:
For this example, we'll be using BuzzSumo. Although Ahrefs is also an excellent tool, you can use BuzzSumo for free without starting a free trial. If you head over to BuzzSumo, you are greeted with a big search bar in which you can enter your topic. Think of a topic as something general. For example, things like "content marketing" or "email" would be a good fit for us.
On the next screen, you can add filters by period or platform. For example, if you want to be up-to-date or on top of current topics, you might want to filter by the last 24 hours. If you're having a bit of a problem getting any results, try widening your filters to longer periods. The next step is to filter by platform. If your biggest audience is located on Twitter and your doing well on Twitter, sort the list to show those articles with the most Twitter shares. When you've done that, you'll have a list of article ideas you know people like and share already.
All you have to do right now is start writing and putting your spin on the topics. Pick out some stories you think will resonate with your particular audience and write about them. Because there is a lot of people writing about these topics, it might not do wonders for your SEO and link strategy, though people are fighting for attention here. However, it's a great way to come up with content that is easy to promote and has the potential to go viral to the right audience. Cover the story, add your comments and insights, and there you go, another topic for you to write about.
#2 Using Amazon book listings
What better way to develop your next blog post idea than to identify the most relevant topics in your niche that you haven't yet covered? Some of these themes could even serve as general categories for your websites.
Amazon book listings are an excellent way to identify these most important topics. Let's take our site as an example. We're looking into "startup marketing." Here's how to find new categories for your site and topics to start writing about.
Look at collections of content and identify popular topics. By typing in "startup marketing" and choosing "books" from the department drop-down, we get an excellent overview of top-selling startup marketing books on Amazon. The first thing you want to look into is the subcategories on the top left. You mostly want to look for broad but highly relevant topics that would make sense on your blog.

In our case, things could be "entrepreneurship," "sales & selling," or "web marketing," for example. Not all subcategories are created equal, and maybe in our case, "systems & planning" might not be one of the best categories, for example.
The next step is looking into the most popular individual books. By looking into them, you can identify which types of content in a category generates real interest (and are the most profitable as well).
In our example, we can see some great repeat topics in here already. A lot of the top-selling content is focused on growth hacking. By scrolling a bit lower, we can identify some new ones as well, like writing about validating a business idea.
The next step is looking for books with the option of "look inside". This option is the real gold nugget for finding topics for your content marketing.
By choosing the option "look inside," you can have a look at the first couple of pages of books. From there, you can reach the table of contents 99% of the time, which are awesome for your content marketing ideas.
Start producing content!
#3 Using Udemy Courses
Just like Amazon book listings and chapter titles can give you tons of ideas for blog post topics, Udemy is another gold mine for finding ideas for your blog posts.
Why is Udemy so great for finding topics?
Just like Amazon, Udemy doesn't just show content that people might be interested in. It shows you the kind of content that people are so interested in that they are willing to pay for it.
To use Udemy, just go to their website, and you can search by category

Or you can search by Keyword
Now let's say you're looking for content around digital marketing. Head over to the category "Marketing" > "Digital Marketing" > "All Digital Marketing."
You can now see their most popular courses, the courses that are selling to most, or in other words, the most significant problems people are facing and want are looking for a solution to fix their problem.

You can immediately get a good idea for different topics, or even better, click on one of these courses and look at what you will learn in the course.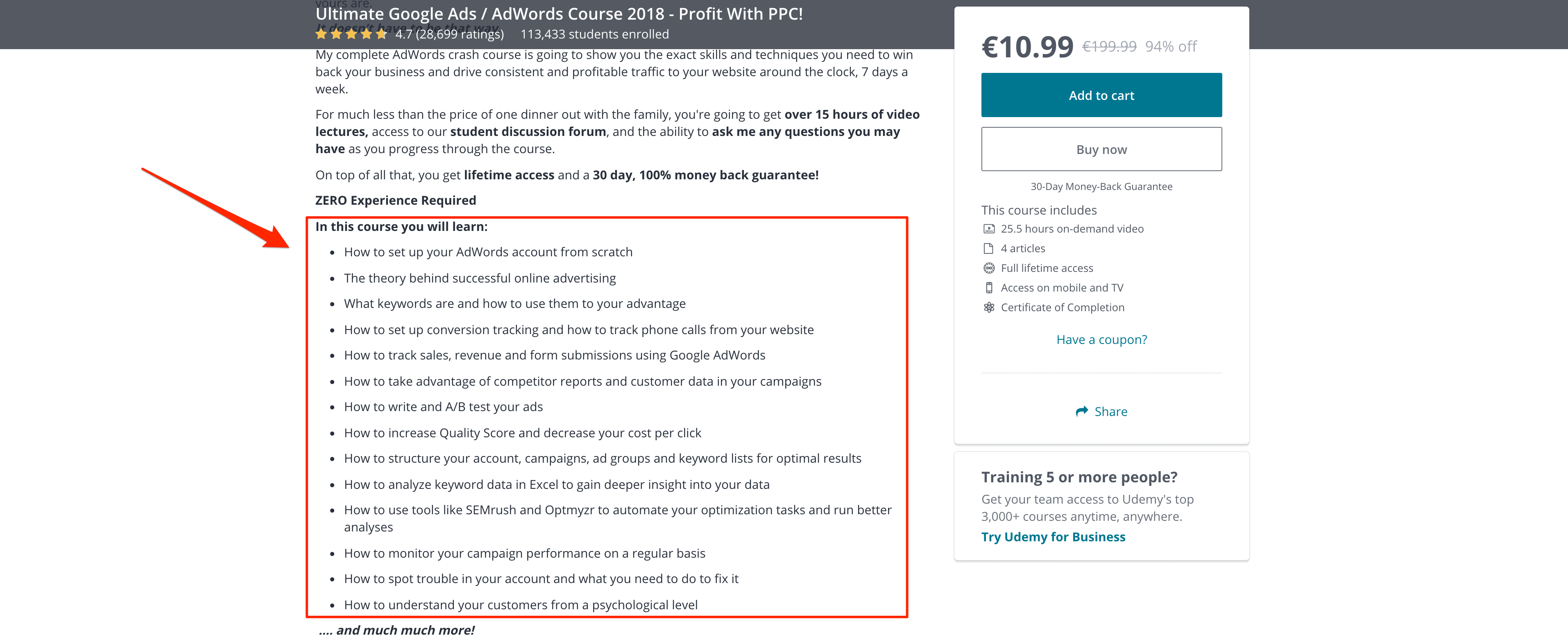 And the course content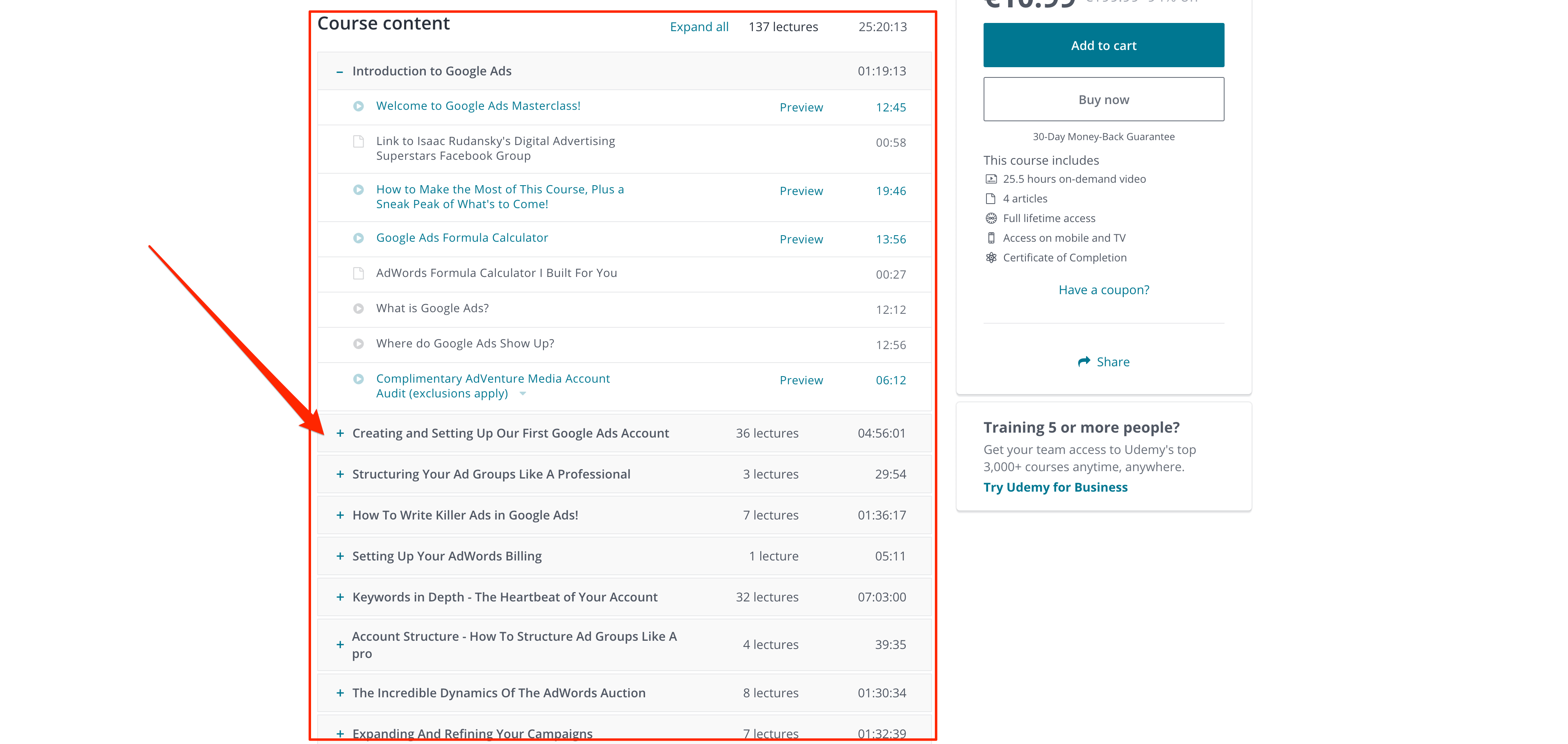 Within one minute of browsing Udemy, you already have enough topics for the coming weeks.
#4 Using online tools
It does not matter which market you're in. There are always people with lots of questions about it. If you can find these issues, you can have unlimited blog post ideas.
That's not the only benefit, though; people are very likely to type in their questions into Google, resulting in excellent sources for long-tail traffic. So how can you find these issues for your industry?
Thankfully there are lots of great tools out there to start helping you:
Use a tool to generate questions – Tools like:

 UberSuggest – returning Google auto-suggest results for every letter of the alphabet
Answer The Public – explicitly built to show you the questions commonly asked about a topic. It's powered by Google auto-suggest, combining question keywords ("how," "when," "where," "what," "why," "who," "which," and "our") with auto-suggest results.
FAQ Fox – FAQ Fox specializes in question keywords as it scrapes  Q&A sites like Reddit and Quora to find questions related to your topic of choice.

Make a list of great questions – list any interesting questions you may stumble upon. In particular, try to find questions that take more than a quick search to find an answer. These are the hidden gems because most people are too lazy to do the research themselves, so you can do it for them through your content!
See which questions have lots of search volume – using BuzzSumo or Ahrefs, as mentioned earlier, you identify which of your questions have a higher search and share volume. This way, you can get a priority listing of your questions.
Write an article that answers the questions – the last thing is creating your content. Create content answering the questions you identified, one at a time. For blog posts that start with a question, it's always best to give a short answer already at the beginning of your article. This way, you won't disappoint people looking to get to the answer quickly. You can then use the rest of your article to elaborate on it and go into more depth.
People tend to use social networks for many different reasons, but one of them is asking their peers and friends for advice on certain topics. So why not use them to your advantage?
You can:
#6 Digging Deeper
Ever heard of the Skyscraper Technique? The Skyscraper Technique is an absurdly simple system. In fact, you can break it down into three simple steps:
Find some link-worthy content; the easiest way is using current list posts (for example, "Top 10 Way to…)
Make something better; write a detailed post breaking down just one of these top points, or make a post "Top 100 ways to…"
Outreach your content to the right people; tell the original writers of the link-worthy content that you've got a new post up and running with a more detailed look into one of their top points and ask them for a link back, or reach out to the people that linked to the original post and ask them to replace the link with your bigger and better article.
You can also look at your most popular pages and start creating more in-depth articles for your best-performing content already out there. Just because you already have a great piece of content out there attracting lots of traffic doesn't mean you can use this technique on yourself.
#7 Write a blog post from customer questions
Here's one that is often forgotten or overlooked, but if you already have an audience you can talk to (via an email list or maybe your social channels): just ask them what they want to read about.
Sometimes your customers know best, or in this case, not at all 😉 During Customer Development, during support calls and emails, or even during onboarding emails like Brain from Backlinko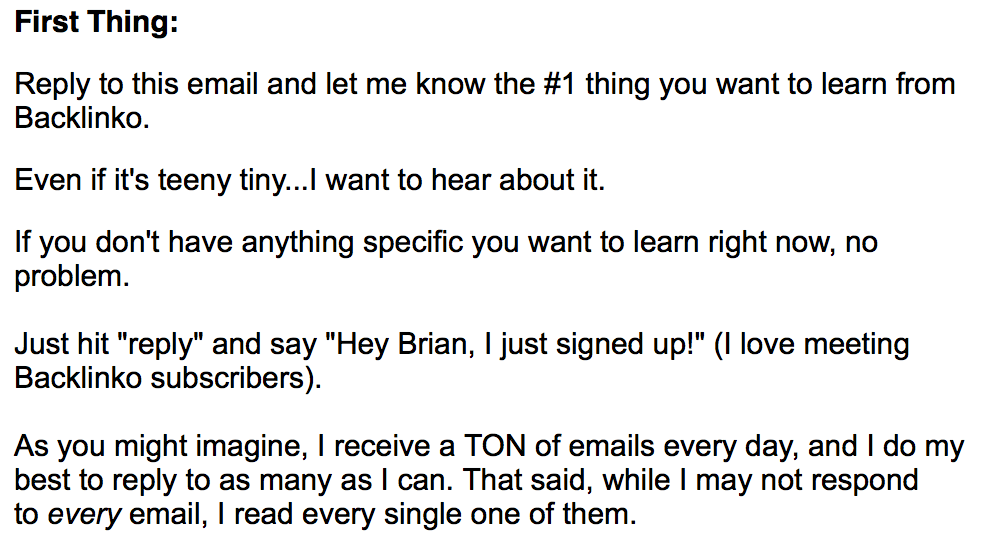 He simply asks to reply to his email asking the readers what they would want to learn from Backlinko.
Most of the time, a problem is not only a problem for one person, but more people are struggling with the same issue. If you can answer an exact burning problem of your customers (not just with your product or service but, in this case, via your content), not only are you helping your potential customers straight away, but you will also increase your chances of social and search traffic.
It can also be good to take an introspective look at things and think about your pain points and struggles. Why did you start the business in the first place? What are the pain points you're having in your organization at the moment? Maybe you're struggling to find new people to extend your business with. Look into your pain points, and while researching the solution for your own business, create content around it.
You'll be killing two birds with one stone: a new piece of content for your business, and your problems are getting solved!
Even if you're in a position where you can't talk to customers directly in your company, that doesn't mean you can't get this kind of information. You can also ask your sales team what their prospects need to know and the questions they get or your internal support team.
One of the things we like to do is ask our readers and our customers what their number one marketing challenge is. This question does two things:
Help us get insights into marketers' challenges in their business.
Help us form an open dialogue with our readers and customers (and gives us also a potential way to upsell our services)
#8 Repurpose existing content into different formats
Content is so much more than just another blog post on your company's blog. You can more easily reuse your content in different ways for different purposes.
You can turn an email campaign into a series of social media posts, make a YouTube video or TikTok from your most engaging article, etc.
There are so many different ways you can reuse your content on various occasions.
#9 Interview experts
Creating excellent content doesn't always have to come from yourself. By interviewing other experts in your field, you can leverage their networks AND develop easy content.
The easiest way is using expert or influencer round-ups. Posts like this take a broad and shallow approach to get content. You talk to many different people and get a small amount of content from them. Let's say you're in de video hosting business. You can easily create a quick Google Form as a survey and send it to many people.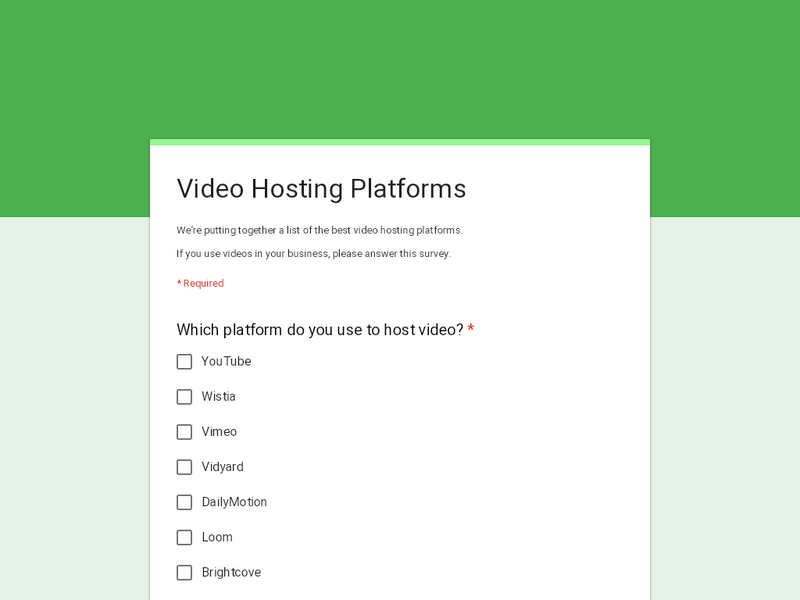 One other advantage of using expert or influencer round-up posts is that after you publish the piece, the participants in the posts are always eager to share the post and showcase the world in yet another place where they share their expertise.
Or you can go the opposite route by going with more depth: talking to fewer people in a post but talking more. So instead of having a round-up post with 20 influencers sharing one or two paragraphs of wisdom, you interview an expert long enough for a full blog post about them and just them.
You can then use the interview as the basis for an original piece, publish the transcript, or use the audio or video in a blog post or as part of a podcast series.
#10 Using Idea Generators
Finally, if you're still stuck after all of these tips, try to identify ideas. You can always use idea generators. Sometimes all you need to get started is a good subject line to get you into the flow of creating content.
There are lots of different idea generators available online that can help you with this process. Most of them only require you to input a noun or theme you're thinking about, and the tool does the rest.
Potential options for this include:
Klock.work idea generator – type in a noun into the search box, and it will deliver you 50 possible headlines at a time. It tells you in which category the ideal fit, and by clicking on the title, you even get some template ideas for infographics.
Headline Generator – If you need a little help coming up with a catchy title for an article or blog post you've written, then check out Headline Generator. It describes itself as a handy tool for brainstorming ideas. But sometimes the titles can be a bit too ridiculous 😉
Everyone gets stuck at one point or another trying to come up with topics for their content marketing. As you can, though, there are many ways to develop great ideas to keep your content marketing machine running.
These tactics can be used across the spectrum, from generating ideas for ebooks to podcasts, presentations to webinars, etc.
What tactics are you using at your company to get inspiration for your content? What strategies are practical for you in developing ideas? Be sure to share them in the comments!
Want to learn more about growing your business through digital marketing? Looking to take your business to the next level? Let's talk!
No spam, ever. Your email address will only ever be used for notifications regarding our blog posts and product releases.
If you want you can easily unsubscribe with a single click at any time.